Disk Drill Media Recovery
By Justin Johnson
Open the Mac App Store to buy and download apps.
Description
Disk Drill Media Recovery is the most user-friendly data recovery app for Mac.

Disk Drill can recover your lost pictures and photos, music, documents, applications, videos and other data. "Quick Scan" and "Search for lost partitions" can recover files of any format. "Deep Scan" file recovery method works on a lower level and analyzes disks as a binary. It runs your hard drive recovery based on file signatures, thus original file names, locations and properties might be unrecoverable.

Disk Drill Media Recovery supports files recovery on all known systems: HFS, HFS+, FAT32, NTFS, EXT3, EXT4, ExFAT and will even work with formatted disk images. If your data is still there, Disk Drill will undelete it for you.

Your lost data can be retrieved from any internal and external media: your Mac hard drive, any disk you can mount to your Mac, USB flash thumb drives, cameras, card-readers, external hard drives, iPods (Shuffle, Nano, Classic, Mini), mobile phones, other Macs connected in target mode, etc.

Disk Drill Media Recovery is developed by CleverFiles, a well-known brand in data recovery apps for many years now. You can be sure you are getting a quality product with endless possibilities. Remember to always drop us a line if you have any questions about Disk Drill at help@cleverfiles.com

** Extra features **

- Flexible filters for searching & sorting of found files
- Live preview before scanning is complete

Starting with version 2.x/3.x it can get your data back from any byte-by-byte disk image. The following disk images are supported: DMG, ISO, IMG. Data recovery is easy as always, just 3 simple steps: #1 create the disk image (using Disk Utility, for example); #2 load it in Disk Drill; #3 hit Recover. Again, if you have any questions about the procedure to recover your files, feel free to email us at any time, we will gladly walk you through, and it will take you just a minute to start the recovery process.

!! Please Note: Disk Drill Media Recovery cannot recover data from iOS devices like iPod Touch, iPhone or iPad.

** How to create a disk image **

Disk Drill Media Recovery, the App Store version of the award-winning Disk Drill data recovery technology, uses uncompressed (byte-by-byte) disk images as the source for data recovery. Here's how you can create them really simple:

1. Run Disk Utility, it's a standard Mac OS X app.
2. Go to File > New > Disk Image from "YOUR_DISK_NAME".
3. Choose "read-write" as your Image format. Do not choose "Compressed", or lost data will not be copied.
4. Set encryption to "none".
5. Save your disk image, and load it in Disk Drill Media Recovery when done.

Check this tutorial to learn how to recover your data fast and effortlessly: https://www.cleverfiles.com/help/mas-disk-drill-media-recovery/

Some real-life reviews from our clients:

"I deleted by mistake M2T file 6 months ago. I bought Disk Drill and MIRACLE, I regained all my lost files" - Christophe Esteve

"In the past I have tried various recovery software packages but Disk Drill is so simple to use, there is no great learning curve, and it works every time for me" - Deda Arbez

"I have successfully used Disk Drill to recover 7 gigs of my videos which were deleted by mistake" - bonnycalvin

"I was in need to recover defect files and/or applications and it went fast and easy. Much better than anything else I tested. This App is a must for everyone." - WebFox
What's New in Version 3.1.772
* The new nicer and vastly improved UI
* Better support of macOS 10.12 Sierra
* Faster byte-to-byte disk backups
* ExFAT and EXT4 support
* Improved disk image attaching and detaching
* New file signatures for Deep Scan: .epb (EP Budgeting files), .rt (Rich Text document), .mlv (Magic Lantern Video Wrapper File for DSLRs), .ipt (AutoDesk Inventor CAD), .aaf (Advanced Authoring Format multimedia file), .tib (Acronis True Image), .enex (Evernote XML notes)
* Tolerant reading of GPT partitions improves lost partitions recovery
* Better handling of orphan & lost files in HFS+ Catalog Rebuild
* HFS+ Extraction added to the family of other HFS+ Healing Algorithms. Now Disk Drill locates lost HFS partitions more reliably
* Improved resuming of past recovery sessions
* Mounting of found data as a disk
* Preview recoverable items more conveniently: as icons with thumbnails for all previewable file formats
* Review found items as a flat list, without grouping and folders
* Improved sorting in recovery results screen
* Better detection of bad sectors
* Now Disk Drill also speaks Korean, Turkish, Arabic, Malaysian, Taiwanese
* Improved reconstruction of .sib (Sibelius music composing software)
* Endless fixes and improvements on Mac OS X 10.11.x
* Several reported crashes fixed
Screenshots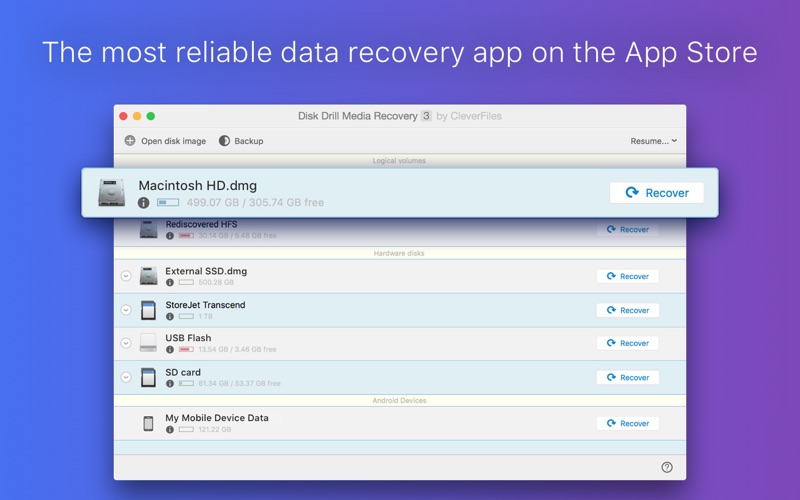 Customer Reviews
The only app that recovered all my music files with full tags!
The unthinkable happened . . . Formatting what I thought was my 32GB thumb-drive to put in my car stereo, I actually formatted my 5TB HDD! I was sick, it felt like a bad dream, 5TB!!! My music, pictures, videos all gone! But the music, that was hard. I had spent months ripping my prized CD collection to that disk.

I tried some other highly advertised/ reviewed competitors, they got back many of my pictures, videos and music but as a big, nearly random stacks of files! It would be an impossible task to sort through them all. Trying these other programs was no easy feat either, they ran from 11 to 34 HOURS each, 5TB is a lot of data!

Then I tried DiskDrill. . . it pulled back, as near as I can tell, all my files. And not just the music but the complete file tags and coverart were intact! It made relatively quick work of reorganizing my music. Thank you Disk Drill!
Disk Drill Helped Me Get Back to Work Pretty Quick
I practice safe computing… most of the time. However, every once in a while things get a little crazy and accidents happen. In my case, I was pushing the limits of running a file server at a client's office on my laptop while switching networks with too many client connections on a drive partition that just couldn't handle the load.

Fortunately, most of my data is backed up in the cloud, so my priority was to get up and runnnng ASAP, however, the partition wasn't even being recognized. So I used the scan for HFS+ volumes and it found and rebuilt the partition. Since I only lost a few days of data, I opted to reformat my entire drive and let the cloud re-load my data. I was really pleased that Disk Drill saved me the hassle of having to buy another SSD as it wasn't even recognizable until I made a Disk Drill bootable external drive and accessed my internal drive in target mode.

I'm going to used the Recovery Vault going forward… I hope I never need it but better safe than sorry.

I was very pleased with the responses I got from customer service. You can't call them, so don't expect instant help, but I sent an e-mail and they responded within a few hours… overall I think Disk Drill Media Recovery is a very good value; it is a reasonably priced, powerful recovery product that works.
Very Happy !!!!!
Let me start with saying that for the money this is by far the best software I have purchased !!! Several things you can be sure of : Death , Taxes . And your hard drive will fail along with some other unmentionables . But hey even though you've surely spent a lot of money on hard drives and the unreplaceable files and photo's "Disk Drill " is an affordable utility that ( provided the hard drive isn't mechanically broken )that can surely resurrect your lost files .My review is based upon two HDD external drives by the way that weren't recognized any longer but Disk Drill recognized them and rebuilt and recovered most of the files and more that were deleted previously . Some files were damaged and unusable but most of the were unscathed .Highly recommended
View in Mac App Store
$39.99

Category:

Utilities

Updated:

Feb 10, 2017

Version:

3.1.772

Size:

9.2 MB

Languages:

English, Arabic, Chinese, Dutch, French, German, Hindi, Italian, Japanese, Korean, Malay, Polish, Portuguese, Russian, Spanish, Swedish, Turkish

Seller:

Justin Johnson
Compatibility: OS X 10.8.5 or later, 64-bit processor