Distance Meter Pro
By Future Apps Inc.
This app is only available on the App Store for iOS devices.
Description
Distance meter is an easy to use, multi-purpose GPS distance tracker. Ever wonder what the distance of your favorite walking trail is? Distance Meter can find it! Need to know how fast your traveling while biking? Distance meter can tell you that too. Distance Meter can even show you how many calories you have burned during your workout!

Since Distance Meter takes advantage of the iPhone 3G's built in GPS Receiver, its accuracy is much improved over a standard step pedometer that cost ten times as much. Distance Meter's calculations can be accurate to within a few feet* with a good GPS signal.

Go walking, hiking, jogging, running, biking, and distance meter will automatically calculate your distance traveled, current pace or speed, and much more!

Distance Meter is also compatible with the popular workout sites MapMyFitness.com and TraningPeaks.com. You can upload all your workout data quickly and easily, and utilize the advance workout logging features of these sites.


Enjoy one of the most useful iPhone 3G GPS applications on the App Store!


FEATURES:


- NEW FEATURE: Route Map view! You requested it and its here. Enjoy one of the best and most seamless integration of Google Maps inside any app. Route Map allows you too see your workout route in real time, as well as interact with the map in mutiple ways. Hikers will love that our route view even shows a Terrain/Topography map, which is not available in the Apple Maps app.
- Log workout data to both TrainingPeaks.com and MapMyFitness.com!
-Stopwatch
-Live distance updates
-Current pace or speed(updates every few seconds), and average pace or speed at the end of the session
-GPS coordinate location
-Calorie Meter! Distance Meter now tracks how many calories you have burned during your workout, simply enter your weight in the info/options pane and watch those calories add up!
-Current altitude
-Displays in both metric and standard units
- Automatically saves your current session, so if someone calls you or you quit Distance Meter you can resume your session uninterrupted!


*Distance Meter REQUIRES iPhone 3G to function properly.
Accuracy based on actual field tests. Accuracy of distance was within +/- 1.5%




What's New in Version 1.9.2
-improved accuracy especially when GPS signal is low
-fixed display issues with Route View
-workout type and route data now upload correctly for MapMyFitness users
-bug fixes
iPhone Screenshots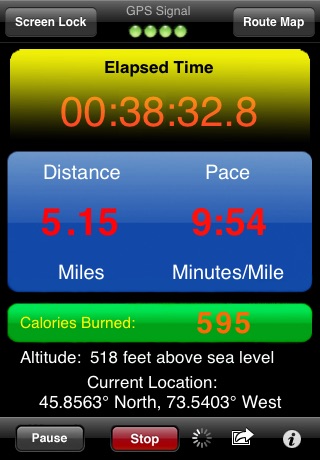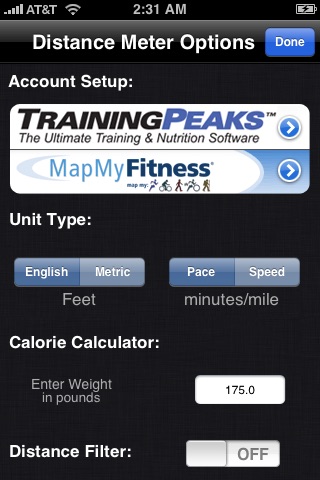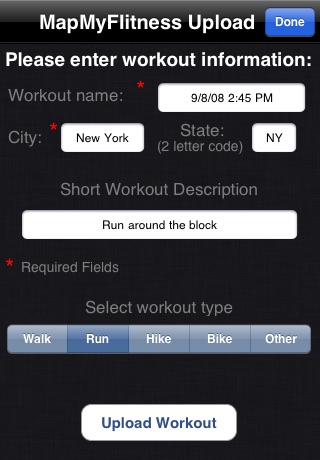 Customer Reviews
Great entertainment app, non-functional for workout tracking
I love the concept. Unfortunately, there is one major flaw in its execution. If there is ANY interruption during your run/walk/bike, your current workout is wiped out and started over. Imagine, you are on your morning biking commute, trying to devine the most effective way to traverse the 7.5 miles from your house. You start your trek on the app and midway you receive a phone call. You chat with the person on the call and continue on your way. On arrival at your destination, you open up the app to check your mileage and it says you have been traveling 1.2 miles in the last 15 minutes! This is NOT an unusual experience with this application. If you are serious about wanting to track your workouts, look elsewhere. If it something you would like to do for your entertainment, fair enough. I have stuck with this app waiting for improvements that never seem to come. You would think with multi-tasking these issues would finally have been resolved. No such luck and I am finally going to give up on it and have deleted it from my phone.

it does do a reasonably good job interfacing with on-line site and does appear accurate with distance, time and distance/time during the periods it operates.
Great concept, but I last longer than the application
This potentially slick little application integrates GPS technology and online workout tracking websites to provide live feedback on your exercise routines; walk, run, hike, bike, other. Initially I was thrilled to watch my calories click away as I watched my blue dot [me!] advance on the sattelite view. However, the application has a fatal flaw that prevents from from using it again: I am 50 years old and my exercise routines outlast the application. In the current verion [1.9.2], the application does not allow the screen to sleep and continously keeps communication lines open, so the battery drains faster than the calories click. For example, I have twice attempted to use the application to track a perimeter jog around an air base, a total of about 10 miles. While I am used to getting a couple of days work from my iPhone, with Distance Meter Pro running I get about 1.5 hours from a brand new freshly charged iPhone. Until the developers can develop a less resource-intensive application, I am over the initial wow-factor of the technology and will revert to my stop watch.
can be made to work...
It took me a few false starts, but on my third attempt I finally got what I wanted from this app, which was a map of my regular hiking route with distance and altitude information.

The downsides? I found I needed to hike *holding my iPhone.* Depositing it in my back pocket disrupted the gps signal somehow. This app also doesn't play well with others: stop to take a picture or verify which bird you hear singing, and you've lost your data. If futureApps allowed "pause" to retain data upon closing the app, distance meter would rate five stars.

Nevertheless, it works. Sometimes the "route map" portion doesn't seem to be working on your phone, especially if you've gone out of cell tower range (note that the gps works fine without cell network), but if you upload your data through the app once you're back on a network, you'll find your route map and all accompanying data available, and exportable in .kml format (for google earth) as well as other formats.
View in iTunes
$2.99

Category:

Health & Fitness

Updated:

May 21, 2009

Version:

1.9.2

Size:

0.3 MB

Language:

English

Seller:

John Stefanopoulos
Compatibility: Requires iOS 2.0 or later. Compatible with iPhone.
More iPhone Apps by Future Apps Inc.