e-Sword HD: Bible Study Made Easy
By Rick Meyers
Open iTunes to buy and download apps.
Description
e-Sword® — the world's most popular PC Bible study software is now available on the world's most advanced mobile operating system! e-Sword HD is feature rich and user friendly. As your Biblical library grows you will appreciate the intuitive layout and synchronization of resources. e-Sword HD is so easy to use you may never need to tap on the Help button!

EVERYTHING NEEDED to study the Bible in an enjoyable and enriching manner. All Bibles, commentaries, dictionaries, … everything is just a tap away!

POWERFUL SEARCHES that are simple to use. Enter as many words you want to search for and select the settings.  You can even search on Strong numbers!

INTEGRATED EDITOR for creating your own study notes, even with images. Rich text notes are "linked" to the Bible for easy viewing as popup tooltips!

PARALLEL BIBLE of your own design for comparing passages.

STRONG'S DEFINITIONS are just a tap away and presented in a popover.

SCRIPTURE REFERENCES too are just a tap away and presented in a popover.

COMPARE BIBLES quickly to see how the different versions translate a verse.

LOCATION MAPS pin-point Biblical places on live modern maps to help bring the narrative to life!

READING PLANS designed to help you grow in your knowledge of the Bible.

FORMATTED EMAILS of any selection of any text. Perfect for sharing with others.

No Internet connection is required to use e-Sword HD.

e-Sword HD initially installs with the King James Bible and the King James with Strong's numbers study Bible, the Strong's Lexicon, Smith's Bible dictionary, and the Treasury of Scripture Knowledge cross references. There are over one hundred additional Bibles, commentaries, dictionaries, lexicons, reference books and devotionals that you can download and add to your library absolutely free!

Also available are some "locked" resources which must be purchased from their publisher. These are copyright and licensing requirements which are unavoidable.

Please note that e-Sword HD is an *ENGLISH* release (but does include Spanish UI localization.) There are dozens of non-English Bibles available, but all other content is in English.

The perfect app on the perfect device. What are you waiting for? Download e-Sword HD today and get to studying the Bible!
What's New in Version 5.0
* Completely updated to support Slide Over and Split View Multitasking in supported iPad models such as iPad Air 2, iPad Mini 4, and iPad Pro!

* New Study Notes shortcut. Long-press on verse's reference link and choose the "Note" popup menu item to display the Editor used to add or edit notes and synchronize it to that verse!
iPad Screenshots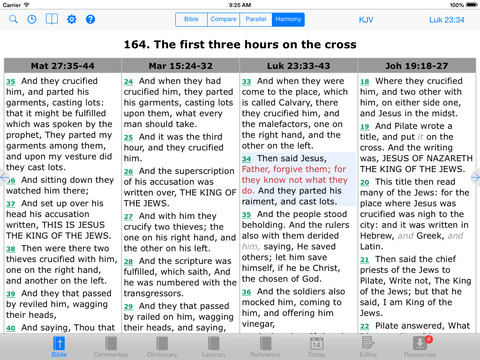 Customer Reviews
My go-to study app
I used e-Sword extensively on my PC but went to the Mac platform eight years ago so I had to use other programs that I didn't like as much. I bought an iPad two years ago and recently did a search of the App Store just to see if maybe, maybe, eSword was there and to my great delight it was! It was like being reunited with an old friend. I've been using it now for about six months and couldn't be happier. I find it easy to navigate, more than enough translations for parallel comparison, my favorite commentaries, dictionaries, lexicons, notes section.... some supplements available from third parties like NRSV, and Complete Word Study Dictionary and others, but more than enough free material to make this an excellent study program like The Expositors Bible Commentary, Matthew Henry' Commentary, and Jamieson, Fausset, and Brown Commentary just to name a few. Two of the many reference books include The Pursuit of God and Knowledge of the Holy by A.W. Tozer...free. There is so much reading material that comes with this app that it should keep one busy for a very long time and the ability to purchase third party material make this a very complete Bible study favorite. I'm very, very happy to have found it available for the iPad!!!
My #1 App on my iPad
I was so glad to find eSword available for iPad. I have used the Windows desktop version for years and have bought many of the premium content modules. All the content I purchased in the past for the desktop was also available to use on the iPad, all I had to do was download it and activate it with my user email and password. I use it for all my bible reading as well as in church and for study. The layout really works well for the iPad with the icons at the bottom to access the various resources. The content is second to none. I use many of the Bible versions along with dictionaries, lexicons, and commentaries to deepen my understanding of God's Word. I have used a number of other Bible apps including Logos' offerings and the very popular YouBible, but I find this one to be the very best as far as ease of use and available content. The layout is intuitive and not filled with a lot of fluff, it just works. Great you can have it on your desktop or tablet and have access to all the same content. Great job Rick!
A faithful friend through the years
I have used E-Sword for many years now, first on my desktop and now on my iPad. There are a few minor differences between the different platform versions but they are not distracting. I have watched the usability and design of the program evolve through the years and I have recommended it many times to friends. I have purchased three or four modules of the Bibles that I like to use but other than that, I mostly use the KJV+ Strong's to look up the definitions of the Greek and Hebrew words. I also use the commentaries and other reference materials to see what the great Bible scholars have said down through the ages. I downloaded several versions of the Greek New Testament when I want to parse a word or phrase. I had a couple of years of Greek in college but I am a scholar by no means and E-Sword lets me use the things I learned then to have an in depth study on my own.
View in iTunes
$4.99

Category:

Reference

Updated:

Jan 09, 2016

Version:

5.0

Size:

20.2 MB

Languages:

English, Portuguese, Spanish

Seller:

Richard Meyers
Compatibility: Requires iOS 8.3 or later. Compatible with iPad.