EasyRes
By Chris Miles
Open the Mac App Store to buy and download apps.
Description
The only Mac quick resolution switcher with fully animated previews. Quickly and easily select resolutions for any connected screen from the menu bar or from the Yosemite Notification Center. See live animated previews of screen resolutions before selecting them, making it even easier to choose the right resolution size for your needs.

"Resolution switcher's animated previews set it apart" – Macworld

EasyRes highlights:

• NEW: Today widget for Yosemite! Quick access to resolutions for all attached screens from the Notification Center. As a bonus it shows a preview of actual screen arrangement when multiple screens are attached.

• Quick access to resolutions for all attached screens from the menu bar.

• Live animated previews of how windows will be sized for each screen resolution by simply mousing over the menu (menu bar mode) or selecting a mode (Today widget).

• Resolutions and previews are shown for all connected screens.

• EasyRes fetches all available resolutions for each screen from the system. Note that EasyRes does not have privileges to create new or alternate resolution modes.

• Retina smart: Resolutions are grouped by Retina and non-Retina modes (only when Retina modes are detected by the system).

• HDTV smart: TV resolutions such as 1080p, 1080i, 720p are all listed when available, including refresh rates such as 50Hz/60Hz, making it easy to find the right HDTV resolution.

• Recently selected resolutions are remembered for each screen.

• User-friendly labels are displayed beside resolutions, such as "Best for Retina Display", "Native", "1080p NTSC".

• Labels can be added and customised for any resolution on any screen, making it easy to find your favourite resolutions.

• NEW: Hide resolutions that you are not interested in.

• Option to automatically launch at login.

See a video of EasyRes in action at http://www.youtube.com/watch?v=nISeFbeBf9k
What's New in Version 1.1.1
1.1.1: *NEW* Hide resolutions you don't want to see in the list, using the Edit window.

1.1.0: *NEW* EasyRes Today widget for Yosemite users! That's right, quickly view and select resolutions for all screens in the Notification Center.

We know some people prefer Notification Center widgets over menu bar widgets, so EasyRes now offers both! You choose how you'd like to use it.

As a bonus, the Today widget shows a preview of all attached screens in their actual arrangement relative to each other. Makes it much easier to see how screens are arranged and select the screen you are interested in.

This version also improves the menu bar selection styling when running Yosemite in dark menu bar mode.
Screenshots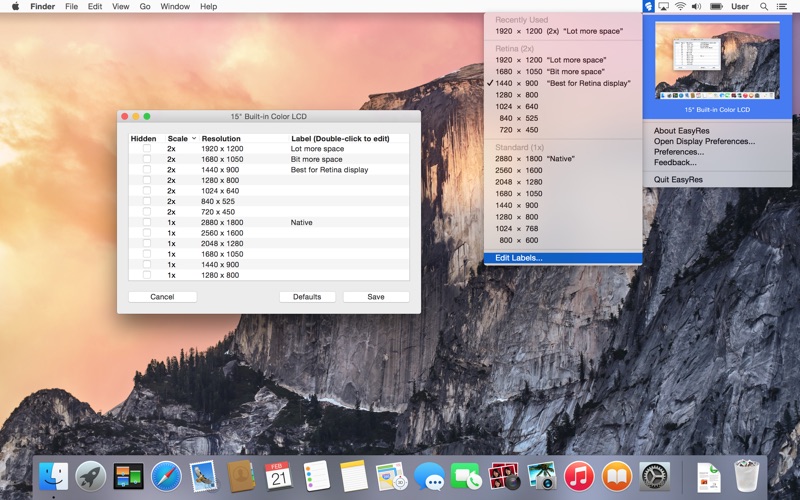 Customer Reviews
Great simple app to get resolution you can't normally get
This app is just pefect for what it does.

I just bought the LG5k for my MBP 15" touchbar, but could not get higher than 3200x1800 from the default system display pref. Spent 1:30 hour with apple customer support, they did not know why, went to the store, tested with their LG5k monitor and they could not understand why I could not get the full 5120 * 2880. After installing this app, it became obvious that nothing was wrong with the monitor or macbook, but more that Apple decided to not offer over 3200x1800 res for those monitors (offering only the "retina" options). With this app, you can get access to all possible resolutions of your monitor including the 5120 * 2880 (I settled for the one level down 4096 * 2304, as the full 5k is a little bit too small for me on a 27" monitor).

You can even put my laptop monitor at full 3360 * 2100.

Anyway, great app, and best of all free. Not sure what other apps can do better.

Thank you Chris!
The name of this application explains all
At a word, it's simple.
If you want to customize your resolution of mac, please use other applications, such as SwitchResX.
I think, it' valuable application itslef because of very very easy to use.
Easy is in the name.
This app is great and super easy to use. You can quickly switch between any resolution of your choice and is well worth $8.
View in Mac App Store
Free

Category:

Utilities

Updated:

Feb 26, 2015

Version:

1.1.1

Size:

2.9 MB

Language:

English

Seller:

Chris Miles
Compatibility: OS X 10.8 or later, 64-bit processor