EISENHOWER
By FTL3
This app is only available on the App Store for iOS devices.
Description
EISENHOWER is a time management solution based on the Eisenhower matrix, supporting you in prioritizing and getting to-dos done by urgency and importance. It helps you organizing both your business and private tasks altogether, reducing stress while increasing productivity at the same time.

Other apps focus on collecting many lists and tasks, EISENHOWER helps you to actually complete the ones that really matter—through limiting the amount of to-dos per quadrant to 8 and maximizing the happy feeling of completion when finishing one or all of them.

—————
Join many others and be more productive today!
—————

What our users are saying about EISENHOWER:

▶ "Perfect for those with busy lifestyles or who just want to get things done."

▶ "Get this, now, not later. This is how Eisenhower ran a country, might be good for your productivity too."

▶ "Helps me to be productive - quick, easy, efficient."

▶ "This could be the next big thing in productivity apps."

▶ "I absolutely love this application and I find it to actually be hugely useful - having played with it the whole day today and populated it out with tasks I want to achieve to test the theory, I indeed finished each of the "Do First" tasks in order, and achieved Zero-Inbox. This is the most productive day I've had in months!"

—————
FEATURES
—————

▶ Task Counter
On each to-do sheet, you can manage up to 8 tasks. For a better overview on existing workload, open tasks are also indicated on the big navigation tabs.

▶ Focus Mode
For urgent and important tasks, you can use a special timer, helping you to focus on only one task for 30 minutes—even with a ticking sound, if you like.

▶ Schedule & Delegate
Using other task-related actions, you can directly place reminders in your calendar or send e-mails including the tasks to co-workers.

▶ Cloud Sync
If you choose to create an account, EISENHOWER automatically syncs with the free web client on eisenhower.me—and vice versa.

▶ Movable Tasks
Like to change priorities for existing tasks? Some less urgent task has suddenly become urgent? Just move them around with tap and hold (long press)!

—————
MORE
—————

If you are new to the Eisenhower matrix or just want to refresh your memory, check out our quick video tutorial here: http://youtu.be/tT89OZ7TNwc?hd=1

- Videos
App preview: bit.ly/eisenhower-app
Eisenhower matrix tutorial: bit.ly/eisenhower-matrix

- Get in Touch
Got feedback for us? Send your ideas, wishes, issues and any comments to feedback@eisenhower.me—we would be happy to hear from you!
What's New in Version 1.2.1
Performance tweaks
iPhone Screenshots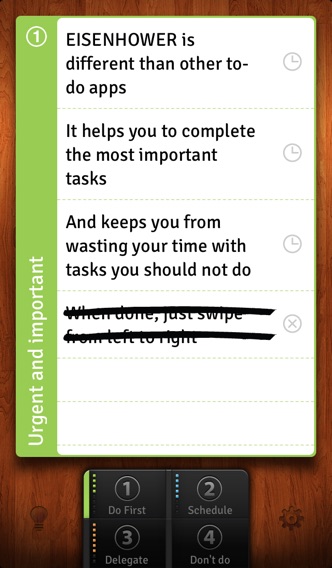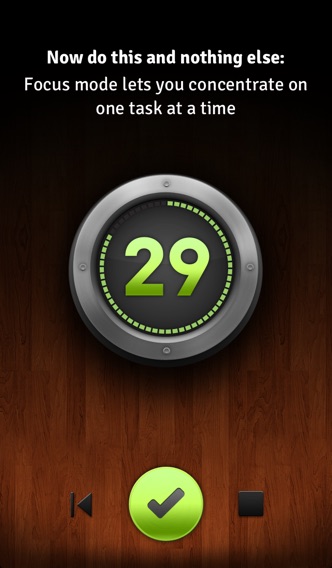 Customer Reviews
Needs iOS reminders app task integration
This app delivers on its promises, and I haven't run into any problems so far. I also really like how you can easily drag a task to a different priority quadrant, since the 4 quadrants are neatly displayed at the bottom of each screen view.

However, I would really like to see an option to easily transfer items from the built-in iOS Reminders app!! Please, developers????? Pretty please??!? Even if the imported tasks had to show in a new, separate screen view (maybe under settings or something?) and each task be manually dragged into the respective priority quadrants, I would love it.

Also, it would be cool if we could adjust the timer to settings other than 30 minutes (e.g. 5 minutes, 15 minutes, 45 minutes). I also agree with one of the previous reviewers that it would be nice to have an option to turn off the ticking sound but still hear an alert when the timer runs out.

Otherwise, it's a great app, though. It helps with prioritizing (using an Eisenhower/Covey-type method) and also focusing on completing just one task at a time. If you struggle with those things, this app will probably help you.
It's different...that's good
Because it is different, it took awhile for me to catch on, so my advice is keep doing it until it works for you---then the breakthrough happens. And it is GOOD. As far as the limit of To-do's, I found that some daily tasks could be clumped together. For example 1) supplements 2) salad 3) juice drink 4) drink water 4) healthy breathing all go under DAILY NUTRIENTS. When I started using the timer, the magic kicked in. It is set for 30 minutes so I hit start. The task may continue longer according to my discretion. Sometimes I go shorter to get to the next task. It doesn't matter. I'm doing it and checking it off. I'm in control and getting to each item and that is just what I wanted!
Effective without being complicated!
Limiting each quadrant to 8 items max prevents having to do list that are too long. Best thing about app is how you can easily move items between quadrants and rearrange them the same way with just a touch. Improvements would be having a link that would automatically bring up calendar app for scheduling like the link they have that brings up ail app for delegation. But these are minor compared to the ease of use and
Simplicity of the program itself.
View in iTunes
$2.99

Category:

Productivity

Updated:

May 10, 2013

Version:

1.2.1

Size:

11.5 MB

Languages:

English, Dutch, German, Italian, Russian, Spanish

Seller:

FTL3 GmbH
Compatibility: Requires iOS 5.0 or later. Compatible with iPhone, iPad, and iPod touch.