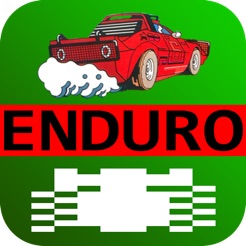 Description
Search "River Raid" or get it from this link:

https://itunes.apple.com/app/river-raid/id888368779

*** Can you endure? ***

============================= Reviews ==

AppAdvice
"The gameplay looks quite enjoyable, and it's a perfect fit for the iPhone."

TouchArcade
"...the visuals look on par with the original..."

IphoneActive
"I love in my device IOS revive the classic games of my childhood."

================== Classic Games on iOS ==

Are you one of retro game lovers? What would games look like if iPhone has been there at the 80's? What's your opinion?
Would you like to experience retro gaming on iPhone with its touch controls?
NEMO GAMES is working hard to make your wish come true.

ENDURO is one of those retro games and NEMO GAMES has been busy remaking ENDURO for the sake of retro lovers using their iOS Devices featuring the very exact original game's theme and all its detail.

========================= About Enduro ==

ENDURO consists of maneuvering a race car in the National Enduro, a long-distance endurance race. The object of the race is to pass a certain amount of cars each day. Doing so will allow the player to continue racing for the next day. The driver must avoid other racers and pass 200 cars on the first day, and 300 cars with each following day.

As the time in the game passes, visibility changes as well. When it is night in the game the player can only see the oncoming cars' taillights. As the days progress, cars will become more difficult to avoid as well. Weather and time of day are factors in how to play. During the day the player may drive through an icy patch on the road which would limit control of the vehicle, or a patch of fog may reduce visibility.

================================= Tip ==

Your score is based on the distance you drive, so drive with higher speed to gain more score, and be careful not to hit other cars.
If you hit others too much you won't be able to pass the required numbers of cars in each day and you'll fail...

======================== YouTube Video ==

http://www.youtube.com/watch?v=SmfMtktFE0U

======================== NEMO GAMES ==

- Finger Rider
- Tap Tap Remove
- Max My Sum

http://www.Nemo-Games.com/
http://www.Facebook.com/NemoGames
* The number of cars you should pass reduced to 180 for the first day, and 260 for the days after.

* We placed the 'Accelerometer Button' in a much better position.

========================================

Do you want to play atari 2600 River Raid on iOS ?!

Search for "airfox" in appstore...
Ratings and Reviews
AWESOME GAME
When I was a girl I loved these games, I played with my brother and now that I can play it on my iPad i'm very happy and I remember the old times, I would be way better if they added more games specialy the original PAC MAN I like showing my kids what I used to play whenI was their age thatq makes me so happy. I LOVE ENDURO ITS AWESOME!!! BUY IT, IT WILL BE WORTH IT!!!
Wonderful
I am 44 years old. Today, after had downloaded this game I returned to be 10 years old again! Thank you! I hope that my kids like it too!
Bye bye 2600
I have struggled to give away my Atari 2600 solely because of this game. Controls will take some getting used to but having a blast already and my kids are all into it as well.
Information
Seller

Mohammad Hosein Moazzen Jami

*WEA.AppPages.Size*

14.7 MB

Category

Compatibility

Requires iOS 3.0 or later. Compatible with iPhone, iPad, and iPod touch.

Age Rating

Rated 4+

Copyright

© Nemo Games

Price

$1.99
Supports
Family Sharing

With Family Sharing set up, up to six family members can use this app.