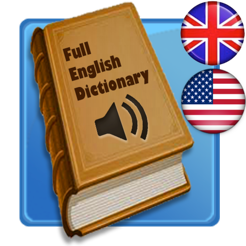 English Dictionary - Offline (Premium Version)
4+
Description
***** English Dictionary And Hangman Game - Offline *****
Features:
- More than 172000 words.
- More than 180,000 senses and 49,000 sample sentences.
- Includes the "Hang On, man" Game
- Include a flash card system to facilitate learning new words and several articles about English grammar.
- You can create your own flashcards and word lists.
- Includes quality sounds for phrases and words.
- Full list of regular and irregular verbs
- Fast, as it works offline; internet is used only for a few features.
- Includes bookmarks and history.

+ Learn English with the lessons of English grammar included in the dictionary:
- Verb tense - Simple Present
- Verb tense - Simple Past
- Verb tense - Simple Future
- Verb tense - Present Continuous
- Verb tense - Past Continuous
- Verb tense - Future Continuous
- Verb tense - Present Perfect
- Verb tense - Past Perfect
- Verb tense - Future Perfect
- Verb tense - Present Perfect Continuous
- Verb tense - Past Perfect Continuous
- Verb tense - Future Perfect Continuous
- Irregular verbs
- Conditionals - Zero conditional
- Conditionals - First conditional
- Conditionals - Second conditional
- Conditionals - Third conditional
- Conditionals - Mixed conditional
- Conjunctions - Coordinating conjunctions
- Conjunctions - Correlative conjunctions
- Conjunctions - Subordinating conjunctions
- Comparative and Superlative Adjectives
- Singular and Plural Nouns
- Count Nouns and Uncountable Nouns
- Possessive Nouns
- Pronouns
- Action Verbs
- Adjectives
- Adverbs
- Active / Passive Verb Forms
- Mood for Grammar
- Auxiliary Verbs Be, Do, Have
- Auxiliary Verbs Will/Would and Shall/Should
- Auxiliary Verbs Can/Could and May/Might/Must
- Prepositions On, At, and In
- Prepositions Of, To, and For
- Prepositions With, Over, and By
- Indefinite and Definite Articles
- Interjections
- Capitalization

+ Other good dictionaries that you can download:
- Dictionary.com
- Dictionary - Merriam-Webster
- English Dictionary - Offline
- LEO dictionary
- Oxford Dictionary
- Collins English Dictionary

+ Keywords:
* English Dictionary * Diccionari Anglès * Fjalor Anglisht * Engleski rječnik * anglický slovník * Engels woordenboek * angla Vortaro * inglise sõnaraamat * Ingles Diksyunaryo * Englanti Sanakirja * Dictionnaire Anglais * dicionario de inglés * Englisch Wörterbuch * inglise sõnaraamat * Ingles Diksyunaryo * Englanti Sanakirja * Dictionnaire Anglais * Englisch Wörterbuch * angle Diksyonè * Angol Szótár * Dizionario Inglese * Kamus Inggris * anglicus Dictionary * angļu vārdnīca * anglų kalbos žodynas * Bahasa Inggeris Kamus * Dicionário de Inglês * engleză Dicționar * словарь английского языка * Anglický slovník * angleški slovar * Diccionario Inglés * kamusi ya Kiingereza

- Improve your vocabulary by learning new words
- English Dictionary - Offline
- Learn English Grammar
- Flashcard System
- Irregular Verbs
- Hangman Game
- KET Examination
- PET Examination
Ratings and Reviews
Excellent
I like it very much and I hope I will use it frequently. Only one observation I would like to bring up here. When I open it up I have to go with the cursor on the designated box, press twice the pad to highlight the word in it and after that being able to enter a new word. Can you please send an update to this minor inconvenience? The word in the box to be automatically highlighted when the dictionary is launched and the user to start writing a new word without any extra maneuvers. In the same way after I write a word to be highlighted when pressing the Enter button in order to set up the way quickly for the keyeing of another word. Thank you
No sound!
The dictionary is not that bad by itself, but there is no sound — only a pictogram showing that it should be a sound, but the sound is not there. In the description, it says that there are sounds, so this is the calssical case of misleading description that pple Store should be concern of.
Information
Seller

Jordi Josa

Size

28.7 MB

Category

Compatibility

OS X 10.8 or later, 64-bit processor

Age Rating

Rated 4+

Copyright

© ironServices.com

Price

$2.99
Supports
Family Sharing

With Family Sharing set up, up to six family members can use this app.