FaceBoof!
By Gen Kiyooka
Open the Mac App Store to buy and download apps.
Description
FaceBoof! is photo booth's 3-legged cousin with a bucktoof lisp.
★★★★★ Rated K for Kids of All Ages

Did you ever wish that the cool photo boof effects were customizable? Or that you could use more than one at a time? Well, dream no more! FaceBoof! gives you have access to over 50 built-in effects and hundreds of 3rd party effects (requires additional free downloads, see FotoBoof! web page).

And FaceBoof! has automatic face tracking and therefore knows exactly where your mugs is located in the camera and can apply picture effects only to your face area. Create masks, disguises, sunglasses: use almost any picture from the internet and use color removal to make it appropriately transparent.

FaceBoof! includes a bunch of funny effects and you can combine them with the effects you already know and love and save the combination as a .FaceBoof file for later use.

Or for sending to mom. Warning: mom might not understand.

You may find the face tracking works best if the background behind your head is a uniform surface clear of random objects.

Just sayin'

★★★

Gen Kiyooka is a multimedia artist and comedian. He's been developing "apps" for Apple computers since the 64KB Apple ][+ was considered state of the art. If you like FaceBoof! please check out FotoRoid 200 for the iPhone/iPad/iPod.
What's New in Version 1.0.1
Minor bug fixes.
Screenshots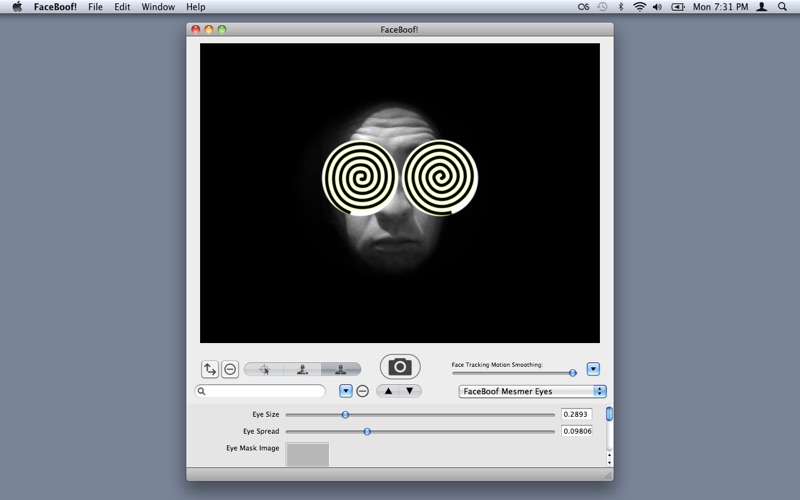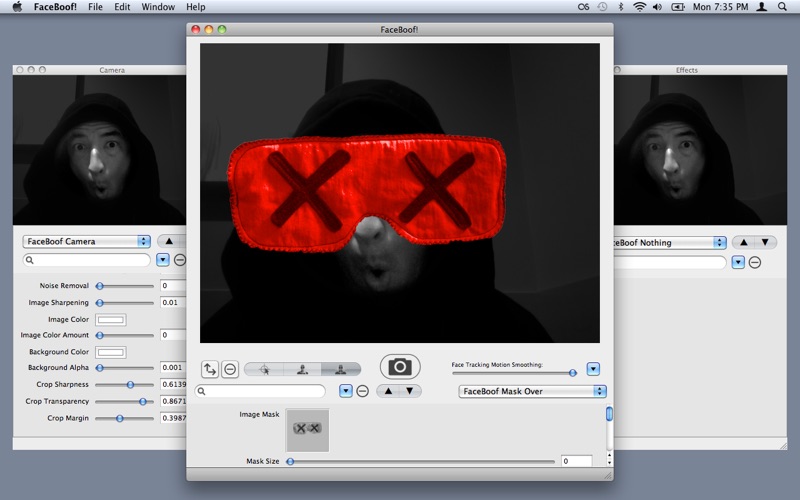 Customer Reviews
Ultimate Photo Booth with Custom Tweaking.
If you're a fan of the original Photo Booth but always wanted customization, look no further. The advanced options are here! Launch FaceBoof! and use Command+I to open the two "Inspector" panels. You have access to all the Quartz Filters (.qtz) in the system, including Apple's complete set (Photo Booth hides most of the built-in Apple supplied effects).

Take a look at the options on "FaceBoof Camera" (left inspector panel) which is the first filter that the webcam passes through. You can zoom, rotate, colorize, or change the brightness and contrast. You can crop the image to a soft circle. The cropping is tied into the face tracking, which means the cropping follows your face in the screen.

Next, flip to the right panel. This is the second filter the webcam passes through before appearing in the main window. You can use any built-in effect here: comic book, Andy Warhol ad nauseum.

Finally, select a filter in the main window and tweak away. You can take snapshots __and__ most importantly, save all your custom settings in file for later use. Some of the filters are kind of wacky and childish, but let's face it: Apple provides many, many built-in effects that are otherwise unavailable in Photo Booth.

The snapshots are saved as PNG files in the Pictures folder. I'd like an option to make JPEG's, but it's a minor concern.
Easy laughs plus actual utility
When I installed this I got an immediate laugh from the goofy ball face and the mouth that tracks anything you say into the microphone. Or if there's a song playing in the background it looks like it's singing. It's kind of a novelty that distracts from the power of the app. This app has so many effects and you can combine three of them, really easily, and it has face tracking. My ears are so big it tends to locate the eyeballs too wide, but luckily, it has adjustments for that.

Pictures are snapped directly into your home Pictures folder, which is great. I'm not a big fan of apps that drop stuff on the Desktop.
Not as glossy as other apps...
I have a bunch of Macs. As such, I like a glossy interface just as much as the next guy. It's just that after a year of using just about any app, you start to wish that some of the fixed settings were adjustable. And if they aren't, you start looking around. You won't be looking around with this app. Sure, it's got a goofy name and a bad icon, but there isn't a single setting in the app that you can't customize. The only improvement I can think of would be video recording and maybe a command line tool so I can make snapshots from a bash script. I'm just kidding on that last suggestion.
View in Mac App Store
Free

Category:

Photography

Updated:

Apr 15, 2011

Version:

1.0.1

Size:

4.9 MB

Language:

English

Seller:

Gen Kiyooka
Compatibility: OS X 10.6.6 or later