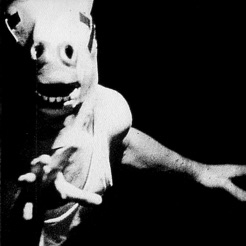 FareWell Poetry - As True As Troilus
4+
Description
To celebrate the release of their first album 'Hoping for the Invisible to Ignite' (Gizeh Records, September 2011), MU has invited the collective FareWell Poetry to create a sonic environment based on their film and opening track 'As True As Troilus'. 
'As True As Troilus' takes its title and mythology from Chaucer's important 14th century poem 'Troilus and Criseyde',  a retelling of a 'faux' Greek myth with Medieval origins, in which the main protagonist Troilus falls in love with Trojan Cressida who finally deceives and leaves him for the Greek soldier Diomedes. The narrator of 'As True As Troilus' (just as Chaucer's narrator) uses this myth to explore his own romantic mythology, using the characters and their situation to recount his own plight, illustrating the destruction of his own failed relationship with tableaux from the Trojan tale.  
'As True As Troilus' was recorded and mixed between Paris, Normandy and Saint-Margaret of Antioch Church in Leeds. This haunting orchestral piece was performed in the studio live, and rerecorded using a 'wall of sound' process, adding the natural reverb of the church to the raw tracks.  
The FwP application invites you to dive into 'As True As Troilus' and experiment, replay and rediscover this piece on your iPhone. You can play each of the five parts using the corresponding buttons at the bottom of the screen. By shaking your iPhone you can add or subtract an instrument. Changing your phone's horizontal orientation pans certain tracks whilst changing the vertical orientation integrates the microphone in order to modulate the natural sounds of the environment around you, contributing to a unique experience.  
'As True As Troilus' is taken from the album 'Hoping for the Invisible to Ignite'. Available in CD+DVD, deluxe Vinyl+DVD and digital formats on Gizeh Records / Kompakt. Release date : September 26th 2011.
http://www.gizehrecords.com 

• FwP : a collaboration between MU / FareWell Poetry.
Composed by FareWell Poetry.
Immersive environment : Philip Griffiths, Olivier Guillerminet & FareWell Poetry
Application development : Olivier Guillerminet
Drawings : Alice Lewis
Graphic design : David Bart & Vincent Voillat

• FAREWELL POETRY - www.farewell-poetry.com
A collective comprised of Parisian musicians and an Anglo-saxon poet and filmmaker, FareWell Poetry is a bold and electrifying project that combines performance film, musical experimentation (drone, post-rock, orchestrated minimalism) and spoken word poetry.
Situated somewhere between a sleep-starved Man Ray, the musical ventures of the Beat Generation poets, the visually flamboyant performances of Throbbing Gristle or the Velvet Underground and the feverous instrumental intensity of Constellation's first releases, FareWell Poetry draws creative inspiration from a trance-like state and hungers for new boundaries to push back, new doors to open.  

• MU - www.mu.asso.fr
MU is an independent organization that focuses on producing immersive sonic installations as well as programming contemporary art, music and film events. The work produced by MU uses a unique approach to sound, visuals and interactive elements to transform the reality of our environment.  

Ratings and Reviews
Review
First thought it was just recorded segments of their music, but after an hour I'm still figuring out the fun things this can do. By rotating my phone the mix will change and overlap. It also loops and reverberates your voice on top of the music in a really cool and addictive way. Great band, and easily deeper and more interesting than Pricey apps like Eno's Bloom.
Information
Seller

Remu

Size

143 MB

Category

Compatibility

Requires iOS 4.0 or later. Compatible with iPhone, iPad, and iPod touch.

Age Rating

Rated 4+

Copyright

© 2011 Remu SARL

Price

Free
Supports
Family Sharing

With Family Sharing set up, up to six family members can use this app.