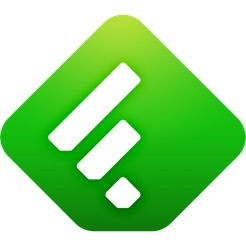 feedly. Read more, know more.
4+
Description
The feedly app gathers the content of your favorite websites, blogs, Youtube channels and RSS feeds in one place.

It is the world's #1 reader with more than 15 million users.

The feedly Mac app syncs seamlessly with the feedly iPhone app and the feedly iPad app so that you can read your favorite sites anytime, anywhere.

The feedly Mac app has a few super powers that the feedly web interface does not include.

1) You get to easily login with a Google or Twitter account which is different from the one you use in our Safari browser.

2) You get a nice dock icon with an unread count badge.

3) The feedly Mac app is configured to handle feed:// URLs so that you can easily add new feeds to your feedly.

4) You have the possibility to open articles in a new tab inside the app without having to switch to your web browser.

We know that a lot of you use feedly on a Mac. We are excited to embark on the journey of making the feedly Mac app the most efficient way to organize, read and share the content of your favorite sites.

If you have suggestions on how to improve the experience, please join the open feedly community.
What's new in version 0.2?

New stuff:
- You now have the possibility to open articles in a new tab inside the feedly app!
Default behavior is still the same (article links are opened inside you web browser), so modify your app preferences to try out the new feedly tab bar.

Bug fixes:
- Popups inside the app are now resized to fit their content.
- Fix Buffer bug with login via Facebook or Twitter
- Fix Pinterest bug where users can't pin images.
- OPML file upload via the app is now supported.
- Remove bounce behavior on scroll
Ratings and Reviews
Untapped potential and unfulfilled mission
Feedly is, naturally, supposed to "feed" you stories throughout the day. What I like about RSS is that it is more professional. When I enter my office every morning, I want to read the news. I open up Feedly, and on a good day, it will not crash. But the experience is nothing more than a dedicated we browser. Nothing about the App makes it feel like an app.

A couple of things I hope the Yosemite update does:

1. Creates an App experience. Something dedicated to the user and unique.

2. Notifications and/or widgets. I feel confident to say that Notification Center will replace the widget center (does anyone really use the widgets, really?). Here is Feedly's opportunity. I want to customize my news experience. I do not want the onslought of Twitter, but I want to choose SCOTUSBlog, and maybe local news to get pushed. The other news is ancilliary and can be viewed later. If I could customize what gets pushed, and even enter key words or names to notify me of. For example, on SCOTUS, if I wanted to know about a 4th Amendment decision that was made, I could get that pushed to my desktop.

3. Create a standard for RSS feeds, such as tags, or keyword standards.

The current experience is a waste of hard drive space. Just tag it in Safari and use Safari. The app provides nothing more.
Unstable and missing key features
First and foremost, this app is incredibly unstable. It crashes everytime I use it for more than a minimal amount of time.

I don't mind that it's a native app window to the web version, but it's missing key features! If you open a page in a tab to read, you have no way of retrieving the link to the page you're reading, and you've lost all the sharing features that you get through the Feedly homepage. You also have no way to selectively choose to open links in a browser or open links on a viewed page in a new tab. There's no browser navigation when reading articles either.

I was hoping this app would be like the iPhone and iPad apps, but it's definitely not ready for prime time.
Great Reader
Feedly is a great reader I switched from another popular reader once they lost google reader support and I have not been disappointed. It's great to see this avaiable as a mac app, i didn't care for using the website, not sure why thought. Most times I just use thier ipad app the only problem with that is that there are some sites that site post videos in flash so I can't view them on the ipad. This app fixes that. A must have is you use RSS feeds.
Information
Seller

DevHD Inc

Size

924.3 KB

Category

Compatibility

OS X 10.9 or later, 64-bit processor

Age Rating

Rated 4+

Copyright

© DevHD inc.

Price

Free
Supports
Family Sharing

With Family Sharing set up, up to six family members can use this app.