Fidelia
By Audiofile Engineering, LLC
Open the Mac App Store to buy and download apps.
Description
Fidelia is a high-definition audio player for sophisticated music lovers. With support for all contemporary audio file formats and an elegant interface that focuses exclusively on music, it gives users the power and the freedom to organize, customize and savor their digital music collection at the highest possible fidelity in any circumstance. If you've invested in premium audio hardware, you should have the best audio software.

Just as an HD television enables viewers to enjoy high-definition video, Fidelia provides a gateway to high-definition audio by supporting a wide range of high-quality formats — including FLAC, which iTunes does not support. As artists in every genre increasingly turn to high-quality formats, Fidelia gives discerning listeners a way to hear their music as it was meant to be heard.

Fidelia's stylish interface reflects users' pure passion for music, paying tribute to the iconic stereo systems of decades past while offering sleek, intuitive controls that Mac owners demand. A classically styled volume dial is augmented by Mute and Dim functions. A crisp, eye-pleasing display shows individual track details, stereo levels and audio waveforms. Fidelia also provides seamless access to your existing iTunes music library.

With Fidelia, savvy music lovers have the ability to further personalize audio playback by installing third-party Audio Unit plug-ins. For example, Fidelia reaches beyond the narrow parameters of typical built-in equalization controls, allowing users to install higher-quality EQ and other Audio Units plug-ins to suit any taste or listening environment.

Audiofile's Fidelia Audio System optimizes the modern listening experience by realizing the full potential of quality audio hardware. No matter what type of sounds are in play, it incorporates iZotope's industry-best sample rate conversion to achieve optimum sonic fidelity. Dedicated audiophiles can also select real-time audio dithering via iZotope's MBIT+™ technology.

Two unique in-app purchases further extend Fidelia's listening experience. Unlock Fidelia Advanced for control over specific parameters for iZotope MBIT+ dither and 64-bit SRC as well as exclusive hardware access and memory play-back. Unlock FHX™ Headphone Processing, enabling you to create a more spacious, natural soundstage when listening with headphones. With user controls that are simple and effective, the algorithm can be fine tuned to your personal music library, listening preferences, and hardware.

FHX utilizes a unique, dynamic-range optimized equalization section to maintain the highest possible digital resolution at any setting. So you'll never need to worry about digital clipping, distortion, or loss of headroom when using FHX. The FHX monitoring section offers several key monitoring facilities that are typically reserved for high-end monitor controllers or mastering consoles.

When you purchase Fidelia Advanced or FHX, two new panes will be available in Fidelia's preferences.

With the Fidelia app for iOS (sold separately), users can turn their iPhone, iPad or iPod touch into a full-featured remote control for Fidelia.

For additional info and product specs, visit the Audiofile website by clicking the button at the upper right.

NOTE: Fidelia does not support DRM-protected AAC files.
What's New in Version 1.5.3
Version 1.5.3 improves the overall performance and stability of Fidelia.

Please contact us at support@audiofile-engineering.com if you encounter issues with Fidelia. We want your feedback!
Screenshots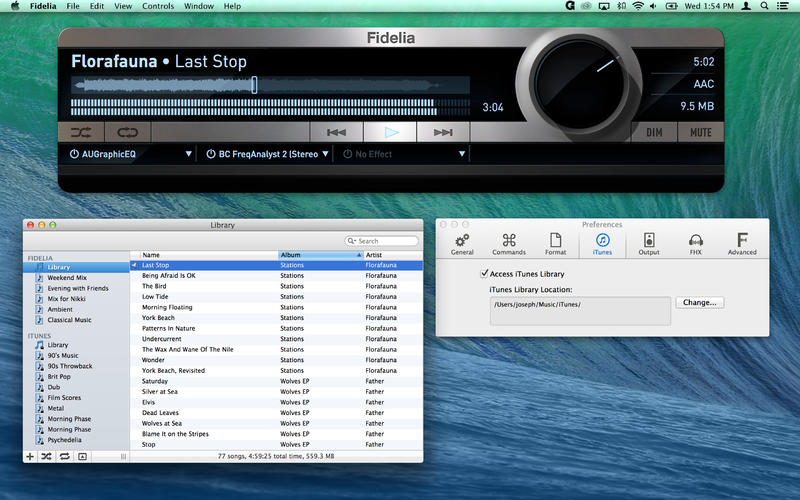 Customer Reviews
High Quality Sound, Limited Features
The other reviews have accurately described this product. I wanted a player for a library of FLAC music on an external hard drive, which cannot be played or managed by iTunes. As an audio player Fidelia is first rate, and the company's dedication to the audio experience is apparent. This is not a fly-by-night company or product. As such, you need to clearly understand the product before you pay money and give it a 1-star review—there are a number of features of free products that are missing here. An incomplete list of missing features includes integration with the F7/F8/F9 keyboard shortcuts, smart playlists, metadata editing, displaying release date/year, and playback of protected files. The latter is not important (I still use iTunes) but inclusion of the other features would surely earn this product more 5 star reviews (and fewer 1 or 2 star reviews). If you just want to play FLAC files, go download VLC for free; you can decide decide later whether the (limited) library management and superior audio capabilities of Fidelia are worth the cost.
No tag editor?
This is not a long review. I have tried several different iTunes alternatives. Unless I'm missing something, Fidelia— while a great player, no question— doesn't let you edit tags. I selected an album's worth of songs, for example, and wanted to change the album title. No luck. I should be able to select the tracks, select "Get Info" or something similar, but I can't. Enqueue is great, rivals Fidelia as a player, and it lets you edit tags very easily. If Fidelia would allow tag-editing, it would rise to the top of my list. Again, I could be missing something, but if so, the feature must be hidden pretty well.
Unable to sort non-iTunes library on server
I maintain two music libraries. One iTunes library for iOS devices (AAC files). One home music library for home audio system (FLAC files). Both are on home server. Fidelia recognizes both libraries. However it can only sort iTunes library, but not non-iTunes FLAC library on server. This completely defeats its usefulness managing library.

UPDATE:

uninstalling and reinstalling Fidelia solved the problem. Updated to 5 stars.
View in Mac App Store
$19.99

Category:

Music

Updated:

May 27, 2014

Version:

1.5.3

Size:

21.8 MB

Language:

English

Seller:

Audiofile Engineering, LLC
Compatibility: OS X 10.7 or later
Top In-App Purchases
Fidelia Advanced$49.99
FHX™ Headphone Processor$49.99