Fitness Meter
By Psynixis
This app is only available on the App Store for iOS devices.
Description
A New Approach To Helping You Get In Better Shape

Unique technology based on the latest healthcare and medical research

If you're looking to get in better physical shape or lose weight, the unique new software technology in Fitness Meter, based on the latest research, helps you easily and quickly understand exactly what you need to do to achieve your goals. The secret to getting in better shape is to assess your current physical condition accurately; and then make sure you get the right nutrition, and do enough exercise, to make progress. So, what exactly IS your physical condition right now? What about your goals? Maybe you're looking to get healthier? Or maybe you're already healthy, but want to get really fit to look your best. How MUCH should you be eating? How MUCH exercise do you need to do? Fitness Meter gives you precise answers.

Based around a new computer model of the human body and AI technology, Fitness Meter provides you with a genuinely personalized assessment of the current state of your body from just a few simple pieces of information. You'll be assigned to one of ten categories ranging from Dangerously Underweight; through Athletic, Fit and Healthy; up to Morbidly Obese. From there, you can simply and interactively explore your health and fitness goals.

For many people, existing approaches to understanding physical condition, such as those based on BMI, don't work well. Unlike these, the new model of the human body in Fitness Meter considers both lean muscle and two types of body fat (healthy and unhealthy). So Fitness meter can tell the difference between someone in great physical shape and someone that's obese!

The app lets you quickly explore the difference between where you are now, and where you want to get to. You choose how fast you want to reach your goal and Fitness Meter tells you:

• What your daily nutrition needs to be
• How your nutrition needs to change over time to ensure you keep making progress
• How much exercise you need to commit to doing

If you're carrying unhealthy fat, Fitness Meter will tell you exactly how much. It will also estimate your total percentage body fat. Along with these unique assessments, the app will also report widely used metrics, including your Waist To Height Ratio, and your Body Mass Index (BMI).

For extra motivation, you can tweet your status and goals to make a public commitment, and tweet your progress to let your friends know how you're doing.

Follow us on Twitter @FitnessMeter

Features:
• No ads!
• Super easy data entry in the units you're used to
• Remembers your data and your goal, so tracking progress is easy
• Graphical display lets you understand your status and goal in context
• Super easy interactive exploration of goals - just drag the needle on the meter
• Tweet your condition, goals and progress
• Automatic assessment of current condition, and assignment to one of ten categories: Dangerously Underweight, Underweight, Athletic, Fit, Healthy, Marginally Overweight, Overweight, Moderately Obese, Severely Obese, Morbidly Obese
• Estimates unhealthy body fat and total percentage body fat
• Displays BMI and waist to height ratio
• Automatically produces nutrition plans to help you avoid plateaus
• Nutrition plans update dynamically as you enter new data to ensure you always have an up-to-date plan with you on your phone
• Details health risks associated with your condition, including: high blood pressure, diabetes, heart disease, sleep apnea, back pain, infertility and various cancers, amongst others.

You won't find the technology in Fitness Meter anywhere else. It's exclusive to iOS. Try it today!

Note. In this version, we have not included data relating to children, so right now, Fitness Meter will assess only those aged 18 and over.
What's New in Version 1.2.0
• New feature - Total percentage body fat now shown as a range (upper and lower estimates)
• New feature - Special consideration in nutrition planning for weight loss for women that are nursing
• Enhanced feature - More detailed information and advice about your nutrition needs in cases where you can't reach your weight loss goal
iPhone Screenshots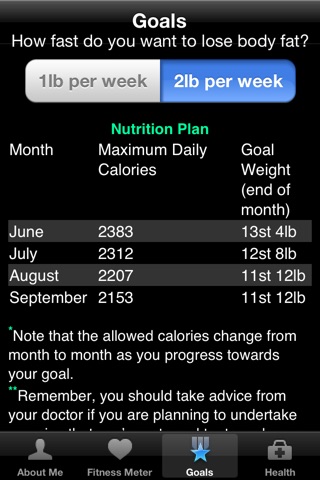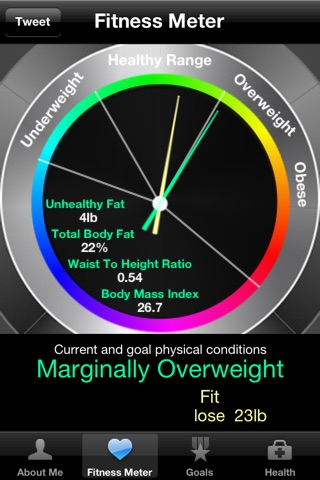 View in iTunes
Free

Category:

Health & Fitness

Updated:

Aug 13, 2012

Version:

1.2.0

Size:

1.0 MB

Language:

English

Seller:

Psynixis Ltd
Compatibility: Requires iOS 5.1 or later. Compatible with iPhone, iPad, and iPod touch.