Get High Now
By James Nestor
Open iTunes to buy and download apps.
Description
Forty audio and visual trips and tricks to stimulate, calm, and bend your senses — even hallucinate!

The multimedia companion to the book, Get High Now (Chronicle Books), this app includes fully immersive programs to cause a total physiological change in your mind and body. Really. Each entry is based on science — not subjective New Age hearsay — and is clinically proven to work. Includes eight different audio patterns to synchronize your brain into wakeful, sleepy, or hallucinatory states; animated effects to trick the eyes to flash imagined colors; ancient trance rhythms; peripheral vision illusions; and many more. All audio programs loop automatically and can be played for hours with your phone disconnected, allowing you to "get high" on a flight, bus, at work, on a date, at Thanksgiving dinner, in jail — anywhere at anytime.

Over forty pages of scrollable, well-researched content introduces the programs and explains why they work and how to do them, including historical context and entertaining first-hand commentary excerpted from the book.

Programs include Binaural Beats · Sound Meditations · Hermann's Sparkling Grid · White Noise, Pink Noise, Brown Noise Loops · Risset Rhythm · Peripheral Drift · Ancient Trance Induction Beats · Benham's Disk · Theta Brain Wave Entrainment · Holophonic Sound · Shepard Tones · Cafe Wall · Fraser Spiral · Troxler's Fading · Tomatis-like Healing Sounds · Zollner Lines. . .and more.

With solo, tandem, and group highs, the Get High Now app opens new windows to experiencing the world. So, what are you waiting for?

+

WARNING: Some programs in this app are not safe to listen to while driving, operating equipment, or any other task that requires concentration. if you have experienced seizures in the past or have epilepsy, follow specific directions on content pages for those audio programs that might put you at risk.

+

GET HIGH NOW (THE BOOK)

Get High Now is an illustrated, mind-blowing magic carpet ride of more than 175 ways to alter human perception and consciousness—without drugs or alcohol. Each entry explores the worlds of neurology, biology, and physiology through meditations, illusions, common herbs, audio and visual stimulations, and some bizarre anthropological discoveries, describing in colorful detail how these highs affect our minds and bodies, as well as step-by-step directions for how to do them. Highs include:

Breathing Meditations: Indian yogis have been going out-of-body with breathwork for millennia.

Audio Entrainment: Audio loops discovered in 1839 trick the hemispheres in your brain to hallucinate a three-dimensional tone between your eyes.

Cheese: A 2007 British study showed 67 percent of people who ate one ounce of certain cheeses before bed reported wild, fantastical, and sometimes life-changing lucid dreams.

Insects: Brazilian bamboo moth larva is a powerful narcotic; multiple bee stings lead to intense hallucinations.

Self-Hypnotism: Einstein and Thomas Edison used hypnagogia to think-up their most famous inventions. It's as easy as holding up your arm. . .

Kitchen Herbs: Norse Vikings went berserk off rosemary; dill soothes the mind; eating basil relives headaches.

Animals: Tribes in Sudan hunt the giraffe and drink it's liver to induce spiritual visions; the blood of schitzophrenics contain the same psychotropic chemical found in hallucinagenic toads and some Russian reindeer urine. . .

. . .and so damn many more. With a supplemental audio-visual Web component and iPhone app, Get High Now allows you to baffle your mind, charge your body with good-feeling hormones, or just have fun anytime, anywhere. So, what are you waiting for? Get High Now!

Available October 2009 at bookstores nationwide. Published by Chronicle Books.

iPhone Screenshot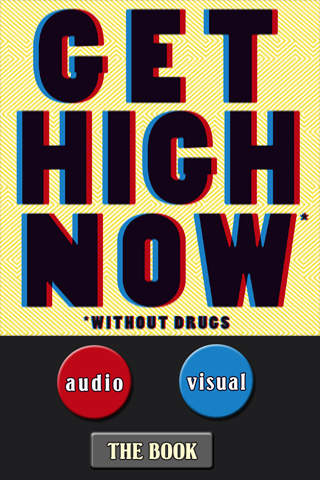 Customer Reviews
Get high now!
Awsome... I have the book, and yes you do get different highs... some very intense and real, all without drugs. This is a companion to the book, but stands well on it's own. I bought the book get high now a couple years ago after hearing the author on coast to coast(radio show). Liked what he was saying and went out and bought the book. Well anyways it changed my life in many ways, all for the good. Introduced me to my mind and taught me about meditation, bineural beats, and many other spiritul, cultural, and inlightening practices. I'm glad they made an app to go with my favorite book of all time.
Please make it run in the background!
I absolutely love this app and use it almost daily. I am a writer who has a terrible time focusing and concentrating. The binaural beats in this app, especially the wakeful super power help me more than I could have ever imagined. My one and only complaint is that this app doesn't run in the background. As soon as I get a text, alert or call it completely shuts down and I have to go back into the app and restart. It's incredibly frustrating to have to stop working to restart the app and search for my sound again. It really disturbs my flow. If this app could run in the background I would give it five stars. Please update it to do so!
Run in background for 5 stars!
Okay so this is a great app for anyone who's interested in binaural sounds, and the optical stuff is a bonus. I think the people who are expecting a high in the traditional sense are the ones who are bringing your ratings down. Go smoke a joint guys, really.... if you're interested in altered states of mind that can help with meditation, etc. this is great!

PLEASE make this so that the sounds can run in the background! I hate that it cuts out every time i go to answer a text or check email.

I use the superfocus @ work
View In iTunes
$0.99

Category:

Lifestyle

Released:

Sep 05, 2009

Version:

1.0

Size:

26.5 MB

Language:

English

Seller:

James Nestor
Compatibility: Requires iOS 3.0 or later. Compatible with iPhone, iPad, and iPod touch.