HIARCS Chess for iPad
By Applied Computer Concepts Ltd.
This app is only available on the App Store for iOS devices.
Description
HIARCS is a multiple World Championship winning chess program and the only handheld chess program which has won matches and tournaments with Grandmasters. It twice won the Mercusor Cup tournament in Buenos Aires, Argentina ahead of Grandmasters, the last time with a performance beyond 2900 Elo, the best chess performance rating for any handheld device in history.

In 1997 the World's strongest ever human chess player, Garry Kasparov, said "HIARCS is much better positionally than Deep Blue" and ex World champion, Vishy Anand, in a recent 2011 interview when asked what chess program he uses to analyse with said "generally I use HIARCS".

HIARCS Chess for iPad harnesses this chess power to enable your iPad to play chess like a super Grandmaster, analyse games and chess problems with you, or play at whatever weakened chess strength you want from beginner to GM strength while offering numerous features to help you learn and improve as you play with HIARCS. An advanced set of coaching features helps players of all strengths improve their chess play.

HIARCS Chess has a full range of realistic weaker opponent strengths and playing styles catering for players of all abilities from absolute beginners to Grandmasters. On the weaker playing levels HIARCS will make human-like mistakes appropriate to the level of play and this together with the integrated coach advice, assessments and alerts allow you to learn and improve quickly. HIARCS also monitors your chess performance and provides you with an Elo chess rating which tracks your chess ability in every game. It can continuously adjust its playing strength to give you challenging but beatable opponents as you improve.

HIARCS Chess will save battery life by using much less energy on the weaker levels, allowing more playing time on long journeys etc.

You can transfer PGN game databases to and from HIARCS Chess and load/save your chess games in PGN format, it even has databases of all the games between Fischer & Spassky and Kasparov & Karpov for you to play through and enjoy.

HIARCS has a large tournament book which is up to date with chess theory with over 235,000 variations. The book moves are displayed on screen with chess symbols and the opening variations are named and ECO coded.

Key features:
+ Extremely Strong chess program, genuine beyond strong GM-level performance
+ Suitable for all players from absolute beginners to strong Grandmasters with many handicap levels and opponents styles and advanced coaching
+ Intuitive and friendly, iPad tailored, user interface supporting all four screen orientations with multiple high quality piece sets, colour schemes and icons
+ Multiple playing modes: play white, black, both sides in two player mode, continuous analysis and interactive replay
+ Fully adjustable Elo strengths, adaptive levels and multiple playing levels and opponents
+ All levels below maximum are low energy to increase battery life
+ Rates your chess play and gives you an Elo rating which is updated after each game
+ Advanced coaching provides move options, hints, move safety and quality highlights and watches your play to warn about mistakes
+ Transfer PGN databases to/from HIARCS chess via iTunes file sharing, load/save PGNs, email games and PGN DBs from HIARCS
+ Set up or edit a position to analyse or play from
+ Advanced game navigation with move slider and VCR buttons for rapid and precise game navigation
+ Many selectable preset blitz, incremental and average time clock settings for timed play
+ Large HIARCS tournament opening book as used by the professionals!
+ Permanent brain for enhanced playing strength
+ Numerous chess display functions for showing chess moves, analysis, book moves, coach advice, move quality even legal moves
+ Integrated Html manual and help screens
What's New in Version 13.7.9
Correction to enable auto self play when Permanent Brain is on
Automatic self play of any position to play out a game using current engine and clock settings
iPad Screenshots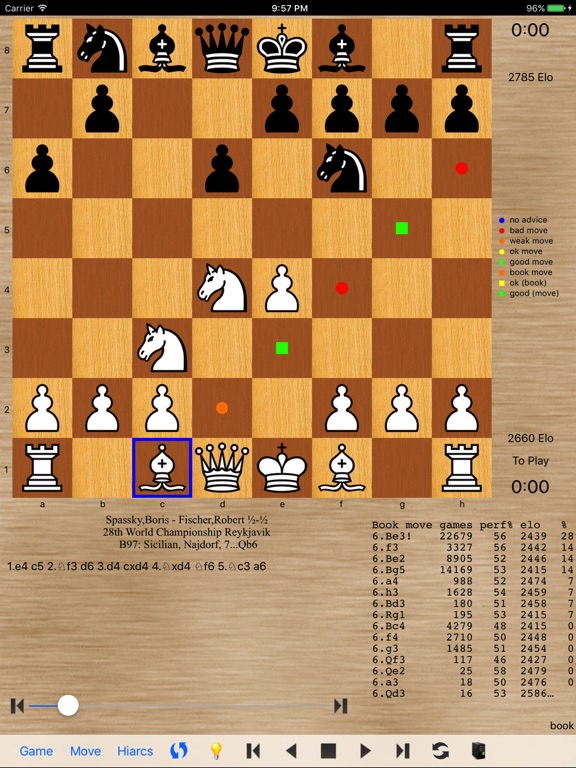 Customer Reviews
I Came Back To HIARCs
With the recent upgrade (Fall 2017) I returned to using Hiarcs in place of Smallfish despite Smallfish using Stockfish 8. First reason, a million opening positions and shown in a listing as you play. In contrast Smallfish has a small book and displays few choices. So to learn openings or start from a strong game position, Hiarcs is far better. Second reason, Hiarcs has a game replay feature with time select ability. Third reason, AutoPlay feature from any point in the game and by adjusting the time settings can control strength of play. After the completion, the the game can be saved or sent to the Analyze This app for deep analysis. Fourth reason, if you really, really need Smallfish with its added six Specialized End Tables (at a cost) that you purchased to analyze simply email the game.

Smallfish has some advantages - stronger (Stockfish) engine, can offer three suggested moves and a game graph, and developer Ted Wong responds to inquires quickly. But Hiarcs' upgrade pushed Smallfish aside for playing a game. For pure analysis I use Asim Pereira's Analyze This app which uses Stockfish 8 and offers numerous, wonderful, and helpful features!
Tough, tight Program!!
At one time, I was able to beat this game by reducing its level of competency to my own or slightly higher. After two years, I steadily increased my rating through learning from a competent opponent. The program does make errors; but, it's overall effectiveness must be no less than 97-98%.

Humans make far more errors in play, yet innovation does exceed computation in some cases. Notably, the program's upgrades have continued to increase its depth and knowledge of historical games.

I highly recommend iPad users to give this chess app a try. Best program I ever want to play. I love the way it adapts to any situation, regardless of previous play.
Good game; weak UX
The UI of this app is not very elegant:

1. Inconsistent font usage. Most of the app is using a sans-serif font, but the names of the players in a serif font, and the opening book is in a courier fixed width font.

2. The board should be bigger. When playing a game, the priority is an immersive playing experience and the board should be as big as possible. But there is unnecessary wasted space here. It strikes me that when playing a game, the screen should be optimized for (a) board; (b) clocks; and (c) move list. Sure, resize these smaller if you turn on/off other features, but you should be able to make the game itself the dominant feature. Move the game controls aside. Let us remove the ELO rating views entirely. Minimize the chrome and focus on the game experience.

3. When you hide the opening book list, the game moves list should take up the whole screen, but it doesn't, and the little slider that lets you zip through the game quickly is sitting there, floating in the middle of the screen. Frankly, I'd suggest losing that slider altogether and let us click on the moves themselves.

4. The pop-up menus in the bottom are strange UX. First, that bottom row is a strange place to be showing menus at all. Second, if you click on one menu to show its popover and then try to click on another, the clicks on this bottom bar aren't recognized. This is especially poor UX because you frequently are searching for some menu option, not knowing which menu some feature is on, you'll click on one menu, not see it there, go to click on the next menu, and your tap isn't recognized. You have to tap somewhere to dismiss first popover menu before you can open another popover menu. Also, the presence of titles at the top of the popover menus is a very poor UI choice.

5. Elements are not always updated correctly. For example, I have my engine set at a particular ELO, but it says "2060" for the ELO on the screen. Likewise I had turned off "show captured material" feature, but when I started the app, it showed up again, only disappearing when I started a new game.

There are tons of other issues in this UI, too. But let me say that, bottom line, I respect the game engine, but this app desperately needs a UI overhaul.

In terms of core functionality, I was hoping that this would capture variations like the desktop app can. E.g. if I go back a few moves and try a different move, I'd like the option of keeping the old line as a variation.
View in iTunes
$9.99

Category:

Games

Updated:

Sep 09, 2017

Version:

13.7.9

Size:

37.7 MB

Language:

English

Seller:

Applied Computer Concepts Ltd.
Compatibility: Requires iOS 8.0 or later. Compatible with iPad.