iBonsai
By Brainpower Labs LLC
This app is only available on the App Store for iOS devices.
Description
iBonsai is one of the most original apps available - there's nothing else like it in the App Store. Recently featured in App Stores worldwide!

"Sheer beauty and brilliance... this is one of those apps you need to experience hands-on... hard to pass up once you see it in action." - iPhoneAppReviews.net

"Steps to iBonsai's huge success: Put an awesome algorithm in a pot, water it with appealing art, and watch it grow into one amazing app." - WhatsOniPhone.com

"Infinitely diverse bonsai trees... it's very pretty." - Gizmodo.com

"The app is certainly ingenious." - AllAboutiPhone.net

"Relaxing and peaceful... quite original." - iPhoneAlley.com

"Spirit of the greatest masterpieces in Japanese 3D style ink." - Japanese customer review

"Awesome, plain and simple." "My girlfriend is insidiously jealous that I have this." "One of the most relaxing, tranquil, and beautiful apps available." "A creative and artistic masterpiece wrapped up in a simple idea." "Really looks like it is being painted on your iPhone." - Customer reviews

----------------------------------------

Bonsai is the Japanese art of miniaturizing trees by growing them in small pots. Now you can create your own miniature trees in 3D right on your iPhone or iPod!

With a tap of your finger, iBonsai's sophisticated generative algorithm begins growing a unique digital tree. No two bonsai trees are the same! After about 30 seconds of growth, your mature bonsai becomes a beautifully rendered image in the sumi-e style of Japanese brush painting. The iBonsai algorithm produces a wide variety of trees: you might get simple, elegant shapes or twisted, complex creations. The randomness is the source of its beauty.

iBonsai is an abstraction of the true bonsai experience, so you need not worry about watering or pruning your tree: simply watch it take shape before your eyes. In designing iBonsai we have carefully pruned the decision-making process in order to give you a hands-free aesthetic experience. For those that wish to have some control over the process, try using the shaping tool to guide your tree's growth.

If you liked Koi Pond, you will love iBonsai. Download it today to enjoy the zen-like relaxing nature of this ancient art form.

----------------------------------------

FEATURES:
• Simple, clean interface.
• Interactive 3D view. Rotate/zoom to see your trees from all angles.
• Many different leaf types: japanese maple, flowering dogwood, and more.
• Shake it to scatter leaves!
• Save snapshots of your favorite trees, then use them for your wallpaper.
• Ambient music generation algorithm produces a subtle soundtrack which never repeats!
• Use the interactive shaping tool to control the growing process, or simply let go and watch the random growing algorithm take control.
• Adjust growth settings to make your trees simpler or more twisted.
• Set the growth speed slow to enjoy a relaxed, meditative experience, or set it fast to see a variety of trees more quickly.
• Hands-free loop feature continually grows new trees. Plug into your dock and let iBonsai paint trees all day long!
• Optional gravity-based viewing mode makes the tree appear to float in space.
• Advanced generative algorithm and random number generator give you totally unique results every time. Produce virtually infinite trees!

Visit the iBonsai page at www.brainpowerlabs.com for usage tips.
What's New in Version 2.1.1
This version clarifies instructions on the info screen regarding how to find iBonsai preferences. (Many users were having trouble finding this page, which is located within the iPhone/iPod Settings.)
iPhone Screenshots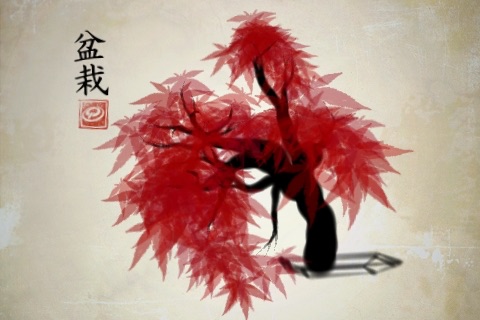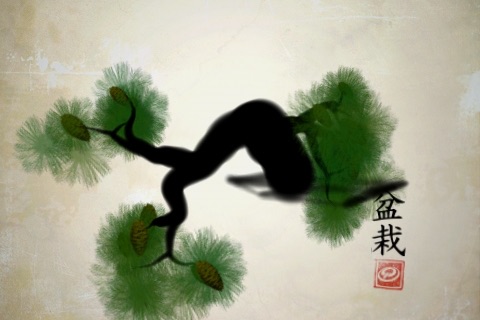 Customer Reviews
Lovely little app
This is one of the few "games" I actually play on my iPhone with any sort of regularity! It's a lovely little app, peaceful, and with nicely understated graphics. Perfect for a quiet interlude to a busy day, especially for those that enjoy procedural growth games and east-inspired style. The one detriment could be the difficulty in guiding growth in any sort of predictable way. Holding your finger down will push growing branches away, which is impossible to control in a 3D environment. It'd be cool to influence branching, angles, or trunk gnarls instead. Perhaps a simple trace of the finger to create a goal for the final tree shape? That could easily add a far more creative aspect to the experience. As it is, controls are simple and to the point, with a great shake function. But really, getting all this for free is... incredible. Not a complex game, for sure, but quietly enjoyable? Certainly!
Cool
It's like watching art unfolding at your fingertips. Each tree is unique, and you don't know ahead of time what variety will grow. It's a (very small) surprise to see what each new tree will be.
My only problem is that it does get a bit old after a while. With no real background image to speak of, and trees reaching maturity in all of 30 seconds, it does get a little boring. It's nice to see pretty much instant results, but it would be great if the tree could keep growing, just at a slower rate. It would also be nice if you could prune it. A real pot instead of sketch lines would be a big plus.
Overall, an elegantly simple app that is not necessarily lacking, but has lots of potential for growth - pun intended. Nicely done. Don't raise the price - it's just right. 
Beautiful... if a bit simplistic.
It's certainly a pretty app and it's one of the first that I break out to show off my new iPhone, but I can't help feeling like it's a bit lacking in the feature department. What it does, it does well. There's just not much to it...

The "shaping" aspect is extremely limited, trimming leaves with the shake function is imprecise at best, and there should really be a way to select what type of plant you want to grow instead of it being randomly chosen for you. Basically... MOAR OPTIONS PLS!

That being said, it's still easily worth $0.99 if only as a demo app to impress your friends, so it get 4 stars from me (which I'll be happy to bump up to 5 if they update it).
View in iTunes
$0.99

Category:

Entertainment

Updated:

Mar 15, 2009

Version:

2.1.1

Size:

2.3 MB

Language:

English

Seller:

Brainpower Labs LLC
Compatibility: Requires iOS 2.2 or later. Compatible with iPhone, iPad, and iPod touch.