Icon Builder
By TrozWare
Open the Mac App Store to buy and download apps.
Description
Do you create apps for iPhone, iPad, Mac, Apple Watch or iMessages?

Are you tired of having to make so many different images every time you make a new app or change the icon?

Do you know how many icon files you have to create for each platform?
Look at these numbers...

• Mac apps require 10 icon files.
• iPhone apps require 8 icon files (or 11 to support earlier versions of iOS).
• iPad apps require 9 icon files (or 13 to support earlier versions of iOS).
• iOS Universal apps require 14 icon files (or 20 to support earlier versions of iOS).
• Apple Watch apps require 8 icon files as well as the iOS icon files.
• Sticker Pack apps require 11 icon files.
• iMessages apps require 14 icon files for the app plus 9 more icon files for the Messages extension.

The images have to be exactly sized and they have to be installed into your Assets library in the correct locations.

But you don't want to have to work all that out for every app and every icon change!

Why not let Icon Builder do all the boring stuff?

Create & install the icon files you need in just 3 steps:

1. Drag an image into the window.
2. Select the device family.
2. Click the "Create icon assets" button and choose the folder containing your xcodeproj file.

Icon Builder will create all the image files at the correct size depending on the selected device family and minimum system version. These will be saved to an iconset folder and installed into the Assets.xcassets of your Xcode project. The larger images needed for App Store submission are saved to an "iTunes Artwork images" folder in your project directory. A ReadMe file in your project directory contains further information.

For Messages apps, the structure of the project is slightly different but Icon Builder works it all out for you and saves all the required files to the correct locations.

If you are not using Xcode, you can save the icons to a folder and add them to your project manually.

Does your iOS app support iOS 6? Select "Include iOS 6" in the "iOS" popup and Icon Builder will create the additional icon files required for iOS 6 apps.

This app can also create the icns files that were used for Mac apps before Xcode 5 or 6. These are still useful for document icons and other IDEs.
What's New in Version 4.0
Version 4:
• Added support for iMessage apps and Sticker Pack apps.
• Added support for creating Mac .icns files.
• Better removal of alpha channel for Apple Watch icons.
• Clearer usage instructions in ReadMe files.
• iTunes Artwork folders will no longer be over-written with the latest image files.
• Supports macOS Sierra and Xcode 8

Version 3:
• Added support for WatchKit apps.
• Simplified interface: removed display of smaller icons.
• Fix for @3x images not being saved when you selected iOS 6 support.
• Fix for double size images being saved on Retina Macs.
• iTunesArtwork@2x file now saved as a JPG to avoid iTunes Connect errors.
• Removed CarPlay icon - Xcode sometimes gave errors when this was included.
Screenshots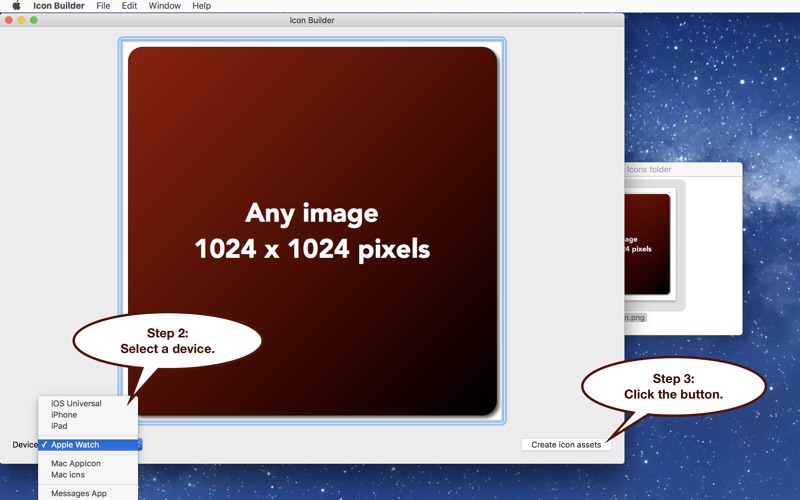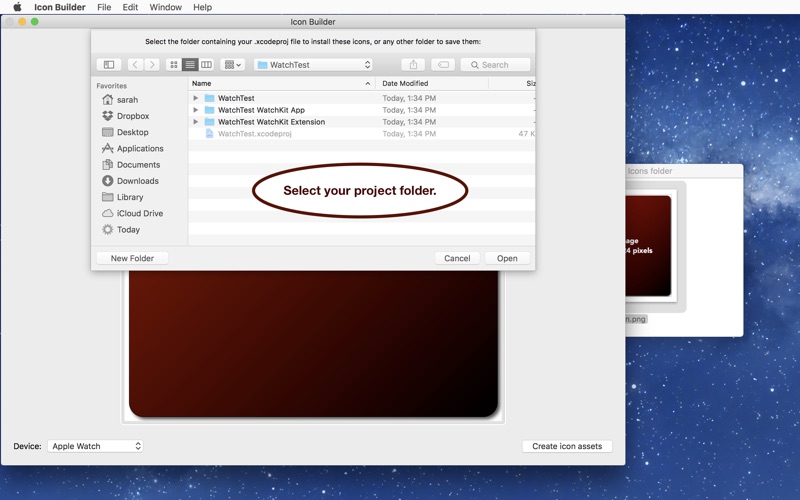 View in Mac App Store
$2.99

Category:

Developer Tools

Updated:

Sep 16, 2016

Version:

4.0

Size:

1.5 MB

Language:

English

Seller:

Sarah Reichelt
Compatibility: OS X 10.7 or later, 64-bit processor