Adware Removal: Remove Malware & Protect Browser
By Aihua Cui
Open the Mac App Store to buy and download apps.
Description
SALE! $19.99 -> $14.99 FOR A LIMITED TIME ONLY!
New Mac adware: ssp.zryydi.com, OptiBuy, mactechright.com, loadoages, playsearchnow, "safe finder", "Time search now", Surfbuyer, Turbomac, MyShopMate, SnowBitt, Chumsearch, Offerz4u, AdChoices and TopDeal discovered.
New PUP: "Advanced Mac Cleaner", "Mac Ads Cleaner", "Mac Mechanic", MacBooster and MacKeeper discovered.
New malware: Komplex, Mokes and Keydnap discovered.

A lot of people ask do Apple Macs get viruses? An Apple Macintosh computer can get a virus, the answer is Yes. So you need a mac security software. There are a lot of free apple virus scan and removal, but Adware Removal is better than other macbook security software. There are also some people ask how to fix browser problems? Is there any adblock solution? Adware Removal is design for this to protect threat & malware.

Adware Removal is the best Mac Antivirus & Adware Remover App in 2016 & 2017. Adware Removal is the professional version of Adware Doctor. By choosing Adware Removal, you're offered with the following powerful features:
1.Real-Time Adware, Malware, spyware & trojans Protection
2.Remove Adware, Malware, spyware & trojans
3.Stop pop-up ads & scams from Adware/Malware
4.Restore your web browser (Safari, Chrome, Firefox)back to normal, resolve slow and hangs issues.
• All extensions, cookies and caches will be removed
• Bookmarks and navigation history will be kept.
What's New in Version 1.0.3
Fix bugs
Screenshot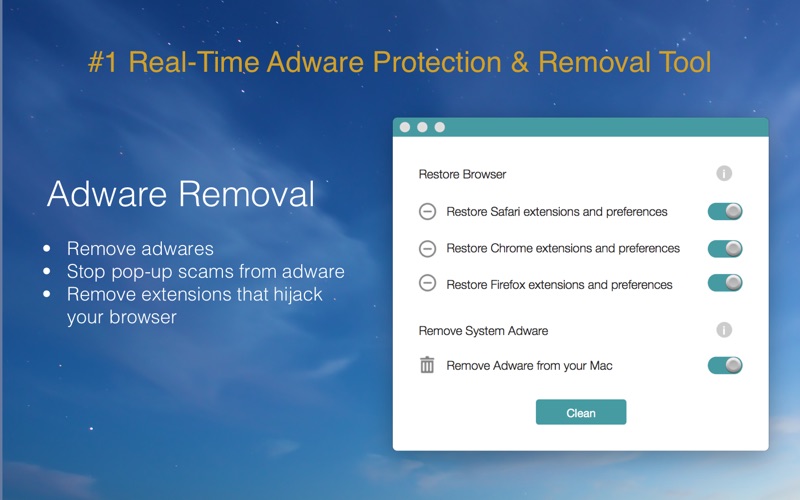 Customer Reviews
$15 Well Spent!
Like the other reviewers mentioned, this is a great cleaning resource to have and even though you have to pay $15, it's $15 you pay once and can use this adware removal service repeatedly without having to renew fees like other software programs. I had downloaded some malware by accident and then got worried and desperate as it was getting crazy as I was seeing these weird pop-up ads even when I had the "block pop-ups" option checked in the Safari browser and I had never seen these kinds of ads before. Then, I saw something about downloading and paying for a removal software service that I was dumb and desperate enough to fall for without realizing that that was more malware that I was allowing onto my MacBook Air. Thankfully, I found out about this app through its similar Adblock app, which recommended me to get this app. At first I was hesitant because it wasn't free, but the ad/pop-up ad situation was getting out of hand, so I read the reviews and everyone had such glowing and positive things to say that I decided to take a chance. I'm glad I did because it was so worth it! The app identifies the malware item by item and all you have to do is remove it. Then, you restart your laptop and you're all clean and set to go! Definitely recommend!
Expedient and Uncomplicated
I have been having a major issue with ad and malware for over a year. The guys at the Apple store told me there is no such thing as viruses on Apple products. When I showed him what was going on, he explained it was malware which was an attempt to gain entrance to my computer and to update my operating system and keep up with updates in order to solve the problem. I have been doing just that, to no avail. So this morning, as i am working and shutting down all those pop-ups, i see a notification flash through, telling me that i can get an anti-virus/anti-mal/adware cleaner in the App Store. I went to the App store directly and saw that, sure enough, Apple now has anit virus/ad/malware cleaners and protectors. Hmmmm. . . So, I decided to spend the $15 on this one. Now, when I used PCs, such software is alwasy expensive and needs an annual renewal and took forever to clean the computer. This? It was simple to use. It QUICKLY told me which ones i had to emliminate manually. I followed all instructions. I had a ton of mal/adware on this mac. I was done in 10 minutes! And that is with restarting and rerunning twice (had about three malwares that were open in the background. Restarting the computer was the only way to get them to "close"). Well worth it.
Problems Solved
I too was a victim of the Advanced Mac Cleaner Scam. How frustrating to have their window open every time I tried to open Safari, with no way to skip their ad or eliminate it from the screen. I have a Fix Me Stick and macTuneuP, neither of which resolved my problem. So I searched the App Store in the hopes of finding a solution. Like most, I looked for a free app, but none seemed likely to resolve my problem, especiall after reading their reviews. Then I ran across this app and after reading the reviews, found that many had experienced the same problem I have. Scan of my computer only took a few minutes and identified several other adware problems that the other programs missed in their scan. Elimination was quick and I'm now running adware free. If you have a similar issue with adware, don't waste time looking elsewhere. Spend the $15 and eliminate the stress and frustration. The free programs won't fix your problem and other solutions are much more expensive.
View in Mac App Store
$14.99

Category:

Productivity

Updated:

Nov 05, 2016

Version:

1.0.3

Size:

2.3 MB

Language:

English

Seller:

Aihua Cui
Compatibility: OS X 10.10 or later, 64-bit processor