focus booster
By focus booster
This app is only available on the App Store for iOS devices.
Description
Achieve more in one day than you do in a week with the most simple pomodoro app available.

focus booster is ideal for freelancers, students and driven individuals, anyone with big goals and finite time, trying to limit distractions and achieve more.

Get started in seconds, discover laser focus with the pomodoro technique, take control of distractions, stay fresh with regular breaks and finish your day satisfied with your progress.

Please be aware you will need to create an account after you download the app. This is because we save your sessions as timesheets so you can run reports on your progress in the web app!

----

"It's completely changed my life and the way I work. It's everything I need, quick, easy, pleasing to the eye." - Brittney Clouse, freelance writer

"Looking for something that is well designed and easy to use, give focus booster a try" - Zapier

"A lot of function in a small package. A great tool to help you stay focused while you're working, and it doesn't bog you down." - CNET

----

FEATURES
Everyone can be more productive, they just need help to cut through the noise with focus booster;
- Pomodoro timer with customizable session and breath lengths
- Notifications to start sessions and take breaks
- Add a client and label to remind you of your task
- Preference settings for alarms
- Dark or light theme

----

WHY FOCUS BOOSTER?
**Get focused**
Simplicity is at our core, all you need to do is focus. We take care of
the rest.

- Getting started is as simple as downloading and signing up, you will be ready to go in less than a minute.
- The app is designed to be as minimalistic but functional as possible, so you can focus on doing the important things.

**Discover productivity**
Get back to finishing your days with a sense of accomplishment;

- By focusing in short bursts with no distractions, you will whip though your to-do list
- Breaks will keep you super fresh and alert, so you eliminate burnout
- Improve the quality and quantity of your work

**The pomodoro technique**
Using a pomodoro timer will recalibrate your productivity. The best part is, the technique is simple, here is how to get started;

1. Choose a task to work on
2. Start a pomodoro session (25 minutes is the recommended length)
3. Work through the session, avoiding all distractions (it helps to turn off things that are likely to distract you, emails, other apps, or just hit airplane mode)
4. Take a 5-minute break; refresh, move, get caffeine
5. Do this three more times and you have completed your first pomodoro (name for a group of 4 sessions), well done!

**Make it yours**
While remaining very simple, we give you the ability to choose the way you work;

- Set the session and break lengths, audio and alarm to your preference
- Choose from a dark and light theme to suit your mood

**Use it everywhere**
Whether you are on your laptop, someone else's computer or on the go, we have an app for you;

- Web app: the heart of focus booster, go there to see all your timesheets and reports, export CSVs for reports or add a manual session
- Desktop app: Windows and Mac versions of the iPhone app, if you forget your mobile and are in need of a focus boost (wink)

----

focus booster has a 30-day unlimited free trial after which, if you don't sign-up, you will be placed on our starter plan.

OUR PLANS
Starter plan: free, 20 sessions per month
Individual plan: $2.99 per month, 200 sessions per month, no clients or revenue
Professional plan: $4.99 per month, unlimited sessions, clients and revenue

----

As seen on TechCrunch, Inc., Lifehacker, The Huffington Post, Mashable, Business Insider and Lifehack.

----

Privacy policy: https://www.focusboosterapp.com/privacy-policy
Terms and conditions: https://www.focusboosterapp.com/terms-and-conditions
iPhone Screenshots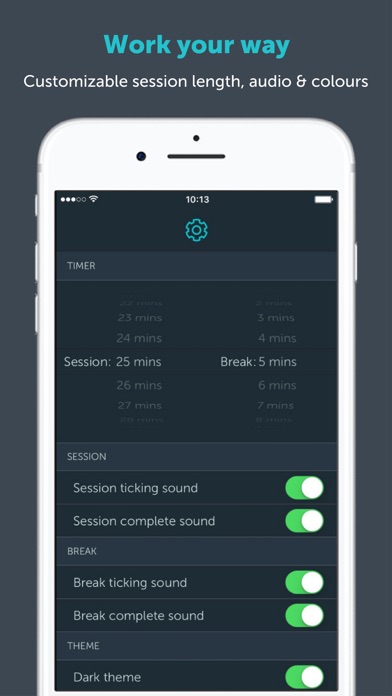 Customer Reviews
The best pomodoro app!!
I've been waiting for focus booster on my phone for months and I'm glad it's ready and working well!! It's a simple and intuitive as the PC app. I'm a college student and started with the individual plan, which was definitely worth it considering how much more productive I became. But then, a couple of months ago, they had a great offer: focus booster forever for $60. I'm glad I purchased this version because I see they've been improving a lot since when I first signed up. Keep up with the great work guys!!
Love the desktop version
I love this service. I've been using it for more than a year, but find that the alarm doesn't sound when my phone is locked.
Simple, easy, elegant
Does all it needs to do and does it well
View in iTunes
Free

Category:

Productivity

Released:

Jun 30, 2017

Version:

1.0

Size:

36.2 MB

Language:

English

Seller:

Idearium Pty Ltd
Compatibility: Requires iOS 10.0 or later. Compatible with iPhone, iPad, and iPod touch.