Sleep Watch by Bodymatter
By Bodymatter, Inc.
This app is only available on the App Store for iOS devices.
Description
Track sleep with your Apple Watch automatically. No buttons to press. Just wear your Watch to bed and wake to insightful sleep analysis and personalized feedback. Automatically log your data. Follow your sleep trends with powerful charting tools.


HOW IT WORKS
----------------
1. Wear your Apple Watch to bed (do not enable Power Reserve)
2. Upon waking, check the Watch or iPhone app to see your auto-detected sleep details; that's it!
3. Opt to confirm or adjust your auto-detected sleep times in the iPhone app to help us build you a smarter sleep detection algorithm

We recommend scheduling 'Do Not Disturb' to turn on automatically during your typical sleeping hours to prevent any Watch notifications from disturbing your sleep. This can be done in the iPhone Watch App > My Watch > General > 'Do Not Disturb' section. We also recommend enabling 'Theatre Mode' while asleep to keep your Watch screen dark until waking.


FEATURES
-----------
• Auto Sleep: Automatically log your estimated total sleep time, total restful sleep time, avg. sleeping heart rate, sleeping heart rate dip, sleep rhythm, and sleep activity levels for each day by simply wearing your Apple Watch to bed
• Discover: Take control of your sleep habits with AI-powered, personalized insights. Every body is unique. Using artificial intelligence, Discover uncovers from your data the lifestyle choices you make that appear to be helping you achieve a better night's rest. The more data you track with Sleep Watch, the more you can Discover.
• Sleeping Heart Rate Dip Tracking: Studies among particular populations suggest that the more heart rate slows—or "dips"—during sleep compared to waking may be better for both overall and cardiovascular health in years to come. Get motivated to build a healthier lifestyle and start tracking your sleeping heart rate dip today.
• Sleep Rhythm Tracking: track an estimate of how consistently you sleep at the same time each day
• Sleep Charge Tracking: a fun new way to help you track and recover from recently missed sleep
• Easy Editing: Manually adjust your detected sleep times to your desired accuracy
• Daily Sleep Goal: See daily progress towards your custom sleep goal
• Daily Briefings: Effortlessly get daily notifications about how you slept
• Powerful Trend Analysis: Track changes in sleep stats on a daily, weekly, or monthly basis
• Auto sync sleep data to Health app
• Share each day's sleep
• Create an account and access your data cross-devices
• See last night's sleep details on your Watch app interface
• Watch Complications


MONITOR YOUR SLEEP
-----------------------
Do we need to say it? Getting adequate and quality sleep is part of a healthy lifestyle that may help us:

• Improve mood
• Reach weight loss goals
• Battle stress
• Improve exercise performance and recovery
• Elevate daytime energy levels
• Learn and retain new knowledge better
• Improve workplace productivity
• Boost immune system strength
• Build better cardiovascular and brain health


TECH DETAILS
----------------
• Leveraging the state-of-the-art motion and pulse sensors in your Apple Watch, our algorithm estimates when you are asleep by analyzing changes in your activity and heart rate
• Sleep Watch looks for sleep between 7pm and 11:30am that totals at least 1 hour
• Sleep Watch notifications about your sleep are sent after 6am at least 30min after your detected wake-up time
• Sleep Watch works by integrating with Apple Health


CAUTION - IMPORTANT SAFETY & USE INFO
--------------------------------------------
• Do not rely on Sleep Watch for medical advice or diagnosis. Sleep Watch is not a replacement or substitute for professional medical care.
• Use Sleep Watch for informational, general wellbeing and fitness purposes only.
• Sleep Watch results are estimates only.
• Consult a doctor if you have any health concern or before starting any exercise program. Do not self-adjust medications.


* Terms of Service: http://sleepwatchapp.com/terms-of-service
What's New in Version 3.0.5
Welcome to Sleep Watch 3―our biggest update yet! Here's what's new:

• Introducing Discover -- your feed of personalized insights to help you take control of your sleep habits. Every body is unique. Using artificial intelligence, Discover can notify you of those lifestyle choices you are making that appear to be helping you achieve a better night's rest. The more data you track with Sleep Watch, the more you can Discover potential ways to improve. Join us as we develop out this exciting new feature.
• Introducing Sleep Rhythm tracking -- a new way to approximate how consistently you are sleeping at the same time each day designed to help you build a more regular sleep schedule. Health research among particular populations has found that maintaining a more regular rhythm of sleep on a day-to-day basis is associated with better waking function, more positive mood, and better self-reported sleep quality.
• You can now explore how your sleep may be impacting how you feel. Enable the 'Restedness Question' feature from the Today tab or Account menu to be asked each day about how well rested you feel upon waking. Your responses will be automatically logged for you to keep track in your sleep history under the Today tab.
• You can now manually add confirmed sleep times to days that have no auto-detected sleep. So, if you forget to wear your Watch one night to bed, but still want to manually keep track of your sleep times for that night, you can now do so.
• You now have the ability to access all of your historical sleep data (up to a year in the past) from the Today tab. We've added helpful navigation to the top of the Today tab that displays each day of the current week. You may select each day to see any data associated with that day. You may still swipe left or right on the Today tab to quickly scroll though your data day-by-day. Now, you may also swipe left or right on the newly added week navigation at the top of the Today view to scroll through your data week-by-week. You also can tap the month back button on the Today view navigation bar to more easily find historical data associated with a specific date via a calendar view.
• You now have the ability to get a breakdown of your estimated restful vs. restless sleep on your Watch interface and from the 'Total Restful Sleep Time' widget on the Today tab on your iOS device.
• You can now follow estimated 'Restful Sleep Percentage' and 'Sleep Rhythm' from within the Trends tab
• You can now share your tracked sleep details for each day from within the Today tab. Navigate to the day of interest associated with your tracked sleep that you'd like to share and tap the share button in the upper right corner of the screen.
• Relative labels (e.g. "Last Night", "3 Nights Ago") are now replaced by the respective dates (e.g. "Jun 20, 2017") on the Today tab on the iOS app.
• In addition to setting your 'Daily Total Sleep Time Goal' by tapping the 'Total Sleep Time Goal' widget from the Today view, you can now set your 'Daily Total Sleep Time Goal' from the 'Account' tab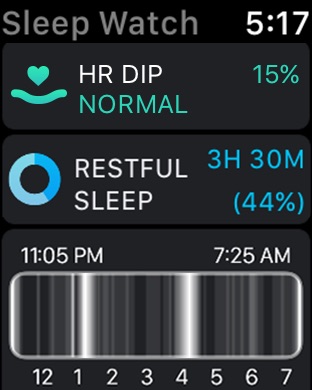 Customer Reviews
Night shift
Great app! Still trying out the "experimental" feature of the all day sleep detection. I work 12 hour night shifts 3 times per week as a nurse, so you could say my sleep patterns are irregular. I was off all weekend so I slept at night and the app worked beautifully. However, today as I slept in preparation for my shift tonight it did not detect that I was asleep at all. Since it is an experimental feature, I'm going to give it a few more chances or maybe increase the sensitivity of sleep detection. I hate to make the comparison but I did recently switch from Fitbit to Apple Watch and there was never an issue with sleep detection no matter when I slept with Fitbit. Hopefully strides are being made for those of us who enjoy tracking our sleep! Again, a successful app.
Was good but needs updated for new devices and OS
I have used this apple on my Series 2 watch and iOS 10 for a while and loved it. However, since I upgraded to Series 3 watch and iPhone 8 with iOS 11 the app has become nearly unusable. I no longer get alerts of my nightly sleep summary on my watch or on the phone. I have to open the app manually and wait several minutes (3-5) for the previous nights sleep summary to appear in the app. Once i close the app i will then get the alert 20-30 minutes later.

Emailed developer and got no response from them after several days. Really hoping they not responding because the busy fixing the app. Will update the review if they come back and fix it.
So accurate
This thing detects everything. The minute my alarm goes off is the minute it says that I woke up! I got up to take my dog out in the middle of the night and it logs the 2 minutes awake to let her out and to let her back in. If it does log something wrong you can edit it which is awesome. My only complaint is that it does not detect naps even if their 3 hours long. But like I said you can just log them yourself and I don't nap enough for it bother me.
View in iTunes
Offers Apple Watch App for iPhone
$2.99

Category:

Health & Fitness

Updated:

Sep 23, 2017

Version:

3.0.5

Size:

51.2 MB

Apple Watch:

Yes

Language:

English

Seller:

Bodymatter, Inc.
Compatibility: Requires iOS 9.0 or later. Compatible with iPhone 5s, iPhone 6, iPhone 6 Plus, iPhone 6s, iPhone 6s Plus, iPhone SE, iPhone 7, iPhone 7 Plus, iPhone 8, iPhone 8 Plus, and iPhone X.
More iPhone Apps by Bodymatter, Inc.