Pepper – Mobile Banking
By Bank Leumi Ltd
This app is only available on the App Store for iOS devices.
Description
תכירו את Pepper, חשבון הבנק החדש שלכם.
כולו במובייל, בשפה שלכם וכולל את כל מה שאתם צריכים כדי לנהל את הכסף טוב יותר (כן, גם כרטיס אשראי ופנקסי צ'קים).
ב –Pepper אתם לא משלמים עמלות עו"ש, הוא נמצא שם בשבילכם 24/7 עם שירות תמיכה אנושי מסביב לשעון, רק לא בשבת, ומלא בהתראות ועדכונים שיעזרו לכם לנהל טוב יותר את הכסף.

ומה בפנים ?
• פירוט מצב העו"ש ותנועות האשראי:
כמה יצא, כמה נכנס, איזה פעולה ביצעתם ואיזו פעולה עומדת לקרות. הכל עם עדכונים בזמן אמת, כולל
התראות על חיובים גבוהים או כפולים.
• פעולות בחשבון:
לקבל או להעביר כסף בקלות, להפקיד צ'קים, לאתר כספומטים.
• שירות בצ'אט או בשיחת טלפון מסביב לשעון:
לא משנה באיזו שעה ביום או בלילה, חוץ משבת, תיהנו ב-Pepper משירות אנושי של בנקאים אמיתיים שנמצאים שם בשבילכם בצ'אט או בשיחה. אמיתיים! לא רובוט עם תשובות אוטומטיות ותמונה של דוגמן.
• פיד מלא בתוכן:
כתבות, טיפים, התראות ב– Real Time על חיובים כפולים או גבוהים, השוואות לאנשים עם הרגלים כמו שלכם או שמרוויחים כמוכם, סיכומי הוצאות בסופי שבוע או חופשות, תובנות, עדכונים ומה לא. וכל זה כדי שתוכלו לנהל טוב יותר את הכסף ואפילו לחסוך.
• חסכונות:
רק תבחרו לאיזו מטרה ובשניות ייפתח לכם חיסכון בתנאים מצוינים.
• הלוואות בקליק: 
לא משנה לאיזו מטרה, תוך דקות תוכלו לקבל הלוואה בריבית מצוינת, עם אפשרות החזרה בכל רגע וללא שום עלות נוספת.
What's New in Version 2.6.1
אז מה חדש? תובנות וסיכומים חדשים בפיד, הודעת פוש לצ'אט וכמובן, תיקוני באגים. זה אנחנו הכי אוהבים. ניפגש בגרסה הבאה.
iPhone Screenshots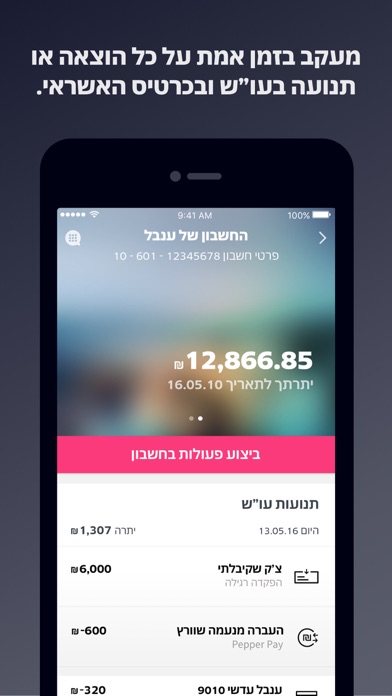 Customer Reviews
Terrible app
This is total rubbish app. Gets stuck in the first time you use it, while opening an account. Can't get by the video chat screen. The first possible date to choose from is in 2018(!!!) and then it just gets stuck there. Why don't you guys debug your app first before launching it on unsuspecting users
מלאה באגים
תוכנה כזו מצופה שיהיה עדכונים שוטפים שבועיים.
View in iTunes
Free

Category:

Finance

Updated:

Nov 02, 2017

Version:

2.6.1

Size:

186 MB

Languages:

English, Hebrew

Seller:

Bank Leumi Le Israel B.M.
Compatibility: Requires iOS 9.0 or later. Compatible with iPhone.
More iPhone Apps by Bank Leumi Ltd