Units - Unit Converter for your iPhone
By crossroad solutions
This app is only available on the App Store for iOS devices.
Description
Units is a simple, yet elegantly designed unit converter that looks and works a lot like a calculator. You punch in digits and Units does the conversion on the fly. Its streamlined interface has been designed for day to day use with a primary focus on speed. Speed in changing categories and units, speed in calculating the conversions. And new in version 2, simply type the first few letters of each unit (e.g Pou to Ou for Pounds to Ounces) and Units provides you with the most relevant options.

Units remembers the last used conversion settings for each category. Combinations that you use often can be saved as Shortcuts for quick access later.

Currency exchange rates are updated once a day from our server, but you can also do a manual fetch when you want to.

Features:
- Supports most common units, and a few specialized conversions
- Go green: Calculate the Carbon Dioxide emissions of your car
- Built-in calculator saves you the trouble of switching between apps
- Press and hold the '.' button to enter fractions and mixed units such as 3ft 2 3/4in
(only for units that allow mixed notation)
- Save often-used combinations as shortcuts for quick and painless access later
- Currency exchange rates are automatically downloaded once a day
- Rotate device to compare values across units
- Copy and paste values between apps

What's New in Version 2.0
Meet the new Units. Same as the old Units. Not.

Units was released just a week after the launch of the App Store, back in 2008. And after 5 years we have yet another major update for you. All for free. Naturally.

This might be version 2.0, but it's really a new app under the hood, with completely rewritten guts. Even the interface has gone under the knife for some serious nip and tuck. Our lead developer yelled and screamed for a pay raise. But you know how it is in small teams, there is always the issue of convincing the Accounts Dept. … unfortunately headed by the same person.

At first, you will notice a lot missing in this release. Gone are the mode buttons, settings screens and the three configurable shortcuts buttons. Simply pull down the keyboard to select any mode and units you want and you are good to go. 3 taps. Or choose from your own carefully curated list of shortcuts. 2 taps. Or use the brand new search function and skip the scrolling altogether. Power to you, sir.

What about settings? Gone. No more flipping back and forth each time you want to filter your lists, or force a currency update. We just integrated the main functions of the settings screen right where you might need them the most.

What else did we do besides getting rid of stuff? Well, there was one little feature we did manage to sneak in by trashing all those buttons. There's now a fully functional calculator built right in. You could probably find a use or two for that.

Hope you like Units 2.0 because it'll certainly like you. And faithfully keep serving your conversion needs till kingdom come. Because this little unit converter simply won't die.

Here are the changes in detail:

- finally, an integrated calculator, so you don't have to leave Units for quick and simple calculations during your conversions.
- simplified interface now makes it even faster to select modes and units.
- create as many shortcuts as you need, not just 3.
- search for units to convert instead of having to navigate through lists
- settings have been integrated into the app and you can now filter, reorder modes and units much more easily.
- added Acre-Feet, Acre-Inches to Volume.
- added Acre-feet per year to Volumetric flow
- fixed conversion errors for Therms in Energy mode
- optimized for iOS 6 and 4" devices
- minor bug fixes and major user interface improvements.

iPhone Screenshots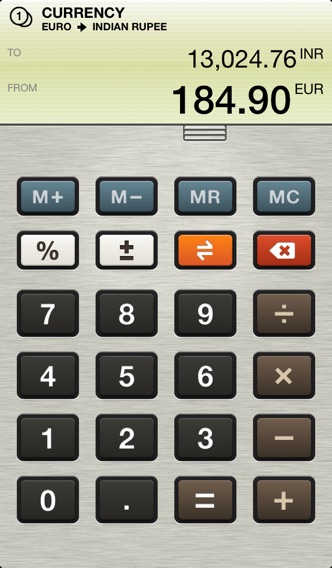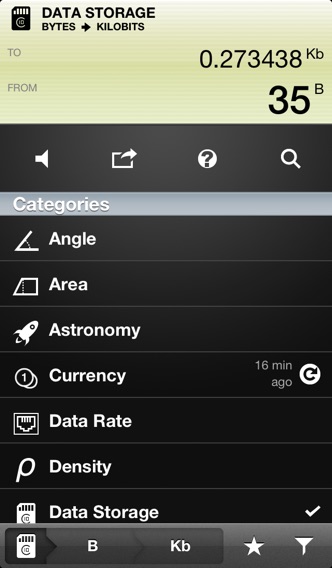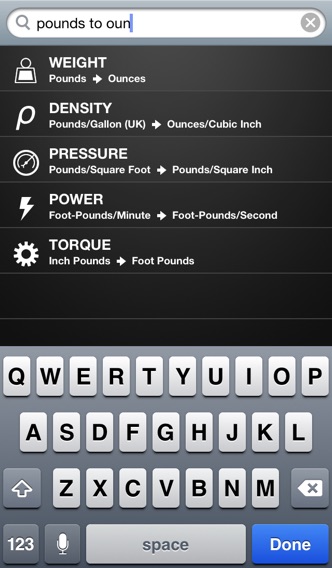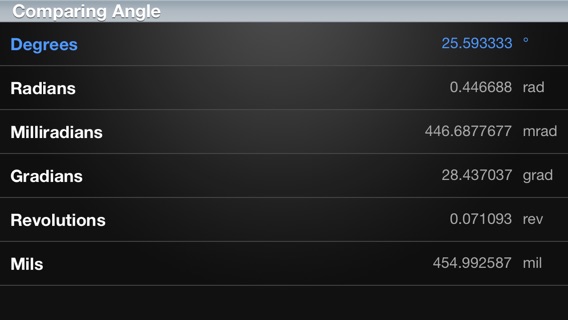 Customer Reviews
Excellent conversion app
I like this app a lot, particularly because they seem to keep on top of it with regular updates.
UPDATE: Dropped 2 stars as promised update to fix 4.0 bug never arrived. Goodbye currency updates :-(
UPDATE 2: All working again, so back to 5 stars. Thank you!
UPDATE 3: Ver 2 June 2013... I was almost afraid to install this update as I didn't want to spoil a good thing, but it has made it even better. I like I can have more favourites, and it makes it SO much easier to switch units within a particular unit. Nice work.
real update
This is a significant update of the user interface. Its fun to use. And its even more customizable than the previous versions once you figure out how to do it. Having the demo is a nice touch. I see that one reviewer didn't take the time to do this, but you can show a filtered view of only the currencies you usually convert and can do the same with the other categories.
Will Be 5 Stars If Developers Ever Update App For iOS 11
This unit conversion app worked wonderfully well the five or so years that I have had it installed on my iPhone. I really loved having access to any type of unit conversion I might possibly ever need, completely at my disposal. I have sincerely missed being able to use the app considering how the developers have yet to update it for iOS 11. When/if they ever do update the app, I will definitely raise my 3 star rating to a 5 star rating.
View in iTunes
$0.99

Category:

Utilities

Updated:

May 24, 2013

Version:

2.0

Size:

7.2 MB

Language:

English

Seller:

Shashwat Parhi
Compatibility: Requires iOS 6.0 or later. Compatible with iPhone, iPad, and iPod touch.