Preschool Adventure
By 3DAL, LLC
This app is only available on the App Store for iOS devices.
Description
★ Featured in Apple Retail Stores Worldwide!
★ Voted Top Kids App!

Ratedforgeek.com
"A definite must-have app if you have young children!"


Marthastewart.com
"One of our Favorite iPhone Apps for kids."


Apps.me
"Out of all the different preschool iPhone apps that are out there, none target as many learning activities as Preschool Adventure."


Arstechnica.com
"A good deal of entertainment, saving you from a tantrum-induced splitting headache."


Appolicious.com
"Each module offers the child a tangible reward for completing each task, whether it be a song, sound sample, or animation. The modules are simple enough to occupy a 2-year old, yet also of interest to 4- and 5-year-olds."

Kid Touch Review
"Preschool Adventure has great educational value and its adorable animations and inviting sounds ensure it is captivating for 2-4 year olds."


iPhoneandkids.com
"Preschool Adventure is one of the best kids apps."


Whattheyplay.com
"This colorful and engaging game is aimed squarely at the little ones, and at parents who need to keep the kids busy on the go."


Appsafari.com
"Preschool Adventure is an entertaining and educational game for young preschoolers and toddlers."


iKidApps.com
"Preschool Adventure is one of the best preschool apps, offering multiple games focusing on a variety of subjects for one low price!"


TopTechNews.com
"Little Sophie Silverman most appreciates Preschool Adventure, in which she reassembles a monkey that sings and dances once all his body parts are in place. It makes car rides painless."



★ Contains eighteen educational activities parents can do with their young toddlers and preschoolers:

1.) Make A Martian: Help develop that young, imaginative, and creative mind by designing Aliens, Martians, and Monsters in Outer Space! Mix and match hundreds of slithery, creepy and crawly body parts with several different color combinations!

2.) Sea Beats:
Explore the beats and rhythm of music with this animated, virtual aquarium featuring 12 unique swimming sea creatures!

3.) Singing Birds:
Learn about music and harmony as children interact with these fun, animated, musical birds.

4.) Note Maker:
Play the keys of a virtual piano and learn how to create and read musical notes with a singing, animated parrot!

5.) Singing Sheep:
Create your very own melodies by "playing" the singing sheep game!

6.) Dot-to-Dot Numbers:
Practice counting numbers (1-10) while connecting the dots to reveal a fun animated picture.

7.) Artist Coloring Book:
Four interactive scenes for your little artist to paint and express themselves.

8.) Typing the ABC Animals:
Give your child the chance to begin recognizing lower and uppercase letters by exploring animals through this virtual keyboard.

9.) Ocean Colors:
Let your young toddler learn basic colors with this interactive, underwater activity.

10.) Space Shapes:
Reveal the shapes hidden within the astroid.

11.) Monkey Body:
Learn the parts of the body while putting the monkey back together again.

12.) Farm Sounds:
Click on the farm animals to learn what they sound like.

13.) Animal Matching:
Watch the animals come to life when you match the correct body parts.

14.) ABC Invasion:
This arcade game teaches alphabet recognition for all the letters of the alphabet both capital and lower case.

15.) Pinball 123:
Develop basic number recognition and counting skills (from 1-10).

16.) Claw-Crane Matching:
Win all of the prizes in this cognitive matching game.

17.) Whack-A-Mole Colors Game:
Learn colors while also developing fine motor skills.

18.) Suzy Dress Up: Dress Up games are a great way to enhance creativity! They promote problem solving, body perception, and stimulates your child's imagination as they explore scenarios and role-play with the characters that they are creating.

SUPPORT AND FEEDBACK:
If you have any technical problems or questions then please email support@3dal.com before posting a review.

Thank you so much for any feedback,
3DAL, LLC

What's New in Version 3.1
-------------
Includes 18 activities!
-------------
Settings now allow parents to:
Enable/Disable games
-------------
Default Settings:
Enable: Preschool Music App
Enable: Preschool Arcade App
Enable: Make A Martian App
Disable: Suzy Dress Up App
-------------
New menu and navigation tools
Performance improvements
iPhone Screenshots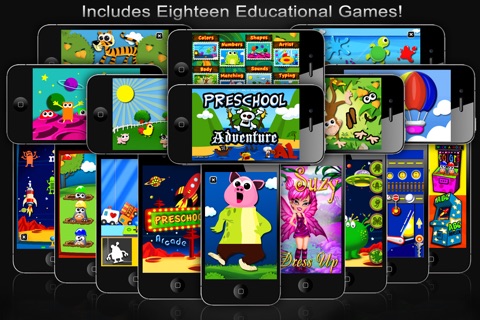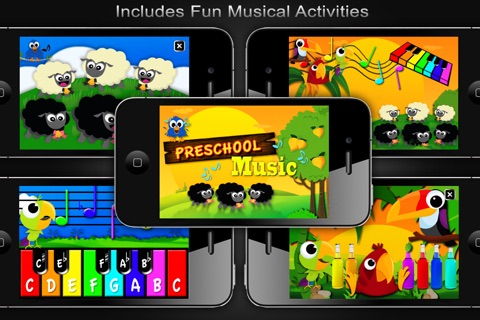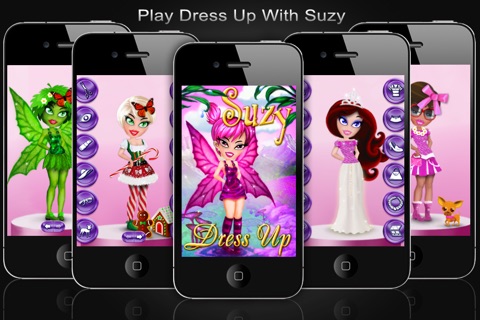 Customer Reviews
Wonderful, amazing, love it.
My 2 year old adores this game, and he has definitely been learning with it. He loves to say the different animal names and see their silly animations/sounds in the typing game, and likes to imitate the sounds the animals make in the sounds game. I recommend this app to any parent who would like to have fun with their child, while they learn about sounds, colors, shapes, and words. We play this on an iPad at 2X zoom mode, and it is great. The touch interface is great as a learning tool, and this app is well made and I am very happy to have bought it. I will buy more from this developer in the future, I can tell.
Good but with a little work could be great
I really loved the original version but now with the added features it really keeps my son engaged for a long time. My main issue is with the ABC arcade game. I uses a theme appropriate but poor for purpose font for the letters. If you are teaching a child letters the most ideal way is with a geometric font (Gill sans, avenir, or even Helvetica) and to use all capital letters. Once they have those down you can introduce lowercase. It would be nice if there were a setting to set the font and uppercase/lowercase for that game (and numbers too, as my son knows them by sound and can count but doesn't yet associate them with the symbols). Otherwise it is a good app altogether.
Pure gold for a long flight
I bought a few kids apps to help keep my 2 year old daughter entertained for a very long transcontinental trip. This was my daughter's favorite (because it is the most fun!) and was my favorite too (I especially appreciated that there weren't "upgrade now" buttons mixed amongst the games!)

I had a problem moving the icon for this app from one screen to another. It turned out it was no problem with this app, but the developer helped me solve the problem anyway! That kind of customer service is very refreshing.

Thanks for making and maintaining a great app!
View in iTunes
$0.99

Category:

Education

Updated:

Mar 23, 2011

Version:

3.1

Size:

67.8 MB

Language:

English

Seller:

3DAL, LLC
Compatibility: Requires iOS 3.1.3 or later. Compatible with iPhone, iPad, and iPod touch.
More iPhone Apps by 3DAL, LLC