TouchType Lite
By Michael Schneider
This app is only available on the App Store for iOS devices.
Description
TouchType Lite enables users to compose and reply to email messages using Apple's wider landscape keyboard. Once typed and spell-checked, messages can be sent to the iPhone's Mail application for dispatch. With TouchType, you can type faster and more accurately.

TouchType Lite includes all the features of the original TouchType application, except spell check and Twitter integration. If you like TouchType Lite, check out the original version for $0.99 on the App Store.

Features:

* Large wide keyboard for faster email composition.

* Integrated subject line.

* Adjustable font size

* Save multiple items of text for reuse, or drafts for completion later

* Enables users to create multiple signatures for email messages

* Save draft messages for editing later

* Auto save when program closes or a call is received

* Auto save every 30 seconds

* Ability to send, forward and reply to email messages using the application. (see instructions for how to reply)

* Full Support for International Languages (including Japanese) and alternative characters, including the & symbol and accented characters.
---------------------

A few notes about saving text:

1) Save and Load: These buttons allow you to save text and reuse it in subsequent email messages. Hit the save button to save the current text. Once something is saved, the load button will cycle through your saved text items.

----------------
The original version of TouchType comes highly recommended, if you like the free version, consider an upgrade:

* "I'm adding this to my must have iPhone apps list." - Mike Arrington, TechCrunch.com

* "Go and download TouchType" - Jesus Diaz, Gizmodo.com

* "Awesome application ...Going straight to my dock!" - Appruv.com

--------------------
Announcement: I am proud to announce that SMS Touch is now available. If you have been waiting to send SMS messages in landscape mode, check it out on the App Store.
----------------------

Check out the other HiveBrain apps on the App Store, Private-I, TouchType, Direct Line and SMS Touch.


----------------
If you are interested in beta testing or hearing about new Hivebrain apps, follow me, @hivebrain, on Twitter.com.


iPhone Screenshots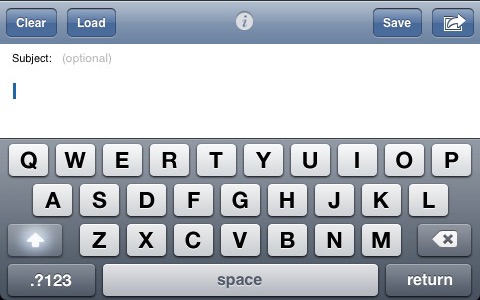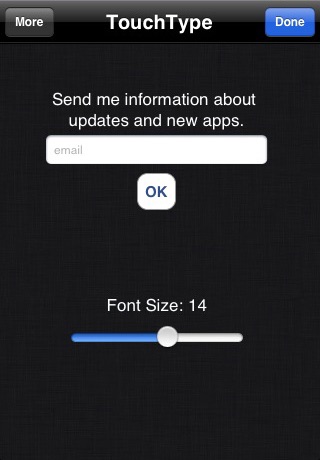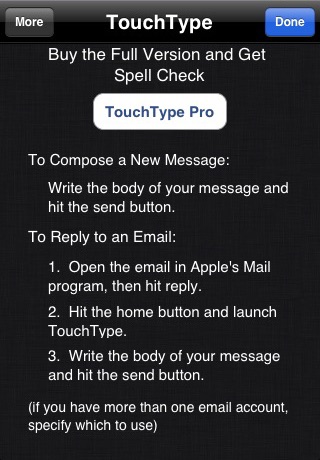 Customer Reviews
Just to add
I am really starting to like this app. Just a few quirks. Once fixed I'm all up for buying it.

Please allow the keyboard to slide away at the touch of a button. Would really help in seeing previous sentences. Currently having to use a smaller font just to see a few lines.

And the other being able to have a list view of saved messages. Select, edit or delete particular lists would be great.

I read a few comments regarding the dislike of the icon(s). I have not seen the previous icons other than what is displayed now.

I have to say I love the look of the icon(s). I have noticed I tend to choose this app over other writing apps which icons have less appeal even though the apps themselves have more save features and more messaging real estate. Allowing one to see more of what your typing. (read above)

So yeah the icon works for me. Makes me want to grab my iPod and start jotting down quick ideas or short story concepts upon seeing icon. Inspirational looking? Quite possibly.

And I dont know why but i really love the included subject header!

So I do look forward to buying the full app. Hopefully with the updated features I've expressed. :)
Not perfect solution...essentially sending 2nd email to original email's body
1. When you open TouchType, write in landscape, send to email, it essentially sends what you type as a separate email, and puts it in the BEGINNING of the body of the original message. Thus when you send the original email (or reply), "Sent from iPhone" appears TWICE when you read the sent message. 2. If you use TouchType, the is NO indication on the original email that you have replied or forwarded to this original email.
Worth installing for the "cut & paste" alone!
Not really c&p, but you can save common text. For example, if you send repetitive emails to your co-workers such as "do you want to go to lunch" or "the boss is on the way", then this app helps with that. You can save text, then when you want to use what you've saved, hit the "load" button and it will cycle through all that you've saved. When you get to the text you want, then hit send. Really saves the trouble of typing the same thing over and over.
View in iTunes
Free

Category:

Productivity

Released:

Nov 20, 2008

Version:

1

Size:

0.1 MB

Language:

English

Seller:

Michael Schneider
Compatibility: Requires iOS 2.1 or later. Compatible with iPhone, iPad, and iPod touch.