Funny 500 - Riddles Lite
By HeavyLifters Network Ltd.
This app is only available on the App Store for iOS devices.
Description
How big can you flex that brain muscle of yours? Not very big? Looks like we're going to have to put you on an exercise program for you brain. Todays routine: riddles!

Nothing like some good riddles to tickle your brain and laugh yourself a workout! Our team of clearly deranged individuals have chosen 500 prime riddles to help tone a six-pack in that skull of yours. The riddles are organized by category, so you can find them easy or browse to riddle categories that appeal to you. You can search existing riddles, or mark riddles as a favorites, for even faster retrieval. Don't forget to email your favorite riddles to your friends.

Give up? Can't solve the enigma? Hit the answer button to reveal the solution!!

Words that you might associate with Funny 500: Riddles Lite are: riddle, riddles, puzzle, puzzles, enigma, mystery, quandary, question, conundrum, answers, word, challenge, paradox, pun, game, games, entertainment, entertain.

If you like Funny 500: Riddles Lite, chances are you will also like: Funny 500: Riddles, Monkey Bowl, King Pin Bowling, Funny 500: Pickup Lines, Funny 500: Knock Knock Jokes, Funny 500: Insults and Putdowns, Funny 500: Famous Quotes, Funny 500: Fun Facts, 15000 Baby Names.
What's New in Version 1.2
Now with over 50 Riddles!
iPhone Screenshots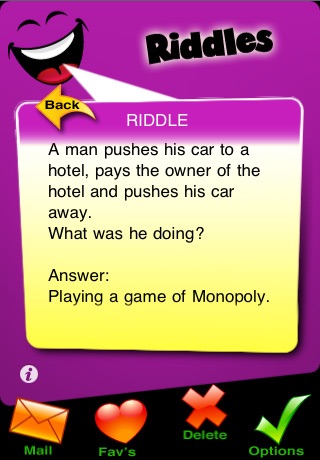 Customer Reviews
Its actually good.
I had to download this to see what the fuss was about. I was shocked and appauled to find...that people are over-reacting just a little too much. I agree the story about the childbirth death could be too close to comfort for some and perhaps this should have been left out of the trial version at least, but at the end of the day it's just a riddle, probably a riddle the developer did not himself make up. Give the developers a break for a second. As for the rest of the riddles, some are not very good but some actually were quite clever. There are 10 in the trial version, not 5 like some reviewer said. The one about the ice. Drinks and assassination was clever. Someone said the answers were too random.. Will someone teach this person about riddles.. Your meant to think outside of the norm. Would I buy it? No because you can get all these for free online, but is it good? Yes it is. Especially as you can add your own. Ignore the hysterical reviews, this app is actually ok
Pretty good
This app is great for people who like to think logically. For all of you out there who complain about the fact that there's only 25 riddles, it's because it's the LITE VERSION!!!!!!!! By te way, there's actually more than 25 riddles. You need to SCROLL DOWN!!!!!! It's called "Riddles 500" because the FULL VERSION has 500!!!! I personally enjoyed some of the riddles. However, I accidentally deleted some of them, so it would be great if you could have a little pop-up screen that says "Are you sure you want to delete this riddle?"  if you fix that problem.

This app is great!
I really like this application, especially since it's free. The only complaint I have is that the "see the answer" button is right above the "delete" button. I keep accidentally deleting the riddle I'm trying to see the answer to. Yeah, a little clumsiness on my part is to blame, but still is the layout. Other than that little problem, I really like the mental stimulation this app gives.
View in iTunes
Free

Category:

Entertainment

Updated:

Apr 27, 2009

Version:

1.2

Size:

1.1 MB

Language:

English

Seller:

HeavyLifters Network Ltd.
Compatibility: Requires iOS 2.2.1 or later. Compatible with iPhone, iPad, and iPod touch.