3-IN-1 Bundle Pack #1! | AmbiScience™ • Binaural & Isochronic Ambient Mind Utility
By Tesla Audio Sciences
This app is only available on the App Store for iOS devices.
Description
--- WOW! 3 Apps in 1 just 1.99! ---
*** The Best Selling Line of Brainwave Apps on the Store - Since 2008. ***

"...worthwhile set of apps for both Android and Apple" - NY Times

PRAISED BY APPLE, MACWORLD.com, TUAW.com, iPHONE LIFE, INFORMATION WEEK AND 148APPS.com OVER 600,000 USERS WORLDWIDE.
** Type 'Tesla Audio' in search today **

"..can honestly say that it's without a doubt the best app I've purchased." - Bonsairick

Let AmbiScience™ take you on a sonic journey with a combination of ambient electronica and a variety several effective programs that attune your brain to desired states of mind using the BEST entrainment frequencies. Tune your mind to help you sleep, relax, focus or meditate.

HOW DOES IT WORK?
Once you choose a particular frequency, such as the 'sleep' frequency, this state is then more quickly achieved than normal. This is done by a mixing of tones sent to each ear - the difference between the two tones, that your brain creates, is called binaural entrainment. We also include isochronic entrainment, which is a different form, using a single pulsating tone in each ear - people who don't respond to binaurals, often respond to isochronics.

THE ONLY APP
AmbiScience is the only app, which includes binaurals and isochronics in ONE.

PROGRESSIVE ENTRAINMENT
This app also offers Progressive entrainment, which is a gradual inducement to your chosen entrainment.

THIS APP INCLUDES the Best Selling apps: Pure Sleep, Brain Power and Android's Odyssey in ONE.

FEATURES:
- 30 LONG Professional Ambient Tracks
• 13 Nature Loops (in Presets)
• 3 Noise Tracks
• 2 Sound Tracks
• 13 Entrainment Tracks:
-- 6 Isochronic Entrainment Tracks
-- 5 Binaural Entrainment Tracks
-- 2 Progressive Entrainment Tracks
• Create your own custom programs
• MULTITASKING background audio available!
• PERFECT Seamless Loops
• Full-Featured presets / Multi-Track Save
• Countdown timer with fader
• Countdown end chime
• Alarm with Snooze option
• Auto Quit/Exit feature
• Quality Audio w/independent volumes

BRAINWAVE/ENTRAINMENT PROGRAMS:
(headphones/earbuds or 2.1 speakers are RECOMMENDED - the iPhone/iPod speaker is not able to produce some of the frequencies below)
- 13 Entrainment Programs:
• 3min. Progressive Caffeine Boost Program
• 12min. Sleep Progressive Program
• Focus Program Isochronic
• 2 Meditation: Binaural and Isochronic
• 2 Relaxation: Binaural and Isochronic
• 2 Deep Sleep: Binaural and Isochronic
• 2 Sleep: Binaural and Isochronic
• 2 Power nap: Binaural and Isochronic

• Isochronic - headphones not required.
• Binaural - requires headphones.

AMBIENT MUSIC TRACKS:
- 30 BEAUTIFUL Ambient Tracks:
• Tesla at Twilight
• Didgeridoo Dreams
• Angel Ascension
• An Evening Rain
• High Plains Japan
• Joseph's Dream
• Desert Sunrise – Sleep Version
• The Power Plant – Sleep Version
• High Plains Asia
• Tesla's Lab
• Gone Fishing
• Buddhist Rain
• Desert Sunrise – BP Version
• A Calming Stream
• The Power Plant – BP Version
• The Fountain of Raw
• A Visit to Olympus Mons
• A Baby Android is Born
• First Steps
• Exploring a New World
• Learning Ones and Zeros
• The Mysterious Humans
• Memory Purge
• The Android's Dream
• I am Android
• The Search Engine
• Gammaville

from Music for Users:
• A Digital Dream - MFU
• Man in the Machine - MFU
• Relentless - MFU

13 NATURE LOOPS (in PRESETS):
• Rain
• Waves
• Stream
• Birds
• Chimes
• Night
• Waterfall
• Thunder
• Wind
• White, Brown and Pink Noise
• OceanSurf 3D (amazing 3D sound!)

PLUS! 2 SOUND TRACKS:
• Just the Rain
• Just the Waves

AUTO-LOCK must be set to 'Never' for alarm to function, and be sure to enable
AIRPLANE MODE to avoid interruptions.

Go to teslasoftware.com for a VIDEO tutorial. Type 'TESLA AUDIO' in search today. Follow us at http://twitter.com/TeslaSoft
What's New in Version 1.5
Added 3 *New* Tracks from MFU
Added *New* Nature Sounds via Presets
Allows playing of iPod Music Tracks in app
Share feature added
Location services added for Alarm accuracy

Check out our *New* app Relaxophilia with Awesome music by Christor Wretfors! Enjoy
iPhone Screenshots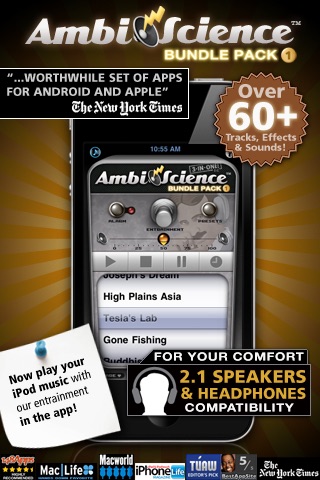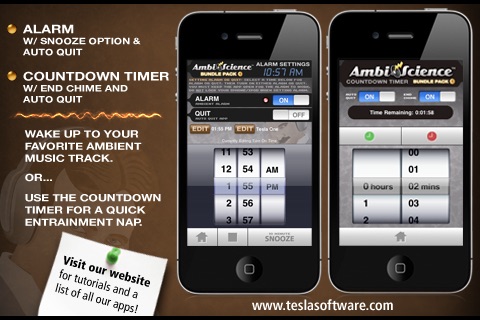 Customer Reviews
Grand. Just grand. Seriously.
There is only one thing, that I have found, to make this EVEN BETTER than it already is. Patch your iDevice into a good "light and sound machine."
With that having been written, I feel I need tell what an awesome, bum-saving application this is:
Having been struggling to get the words down, in an article that I was hired to write, for publication in several major newspapers, I was nearing my deadline-- with only my notes and introduction, which I had had for weeks. Thankfully, I remembered having this app, I began by choosing the settings most fitting for my needs, I pressed the triangle.
So, I had this jumbled mess of notes, jotted-down ideas of cadence, structure and a few complete sentences. But, now, they seemed to suddenly all make sense.
I had felt as though they were all pieces of a giant jigsaw puzzle; and, thanks to Tesla Audio Sciences, I had become so alert, so focused that it finally made sense. I could "see" how it was supposed to fit together.
And it did. Beautifully.
Thank you, AmbiScience!
Best of the bunch for NO headphones
I bought or free dl'ed 4 brainwave programs. I realized its impractical to try to sleep with headphones, particularly if you want to sleep and not just nap for a few minutes. This program is the ONLY isochronic program. It also has the best "cover music" to mask the beats though most of the tunes are slightly unsettling or unpleasant IMO. They sound like the soundtrack to a trippy science noir horror movie. I guess people like that though. There are 2 tracks I find pleasant that I use to sleep. All the new age tracks blend well with the beats. You can also play your own music on loop which is a plus. I really do sleep and wake better with this.
Speechless
For a person with insomnia and severe anxiety, I thought nothing would ever help me sleep. But after sampling the children's version for free, I decided to try this version and it works great! The different frequencies and sounds relax my mind, the music soothes my ears, and the best part is that I can also listen to other music while this app still plays! So whether I'm listening to the rain and wind chimes with Bon Iver in the background or pretending I'm at the beach on a windy day listening to Of Monsters and Men, I'm always relaxed and ready to take it easy.
View in iTunes
$1.99

Category:

Health & Fitness

Updated:

May 10, 2011

Version:

1.5

Size:

234 MB

Language:

English

Seller:

Tesla Software, LLC
Compatibility: Requires iOS 3.0 or later. Compatible with iPhone, iPad, and iPod touch.