Ten Pin Championship Bowling®
By Skyworks
This app is only available on the App Store for iOS devices.
Description
------------------------------------------------------

I've played a few different bowling games for the iPhone and this is by far the best out there right now...
AppAdvice

"Ten Pin Championship Bowling is a great game! (It) is a damn good study of the sounds, environments and action going on at your local bowl-o-rama. The accelerometer implementation in "Ten Pin" is outstanding. Now you REALLY CAN affect the ball trajectory AFTER you throw it… Also the pin movements upon impact are realistic and feel right. The sound design is superb right down to the alley's intercom"
MobileCrunch

I must say (Ten Pin Championship Bowling) is one of the most refined Ten Pin Bowling games I have played for a while. Each (alley) has awesome graphics, sound effects and music, and background effects. Right from the reflections of the lights on the lanes, even the effect you get when bowlers playing in the lanes next to you, the app does an awesome job of giving you a feel that you are actually playing the game in a real environment.
iPhoneIndiaBlog

------------------------------------------------------

From Skyworks®, comes another addictively classic game, TEN PIN CHAMPIONSHIP BOWLING™! 



TEN PIN CHAMPIONSHIP BOWLING features two modes. In CLASSIC TEN PIN mode, you pick your alley and bowling ball color and weight. You approach the line, ball in hand. You swing your arm back, you step forward and release, sending the ball flying toward the pins. Use the accelerometer to curve your shot and reach the head pin or pick off that last pin for a spare. CLASSIC TEN PIN BOWLING is everything you remember about bowling without the smelly shoes. 



"STRIKES-IN-A-ROW" mode is fun strike-throwing competition. Players are allowed only 3 misses as they try and roll as many strikes as possible. Bonus Points are awarded for "Turkeys" and "Six-Packs" on consecutive strikes. The accelerometer lets you curve the ball as it rolls down the lane.



TEN PIN CHAMPIONSHIP BOWLING combines incredible graphics and physics with awesome sound-design and camera work to capture the local color of America's bowling alleys in this realistic Bowling game.

Other great features:



- CHOICE OF TWO MODES: CLASSIC TEN PIN BOWLING and STRIKES-IN-A-ROW
- CHOICE OF 2 ALLEYS: with unique graphics, sound effects and music

- 1 TO 4 PLAYERS - PASS THE DEVICE AND PLAY!

- CHOICE OF BALL COLOR AND WEIGHT

- ACCELEROMETER CONTROLS: allow you to curve the ball down the lane
- ANIMATING SCORECARD DISPLAY: rewards your accomplishments while displaying your score after every frame


- SOUND AND MUSIC CONTROLS
- TROPHY ROOM: tracks your High-Game, High-Series, Average and more


- LOCAL HIGH SCORE BOARD

- GLOBAL HIGH SCORE BOARD: compete against Bowlers all around the world
What's New in Version 3.6
Session M
iPhone Screenshots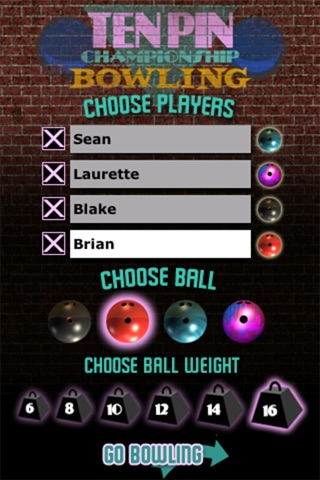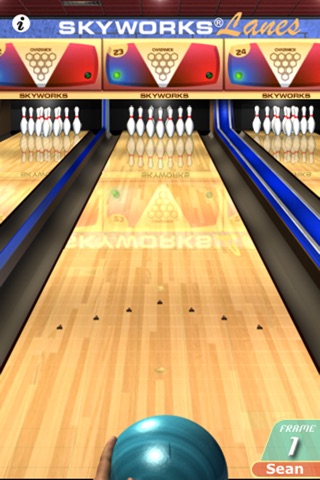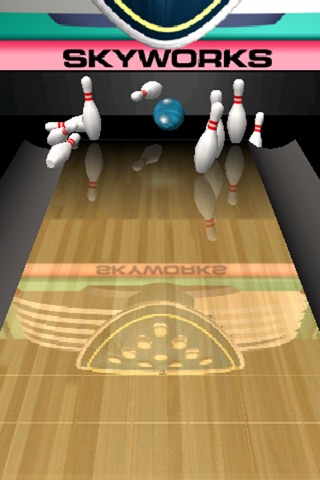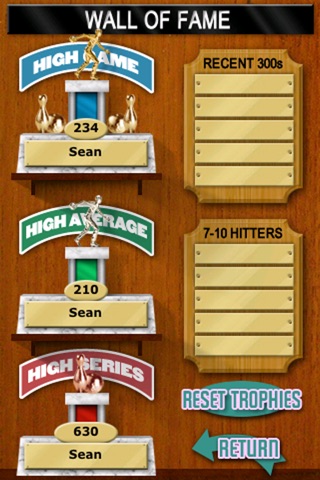 Customer Reviews
THIS IS THE ONE....
I consider myself to be a hard, but FAIR "grader" with respect to ratings.
I've played at least 10 bowling games on the iOS. In MY opinion, THIS is the BEST of the bowling games available compared to the other ones I've used.
Clean, clear graphics plus very realistic reactions to the angles and trajectory that the ball strikes the pins, makes this the best of the bunch. After getting the "feel" for the game, my average on TEN PIN CHAMIONSHIP BOWLING, is within seven points of my TRUE bowling average (155)! I find that to be more than just coincidence. My scores on many of the other bowling games were usually WAY greater or much less than my "real-life" avaerage. ... I'm not crazy about the music and background noise and announcements, but these can be turned off or adjusted for your own preferences.
If there was a 4.5 rating, that is what I would have given this. I didn't round that up to a "5" because I limit my ratings of "5" to exceptional apps. So a score of "4" from me, says a lot!
Regardless what you download, I wish you enjoyment! But let's not forget to get away from the computer and games and spend quality time with friends and loved ones in person!
hanks for reading this long review. I hope it was of some help.
Great bowling but...
This is the best bowling game out there on the App Store but if only they can change the music to rock or jazz have the option of putting your own iTunes and the game will be flawless other than that it's the best bowling game Available!
Self
It is very realistic, even down to the pin sweeper and rack setup. That is why I went for this app. There's no silly Rube Goldberg contraption bowling or penguins or lane that's a half-mile long. It's pure bowling!
View in iTunes
$0.99

Category:

Games

Updated:

Nov 01, 2012

Version:

3.6

Size:

26.0 MB

Language:

English

Seller:

Skyworks Interactive, Inc.
Compatibility: Requires iOS 4.3 or later. Compatible with iPhone, iPad, and iPod touch.
More iPhone Apps by Skyworks