AlwaysOnPC - Firefox with Flash Player and Office on a Virtual PC for iPhone
By Xform Computing
This app is only available on the App Store for iOS devices.
Description
▶▶HUGE SALE - limited time
Computer inside your iPhone with Office Suite, Chrome and Firefox browsers with Flash and Java, Dropbox, Export PDFs
Your AlwaysOnPC Cloud PC is hosted on our powerful Cloud Servers, with the full desktop version of all these programs:

▶ OpenOffice with Dropbox
Open, edit & save files with near 100% feature equivalent to Microsoft Office such as:
▬WORD docs(Writer) ▬POWERPOINT (Impress) ▬ EXCEL Spreadsheets (Calc)
-------------------------        --------------------------       ---------------------------
> Font size shape etc.  > Templates, master etc    > 'DataPilot' pivot tables
> Spelling, grammar   > Drawing, graphics tools  > Sort, Filter, Group, Subtotals
> Revision Tracking   > Animations, transitions   > Macros & Extensions
> Mail-merge, macros > Callouts and flowcharts  > 2D & 3D Chart
...Export/convert from .doc .xls .ppt to PDF, and lots more!

▶ Chrome and Firefox Browsers + Flash Player
Browse and use Flash-based websites, apps, games and videos such as:
Games    Productivity          e-cards/ entertainment
------------   ---------------          --------------
 > Evony   > Prezi (+ edit too!)    > JibJab
 > CityVille  > SlideRocket (+edit)  > BlueMountain
 > ChefVille  > Microsoft Office365 > Jacqui Lawson
 > Runescape > Adobe acrobat.com > American Greetings

▶ Java-Applets support
 > Old School Runescape  > BNSF > United Airlines Unimatic
 > NetDania > PartyPoker > Pogo games & more!

▶ Browser Extensions / Add-ons & Themes
 > Adblock  > Springpad  > Evernote Web Clipper
 > Xmarks  > Personas   > Lastpass (password sync)
 > Screen capture & and tons more!

▶ Upload / Download files to/from your virtual PC, fast!
 Download, edit, and upload to sites like: > SlideShare > SlideShark 
 > Webex > GoToMeeting/Webinar > Fuze, & more

⋆⋆⋆⋆⋆ "Best app in App Store"
by Jslaughter33351on Mar 20 2013 ver 2.0.1

⋆⋆⋆⋆⋆ "gift from the gods"
by Ab07030 on Feb 05 2013 ver 2.0.1

⋆⋆⋆⋆⋆ "Best app ever..."
by Warwick Bristol on Oct 29 2012 version 2.0

⋆⋆⋆⋆⋆ "Must get"
by Xxjunior97xX on Oct 14 2012 version 2.0

▶ AlwaysOnPC also includes these powerful programs:
 ▬ Dropbox access: sync up to 2Gb of files (use selective sync for larger 'boxes). Open. Edit. Save. Easy!
 ▬ PDF Reader and editor, with forms and annotations
 ▬ GIMP Graphic image editing (like PhotoShop) bmp, gif, jpeg, mng, pcx, pdf, png, ps, psd, svg, tiff
 ▬ InkScape drawing program (.SVG, import & edit Adobe Illustrator files!)
 ▬ LibreOffice Database, Formula/Math scientific equations, Draw & flow-chart
 ▬ Filezilla (FTP client)
 ▬ Thunderbird (POP and IMAP email client)

▶ Super-productive computer-like features:
 ▬ Copy and paste between Office apps and the photo editor, drawing program, email and more
 ▬ 'Mouse/arrow' mode for precise editing
 ▬ Right-click contextual menu (two-finger tap)
 ▬ Receive, edit and re-send email attachments
 ▬ 2 GB included online cloud storage (e.g. for Dropbox sync, downloads, etc)
 ▬ Toolbar with Ctrl, Alt, Esc, Del, Shift keys (with lock on/off)

FREE TRIAL simulator available from your PC/Mac: visit alwaysonpc.com (on your PC/Mac)

Notes:
 -*Java applets only. [JAR, JNLP/webstart .exe Windows executables are NOT supported]
 -Designed for Landscape orientation only (like your computer ;-)
 -This iPhone app is NOT compatible with iPad. Please see our separate listing for those products.
- Requires network at all times to run
 - AlwaysOnPC is hosted from one of two data-centers: USA (Los Angeles, CA), and Europe (Sofia, Bulgaria). The farther you are from these locations, you may experience more latency/delay. Try our FREE simulator on your PC/Mac first by visiting our website
What's New in Version 2.0.7
• Various Bug Fixes
• Dropbox Update
• Better Apple TV support
iPhone Screenshots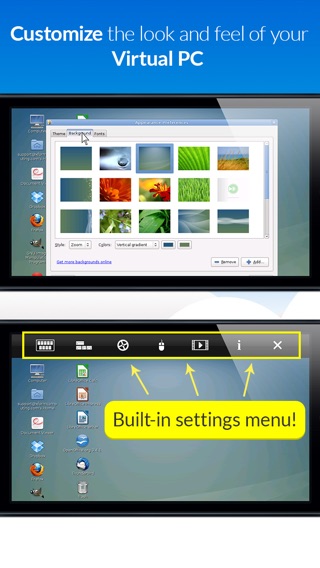 Customer Reviews
OMG idiots it's an advanced tool
People, WTH! You DO realize that a $20 virtual PC won't be perfect, right? This online system runs a custom Linux build, it requires a strong internet connection (or DECENT, I should say), and a LOT of skill with remote monitoring. If you can't dear with lag or not bring able to sign or having trouble dragging something, you really shouldn't have spent your money. For me, though, I LOVE this app. I mostly use it to format google documents (where the app doesn't allow), all the way to running game cheats. And it's a ONE TIME PURCHASE. OMG!!!!! Do you know how much other services cost? Not only that, but they're online (almost) all the time. I've seen them offline ONCE since I first bought this three years ago or so. If you are in any way advanced or okay with lag/delay, then you will love this app. 5/5 stars INSTANTLY.

PS: to the makers, when you have a chance, could you add native 6/6+ support please? I had a tweak which did that and it worked perfectly, only it doesn't support iOS 9 :(
It works
So for anyone hesitating to buy this app heres what you need to know. This app basically gives you access to a virtual linux machine which can run primitive programs very well. E.g. games like oldschool runescape, programs like excel, etc. So dont expect to be playing World of warcraft or anything but it is incredibly useful and anyone in need of this type of app probably understands what a virtual machine is.

Now, I think its amazing what the developers are doing here and I understand that giving a bazillion mobile users access to virtual linux machines is probably an incredibly expensive ontake I cant imagine the operation costs. Hence the hefty price tag.

My biggest concern here is that new users are given a huge amount of network priority and then after a few hours their servers drop you. Or possibly they only give you priority for a certain length of time and after a long session the server moves on to giving other users priority and this is how they balance their likely massive load. I hope if anything its the latter.
This app is amazing
It lets me do all my Java stuff on my phone. I've made a 650% gain on my investments in eight months using this app. If I didn't have this, I'd have to carry a computer with hot spot everywhere I go. I've been surfing with my phone in a waterproof case and did investing between waves, can't beat that. I tried a different Java app, it was terrible and they wanted a monthly fee. This one is so easy to use, I never had to look at the tutorials. Keep in mind, this is not as good as having a computer with you, but I'm able to do investing almost everywhere I go. Don't believe any of the bad reviews, they don't know how to use an iPhone. :-)
View in iTunes
$8.99

Category:

Productivity

Updated:

Aug 26, 2014

Version:

2.0.7

Size:

12.4 MB

Language:

English

Seller:

VoicEcho LLC
Compatibility: Requires iOS 6.0 or later. Compatible with iPhone, iPad, and iPod touch.