A-Yo Sushi Master
By SK planet
Open iTunes to buy and download apps.
Description
Large sushi party, "sushi gone" three
generations have continued against the tyranny of "bribery former sushi" character running Mari-KIM protagonist! " A-Yo Sushi master - Rotation Sushi" could not be found on the predecessor "sushi" business tycoon game is to introduce the system. Sushi by implementing realistic to focus on human relationships, sushi and a variety of ways of tailoring, fishing nets, pole-and-line fishing, sushi trim so new and different mini-games are available. Costumes for various events in the game equipped to play the game a fresh feel You can enjoy!

Features
• Sushi maximize the system's reality seems as if the sushi chef immersion guaranteed!
• Reputation, physical, time, costumes, quests, strengthen, sushi, an event such as a tycoon system, adding a two-step upgrade!
• Traditional sushi, roll sushi, new sushi, shrimp tempura, pole-and-line fishing, net fishing, including game times trim ensure the best use your hands!
• More than 20 main missions and 50 different types of sub-quests to provide a variety of purposes!
• Send gifts, rankings, including five kinds of network systems and skills will compete with other users.
• Costumes, clover, collection enhancements, such as a master trophy!
• Taste, an impressive event, residence time, armed with a special menu, personality factors such as the 30 people waiting a lot of character!
What's New in Version 1.1.0
- Add some quest.
iPhone Screenshots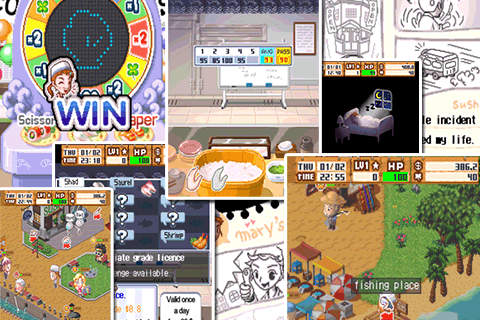 Customer Reviews
Would have been better on a DS or PSP
I really enjoy this game, I really do. Despite the terribly hilarious translation this game is really entertaining, my only problem is that I have a lot of trouble interacting with it.

To make sushi, to prep sushi, to fish, anything you have to 'poke' the screen and sometimes that poke wont work. For example, when I want to skip dialog it's really hard for me to poke at it because it's so close to the 'next' button. Seeing as how time plays a gigantic role in the game it's a waste of precious seconds to have to sit through already seen dialog.

I think this game would be fanastic on a DS or a PSP, or some kind of handheld device other than the iPod. I think if the screen were bigger I wouldn't have such a problem.

Please port to DS or PSP! I'd totally buy this game if it were for the DS :) Or even 3DS once that comes out.
A cute cooking app at a reasonable price
Pros:
- A very interesting storyline, I enjoyed watching it unfold
- Good art; not exceptionally wonderful, but it emulates games like cooking mama
- Varied minigames: from the fishing to the sushi preparation, there's enough so you don't get tired of it quickly
- Overall well-designed games

Cons:
- Translation errors can really get on your nerves at times
- No free play mode
- I've experience a few lag bugs and such that just messed me up

Summary:
A good cooking mama type game where you do various activities to sell sushi to the populace. It will definitely occupy quite a few hours of your time and for $1.99, it's a decently priced game. It's not a must-buy, but if you like this genre, then this game won't dissapoint.
Great game! Help please!
Awesome game. I lose track of time when playing it. I've had to restart the game from the beginning after losing challenges, which is a flaw, but improving strategies from the beginning helps.
The translation is bad, but the game itself is the most complex time-management game I've come across.
Not being able to save the game when an incoming call or text comes in, should be worked on.

The game itself is great, the technical stuff like saving, translation, and challenge resetting needs to be worked on.

Does anyone know how to beat Victors dad?? Can't figure out what he likes!
View In iTunes
$1.99

Category:

Games

Updated:

Dec 21, 2009

Version:

1.1.0

Size:

4.3 MB

Language:

English

Seller:

SK Planet
Compatibility: Requires iOS 2.2.1 or later. Compatible with iPhone, iPad, and iPod touch.