Bugs & Bubbles
By Floating Cube Studios
This app is only available on the App Store for iOS devices.
Description
*FREE* for a limited time only!
"OMG! It's so insanely cute!" Features easy-to-learn, yet addictive bug-squashing game-play! Enjoy the beauty of the woods in the comfort of your home!

FEATURES
* Interesting and addictive game-play that anyone (yes anyone!) can pick up in seconds.
* Gorgeous, hand-drawn graphics.
* Specially composed music score that brings back memories of those lazy summer days.
* Intuitive controls, just Tilt & Tap!
* Global High Score tables. Check out the best bug-squashers!

Check out our gameplay trailer at
http://www.youtube.com/watch?v=OaqejJADPY8

***ALWAYS FREE REGULAR UPDATES***
Updates with new levels, bugs and characters! Check out www.floatingcube.com!

HOW-TO-PLAY
* Tilt to move Bubbs boy.
* Tap and keep finger on screen to charge the bubble (the longer the charge, the more powerful the jump).
* Release to jump
* Squash as many bugs as possible*!


*No bugs will actually be harmed; they just fly away!
Keep an eye out for the special golden bug!
iPhone Screenshots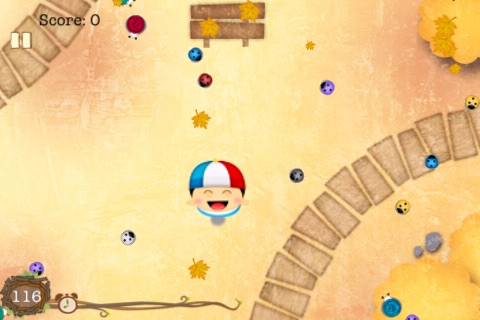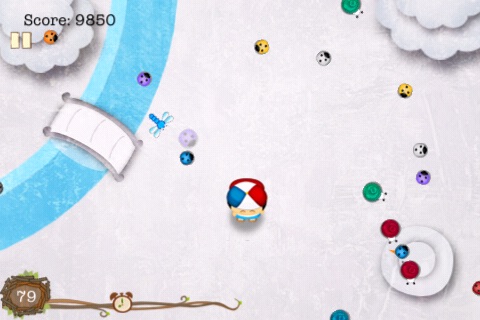 Customer Reviews
Great fun for all ages
If you don't remember being that age where stepping on bugs was fun, this should take you back there. Kids of all ages should be able to play this in some way and it evens holds the interest of adults who have a little time to kill. The Blitz mode is good for a quick game as it is on a timer and this is a good mode for kids as well since you can't lose the game you just score less points. So it is not as frustrating as the practice mode where you lose a live each time a bug hits you and after three hits you are done.

A couple suggestions for the developers. First, the practice mode doesn't seem like practice, in fact, I found it harder and more frustrating than the Blitz mode. I realize that your score doesn't get uploaded but maybe it should and is just a different mode of the game. Second, I would change the instructions a little. It took me a while to figure out what "charge" really meant. It changes the size of the bubble so you can kill more bugs at once. I first thought it changed the hang time of the little guy in the air.

But other than that, I fun game which should give you something to do when you have some of those irritating waits in line or when you want your preschooler or k-5 child to be entertained for a short while.
Beautiful bugland
I gave this one a try this afternoon and was pleasantly surprised. I picked it up because the artwork was cute, but sophisticated, and it turned out the whole package feels that way (a good thing).

Your goal is to squash buggies, as many as you can simultaneously and repeatedly. To do this, you need to press anywhere on the screen to begin generating a bubble around your little dewd. When you release, the little guy hops up into the air and then plummets downward, hopefully on top of a group of buggies. When you hit, a bubble explosion triggers that is the size of your initial pre-jump warmup. This is a nice little risk/reward mechanism, because if the bubble contacts an enemy before the jump, it pops, and you'll have to start again, wasting valuable seconds.

In some ways, it's a hybrid of Sneezies-style chain reaction games and Starball, with the tilt control, combined with a jump system all its own. There are multiple environments, which represent the seasons, I believe. The artwork is phenomenal, the gameplay is kewl, and it has global leaderboards. Nice work, to the devs!
Good cute and simple fun!
The game is simplicity in action. Tilt to move, tap and hold to jump, and then continue to tilt so as to land on as many buggies as possible (the big the jump the bigger the impact area). Squash many at once for extra bonuses. Also fun is the game's clever implementation of local and global scores all on one screen (so while perusing your local scores you see the global top 5 and your global ranking with your best local score).
View in iTunes
Free

Category:

Entertainment

Released:

Jan 28, 2010

Version:

1.0

Size:

7.4 MB

Language:

English

Seller:

Floating Cube Studios Pte. Ltd.
Compatibility: Requires iOS 2.2.1 or later. Compatible with iPhone, iPad, and iPod touch.
More iPhone Apps by Floating Cube Studios