iDraw
By Indeeo, Inc.
Open iTunes to buy and download apps.
Description
iDraw is a full-featured graphic design and illustration application for iPad. True desktop-class editing and illustration tools on the go.

"...the iOS' answer to Adobe Illustrator" - Padgadget
"Finally, Professional Vector Editing Comes to the iPad; 9/10" - AppStorm.net
"Numerous options; easy to use" - Macworld

iDraw has all of the tools you need to create everything from detailed technical illustrations to beautiful works of art. Create complex designs quickly and easily, even on the go.

A best-selling Graphics & Design app also on the Mac App Store!
Easily share designs with the Mac version of iDraw using iCloud or Dropbox.

Latest features:
- Photoshop PSD import/export
- PDF and SVG import/export
- Layer FX - shadows, glows, multiple strokes and fills, etc.
- Multi-color linear, radial, and angle gradients
- Shape libraries
- Dimension labels with precision settings
- Boolean path combinations
- Canvas scale, Rulers, and units (mm, cm, inches)
- Pen tool multi-point selection and editing
- Smart alignment guides and point snapping
- Magnifier Loupe
- Dropbox Integration
- Autosave

Layers, Text, Images, Object Groups, Multi-color Gradients, RGB / HSB / Hex color pickers, Brushes, Bezier Pen Tool, customizable Canvas Styles, Grid and Smart Guide Snapping, Image Masking, vector-based PDF and SVG file import/export, and much more!

FEATURES
- Brush and Pencil tools for fluid drawing and sketching
- Essential set of shape tools
- Multiple Layers allowing you to create complex designs
- Powerful Pen tool for creating custom shapes
- Color picker wheel / RGB and HSB sliders / Hex colors
- Magnifier Loupe
- Eraser Tool
- Unlimited Layers
- Linear, radial, and angle multi-color gradients
- Multi-style text support, TrueType (.ttf) font import
- Text gradients and text path clipping
- Convert Text to Paths, Place Text on Path
- Apply shadows and effects to shapes, text, and images
- Rotate, scale, and shear transform tools
- Snap to Grid, Smart Alignment Guides, and Point Snapping
- Line dash and arrow styles
- Image fill masking and cropping
- Canvas Styles

EXPORT / SHARE
- Export drawings as vector-based PDF and SVG files
- Export layered Photoshop PSD files
- Export transparent PNG or JPEG images
- Save and Import from Dropbox
- Sync designs using iCloud
- Save designs to your Photos Library
- Send designs via email
- Send designs directly to other iPad application
- Copy and paste to and from other iPad applications
- AirPrint document printing

UPDATES
New in 1.3:
- Beautiful high-resolution graphics for the Retina display on the new iPad
- New Shape Libraries Pane
- Redesigned Documents Browser
- Image Crop tool
- Color Eyedropper
- Compound Paths
- Distribute Objects
- Layer Opacity & Blend Modes
- Import Image Files from File Sharing and Dropbox
- Import Fonts
- 'Constrain' Gestures
- Export multiple selected documents
- Added smoothing setting to Pencil and Brush tools
- Improvements to SVG import

New in 1.2.1:

- Pen Tool: tap path endpoint to remove or edit end direction handle
- Two Finger Tap: quickly switch between tools

New in 1.2:
- Redesigned toolbar and interface
- New 'Appearance' pane
- New 'Styles' library
- New 'Line Dash' editor
- Rotate, Scale, and Shear Tools
- Redesigned Pen tool
- Anchor point tool
- Duplicate shapes while applying transforms
- Settable origin point for transform tools
- Join Paths
- Shape Opacity
- Enable/disable pixel-aligned strokes
- Outline editing mode
- Customizable selection color
- Increased zoom levels: 10%-6400%

New in 1.1.2:
- Dimension lines
- Customizable shape labels
- Canvas scale settings
- Improved import of Inkscape-created SVG files

iDraw 1.0 launched with the iPad, and we're continuing to make it the best illustration app available. We're looking forward to your feedback and suggestions!

If you have any comments or suggestions, you can always send us an email at: support@indeeo.com
What's New in Version 2.2
iCloud Drive
- Store and access iDraw documents directly on iCloud Drive
- Import images and vector files saved to any iCloud Drive folder
- Easily share files between Mac and iPad

Handoff
- Use Handoff to seamlessly continue editing a document on a Mac or other iPad
- Handoff requires iOS 8 and Yosemite

Blur Effect
- Apply blur effects to shapes and images
- Enable, disable, and adjust blurs from the Effects pane
- Adjust the blur radius to control the appearance of the blur effect

Annotation Extension Improvements
- Improvements related to annotating large high-resolution images
- Add arrows, notes, and shapes to photos
- Share annotated photos via Email, Facebook, and Twitter
- Print annotated images, save to Photos, or copy to the pasteboard

Enhanced Import / Export
- Shadow and glow effects are now exported using SVG filters
- Added support for exporting kerning values in SVG text
- Many improvements to PDF, PSD, AI and SVG import/export

Additional Features and Improvements
- Align selected path points using the align tools
- Many other bug fixes and improvements

Added new iDraw tutorials for Mac and iPad:
http://indeeo.com/idraw/tutorials/
iPad Screenshots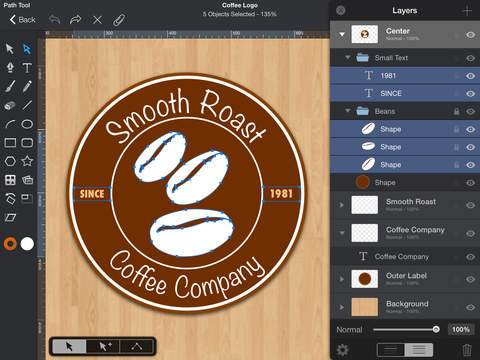 Customer Reviews
Love this app!
I use this app constantly for my second job as a die designer for a paper-crafting company. I rarely need more than line drawings with simple fills and some shadows. But there is a lot of precision required to ensure the blades will work properly. iDraw allows that precision but makes it almost as simple as drawing with pencil and paper! And this latest update is unbelievably powerful for those times I do need more! It is a dream not to have to use Adobe cloud services at a huge expense, especially since this app does all I need, far more easily!

The Indeeo staff are among the most responsive and helpful I have dealt with, also. I was having an issue related to iCloud syncing, and they stuck with me until the issue was fully resolved.

I love this app!
Great app, but needs some work
I love this app for basic illustrations. It is relatively easy to learn and use. I have created many technical drawings with this app on the Mac as well as the iPad. The only reason I cannot give it five stars is that it sorely lacks support for basic functionality like superscript and subscript on text. I have found some help online which shows how to access a not very well documented menu item to insert special characters; however, you can only insert a restricted set of sub- and superscript characters. Unfortunately, none of the restricted set has been what I needed. I look forward to a future release when this basic functionality is included.
Very mature portable vector drawing program.
New to iDraw (don't have the desktop version), but not new to vector art. iDraw is quite intuitive, has great pen, shape, and brush tools, has apex node mode (how did some devs overlook corners?!?), per-object controls for fill, stroke, etc—and most important of all for my workflow: import reference image from photos, and vary opacity as needed. So many apps neglect this teeny feature, it's just sad.
iDraw has been *very* easy to pick up and work in. The drawings export easily to desktop, where I use Affinity Designer—and they transfer wonderfully. I'm incredibly pleased with iDraw!
View In iTunes
$8.99

Category:

Productivity

Updated:

Jan 14, 2015

Version:

2.2

Size:

24.7 MB

Language:

English

Seller:

Indeeo, Inc.
Compatibility: Requires iOS 7.0 or later. Compatible with iPad.