Quran Majeed + Azan Prayer Times Alarms
By PakData
Open iTunes to buy and download apps.
Description
● ● ● Optimized for Apple Watch. ● ● ●

Quran Majeed is an amazing Quran app that beautifies your life with the blessing of reading and listening to the Quran on the go. The latest version of the authentic Quran Majeed app for iPhone and iPad offers complete Quran in the elegant Uthmanic script proofread by a Muslim scholar ('alim), multiple audio recitations, translations and English tafsir/commentary.
القرآن المجيد هو القرآن التطبيق المدهش أن يجمل حياتك بمباركة من القراءة و الاستماع إلى القرآن أثناء التنقل. الإصدار الأخير من الحجية القرآن المجيد التطبيق ل فون وتطلب الشركة يقدم القرآن الكريم كاملا بالخط العثماني أنيقة، تلاوة الصوت والترجمات.  

● World famous reciters (Sheikh Abdul Basit, Sheikh As Sudays & As Shraym, Mishari Rashid, Saad Al Ghamdi, Abu Bakr Shatry, Sheikh Ahmed Ajmi, Sheikh Al-Huzaifi, Sheikh Mahir-al-Muayqali, Sheikh Minshawi, Sheikh Ayub, Khalil Husari, Mahmood AlBana, Salah Bukhatir & Sheikh Basfar).
● القراء الشهيرة العالمي ( الشيخ عبد الباسط والشيخ سديس وشريم، مشاري راشد، سعد الغامدي، أبوبكر الشاطري، الشيخ أحمد العجمي، الشيخ الحذيفي، الشيخ ماهر، الشيخ المنشاوي، الشيخ أيوب، خليل الحصري، البنا محمود، الشيخ صلاح بوخاطر و بصفر). 

● Worldwide Prayer Times clock with Azan/Adhan alarm options. Supports different prayer time calculation methods.
● أذان / الأذان خيارات التنبيه. يدعم مختلف طرق الحساب الصلاة الوقت

● Four English translations (Pickthal, Dr. Mohsin, Mahmood & Yusuf Ali) and forty-five language translations (AlBanian, Amazigh, Amharic, Azerbaijani, Bengali, Bosnian, Bulgarian, Chinese, Divehi, Dutch, French, German, Hausa, Hindi, Indonesian, Italian, Japanese, Korean, Malayalam, Malaysian, Norwegian, Persian, Polish, Portuguese, Romanian, Russian, Sindhi, Somali, Spanish, Swahili, Swedish, Tajik, Tamil, Tartar, Turkish, Urdu, Uyghur, Uzbek) with the excellent new feature of English Tafsir/commentary.

● Option to display any translation and Tafsir/commentary along with full Arabic text in hi-resolution, Retina graphics in both portrait and landscape viewing. Supports pinch/zoom feature for changing font size.
● الخيار لعرض أي الترجمة جنبا إلى جنب مع النص العربي بالكامل الرسومات الشبكية مرحبا الدقة في كل صورة، و مشاهدة المناظر الطبيعية. تدعم ميزة قرصة / التكبير لتغيير حجم الخط.  

● Highly advanced "Search" feature that can help with searching any word (search exact word, affixes or all roots) in the Arabic text, any of the translations & tafsir/commentary.
● متقدمة للغاية "بحث" الميزة يمكن أن يساعد في البحث أي كلمة ( بالضبط البحث عن كلمة، كل اللاحقات أو الجذور) في النص العربي، أي، من الترجمات الإنجليزية و التفسير. 

● Advanced audio options to help with memorization (repetition of ayah, Surah, number of repetitions, interval, and recitation speed).
● خيارات الصوت المتقدمة للمساعدة في تحفيظ ( تكرار الآية، سورة، عدد من حالات التكرار، فاصل، التلاوة و السرعة).  

● Bookmarking of Aya, translation and Tafsir (supports iCloud synchronization that helps your bookmarks stay up to date on all your iOS devices).

● Localized user interface now in Arabic, Bengali, Dutch, English, French, German, Hindi, Indonesian, Italian, Japanese, Korean, Malayalam, Malaysian, Portuguese, Russian, Spanish, Swedish, Turkish, and Urdu.

● Airplay support.

● Option to download bulk audio recitation of different Qaris to listen offline.

● Quranic Aya and word highlighting during recitation.

● Background audio recitation playback support during standby & multi-tasking with complete support for iPod remote control. Option to disable sleep during recitation.

● Optimised for iPhone 5.

● Social media sharing. Ability to share selected aya via email, twitter & Facebook.

● iPad friendly interface (iPad's native popovers).
What's New in Version 3.6
- Apple Watch Support
- Read Quran in your Apple Watch
- Prayer Times
- Azan alarm and notifications
Apple Watch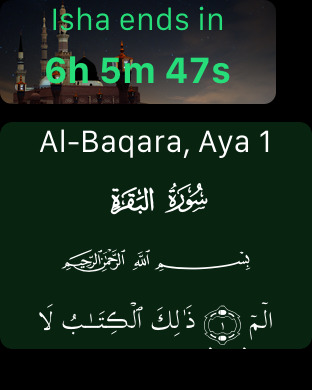 Customer Reviews
THE BEST
I purchased and used most of the leading Quran software for the iPad and this is the best by far and here is why:

1- Performance! Fast rendering, fast loading, fast scrolling, fast paging and downloading!

2- Best text rendering of scalable and high quality text ever! I love the fonts and all of the renderings!

3- Very easy to use!

Search is the only must have feature that is missing. I hope they add it to the next update!

May Allah bless all who made this program and all who contributed to it's success!
Please add prayer times to notification center
Beautiful complete app, that always worked great. Will help a lot if you add prayer times in notification center. Also, will be great to add more athan versions/persons. Thanks a lot.
It's simply the BEST app!
The ONLY reason why I stick using iPad is because of this great app, nothing else. I can't find it on other tabs or mobile devices. Congrats n keep up the great job!
View In iTunes
This app is designed for both iPhone and iPad
Works on Apple Watch with an iPhone
$4.99

Category:

Reference

Updated:

Apr 23, 2015

Version:

3.6

Size:

78.4 MB

Apple Watch:

Yes

Languages:

English, Arabic, Bengali, Dutch, French, German, Hindi, Indonesian, Italian, Japanese, Korean, Malay, Malayalam, Portuguese, Russian, Simplified Chinese, Spanish, Swedish, Traditional Chinese, Turkish, Urdu

Seller:

Pakistan Data Management Services
Compatibility: Requires iOS 5.1.1 or later. Compatible with iPhone, iPad, and iPod touch. This app is optimized for iPhone 5, iPhone 6, and iPhone 6 Plus.
Top In-App Purchases
As-Sudays-Shraym Full AudioFree
Abdul-Baasit Full AudioFree
Mahir-al-Muayqali Full AudioFree
Mishari-Rashid-HQ Full AudioFree
Saad Al Ghamdi Full AudioFree
Sheikh-Minshawi Full AudioFree
Eng-Mahmood Full AudioFree
Sheikh-Ahmed-Ajmi Full AudioFree
Abu-Bakr-Shatry Full AudioFree
Urdu-Jalandhry Full AudioFree