The Glowing Void
By Assyria Game Studio
Open iTunes to buy and download apps.
Description
The Glowing Void proudly supports http://www.DailyAppDream.com. Download the Daily App Dreams App to find out about normally paid apps that are free for a limited time each day!

************************************************************
Formerly the #1 strategy game in the USA on the App Store!

Formerly in the top 10 overall games in the USA!

Winner of a GamersDailyNews.com Gold Award!

"Monumentally addictive" - Eurogamer.net - ★★★★★★★★☆☆

Immerse Yourself In The Glowing Void!
************************************************************
** Game Reviews **

"With its woozy soundtrack and neon minimalism, The Glowing Void is a
fine piece of retro-futurism. It'd be rude not to get sucked in."
- Eurogamer - ★★★★★★★★☆☆

"A shining example of simple graphics but excellent game play"
- GamersDailyNews.com - ★★★★★★★★★☆

"Brilliant fun, actually."
- resolution-magazine.co.uk - ★★★★★★★★☆☆

"The Glowing Void nails the concept of the simple iPhone game"
- gamerstemple.com - ★★★★★★★★☆☆

"There are few better ways to spend two bucks."
- knowyourmobile.com - ★★★★★★★★★☆

************************************************************
** User Comments **

• This is a fun and addictive filler game.
• Really fun, addictive game - well worth the money.
• Great choice for a "pick up and play" game.
• Plenty of polish, and addictive challenging gameplay.
• This game is a winner.
• You have to try it.
• A great pickup and play game.

************************************************************
** Game Description **

The game now features FOUR unique gameplay modes.

*Collector Mode* - NEW (Paid Upgrade)
In Collector Mode you must collect as many white dots with your void as possible, while avoiding the red dots! Collecting multiple white dots with one void will give you a combo. Again you get 3 lives!

* Avoidance Mode *
In Avoidance mode you must tilt the device to move your void around the screen. You must avoid the red dots for as long as possible.

The red dots gradually speed up making it ever more challenging.

Last as long as possible with 3 lives to get a high score.

* Filler Mode *
In this mode you must fill up at least 70% of the screen with as large circles as possible while avoiding a number of red dots of an unknown entity. The game is made harder because the red dots are dynamic and bounces around all over the display. The control mechanism is highly unique: You touch the screen to begin, avoid the dots at all times, and the longer you keep pressing, the larger the void (circles) become, and the more points you score before letting go! Tilting the device will alter the direction of gravity, allowing the red dots to be trapped by circles or voids already created! If you get hit by a dot, a life is lost, and by completing 70% of the screen you progress to the next level. It's entertaining; it's simple, and its fun!

As you become better at the game and progress throughout the levels, additional red dots appear making the game increasingly difficult.

* Burst Mode *
In burst mode the circles fade away after being created, and your focus is on achieving the maximum score with only 3 lives.

Additional features include high-score tables using Agon Online, and support for Twitter and Facebook.

More gameplay modes are coming in future updates!

************************************************************
If your interested in trying out the game first then check out The Glowing Void Lite! However for the full experience you need to get this full version.
************************************************************
** IF YOU LIKE THIS GAME THEN CHECK OUT OUR OTHER GAMES! **

* Astro Dodge * - NEW
* The Mirror Maze * - NEW
* Future Racer *
* Woolly The Jumper: A Sheep On The Edge *
* Picnic Panic *
* Bloodstream Raiders *

************************************************************
What's New in Version 3.0
A new gameplay mode! (Collector - Paid upgrade).
Minor performance improvements.
iPhone Screenshots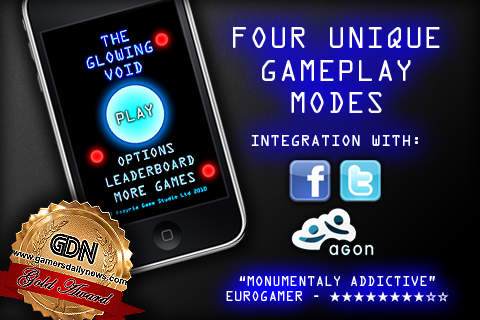 Customer Reviews
Simple, addictive
Incredible how addicted I got after playing it a couple of times, when it's so freaking simple. Great job guys -- just a wish list for future realease is to have the game autosave your level when you exit as anytime something happens it forgets I'm past level 10 and i have to start over again (ios 3 on my 3gs), also it would be nice if the grace period after starting a new level before you lose a life when a red dot hits your void should be a second longer , as I have a habit of keeping my finger pressed still from growing the void that completed the last level and it creates a small plop in the new level that gets hit. Otherwise A+ great gameplay and mood. Play this game in total darkness it's awesome!!!!
Nice compared to the competition
I tried Blowfish and Just fillin and I like the physics of this game much better. However the graphics in this game are not the best, but to me in this case the physics are more important to me. You can make the bubbles bounce by pulling them into each other... great touch i think. I am a big fan of these sort of games but there are flaws. When I get a phone call while playing, then returning to the game it causes the audio to stop functioning until restarting the app.
So simple yet so addictive!
I completely agree with 64-haBit's post! This is an awesome game and fun to play. Another adjustment though, when you get around level 7 or 8, it starts to lag a little as in when I take my finger off of the screen the void is still growing and I lose a life. Oh, and another variation could be the higher the level, more balls, faster balls, and more lives OR the higher the level, more balls, slower balls, and less lives. Haha, just some suggestions! Keep up the great work!
View in iTunes
$1.99

Category:

Games

Updated:

Jul 16, 2010

Version:

3.0

Size:

23.1 MB

Language:

English

Seller:

Assyria Game Studio
Compatibility: Requires iOS 3.0 or later. Compatible with iPhone, iPad, and iPod touch.
Top In-App Purchases
Unlock Collection Mode$0.99