The Impossible Game Lite
By FlukeDude Ltd
This app is only available on the App Store for iOS devices.
Description
The best selling Xbox Live Indie Game comes to iPhone and iPod Touch - it's quite possibly the world's hardest game!

With just one control, tapping the screen to jump, guide your orange square over spikes and jump onto blocks to get to the end of the level. Any mistake will result in instant death and a respawn at the beginning of the level. With an awesome soundtrack synced to the game you'll quickly become addicted!

Also included is a Practice Mode, allowing you to lay checkpoints along the way so you don't have to start from the beginning every time.

Check out the full version for more features, including a medals and stats page!

Praise for The Impossible Game on iPhone:

"The most original platform gaming I've ever experienced... A ton of fun"
- Touch Arcade

"Insanely addictive"
- Destructoid

"Lovely, clean graphics and addictive music"
- Gizmodo

"Words can't describe how 'right' this feels."
- DIYgamer

"An incredible ride. High-tempo, life-or-death, and completely seamless. 4/5"
- 148 Apps

"A great boredom buster. 9/10"
- NXT Gamer

"A minimalistic yet very stylish design that draws you in and keeps you coming back for more"
- App Advice

More Info: http://flukedude.com/theimpossiblegame
Contact: info@flukedude.com
iPhone Screenshots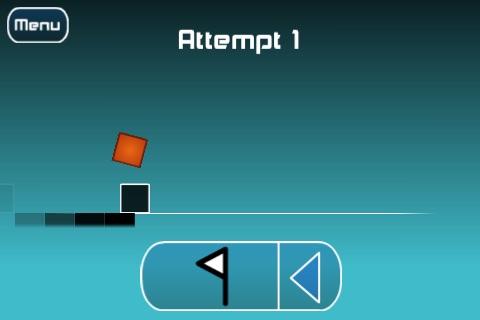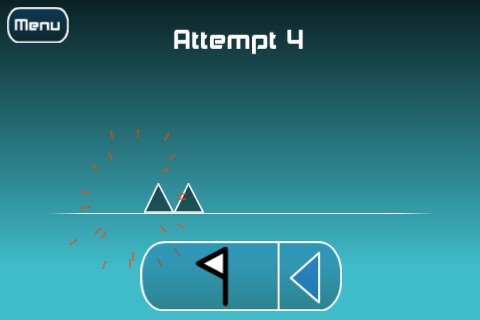 Customer Reviews
Please extend the demo
I just installed this. I want EVERYONE to know that this game is not a rip-off version of Geometry Dash. Geometry Dash is BASED off of this game. At least stop telling lies in the reviews, people! I do have one complaint, though. I have a first-generation iPod, which can only run games up to iOS 4.1.2 and with OpenGL 1.0. These games are rare on the App Store. I cannot install the full version on my iPod. Even though that would be almost impossible to fix, and cumbersome to iOS users 5.0 and above, that is only part of my full complaint. Because you can see this review, I have obviously installed the Lite version of The Impossible Game successfully. However, since I cannot install the demo or the full version of Geometry Dash, I plead that the developers of The Impossible Game extend the level in the Lite version to its full extent. I would think that would make many gamers happy.

Sincerely, WAUthethird
Only for the Masochist - brutal - no fun
I bought the full version, and sorry I paid the money. I play games for fun and distraction. This game fails on many counts. To give the reader some background, I reached global top 100 in Meteor Blitz and acquired 3 green stars all levels in Angry Birds along with 22 gold eggs. I still go back and enjoy cracking off 5 million points in Blitz, and try to improve the scores in Birds. I'm in my 50's, race autos as a hobby and fly planes. I'm no stranger to games and thrills. I gave this game a chance, but it's the equivalent of clubbing baby seals to death - and you're the baby seal. There's no chance to learn, and upon each failure you're back to the very beginning. The sound track appears to be designed to make you mis-time jumps. A game should in the end, no matter how difficult the task, be fun. This game is not. And real life is not like this - there is a childhood and a chance to learn; good game designers realize this - and in the process build an audience for future games. I'll never, ever, give this group another look. Don't be a sucker - skip this so called game.
Could use some improvement.
The game itself is really fun. I love a good minimalistic platformer. But even with this, I feel that there are better versions of this kind of game.

Pros:

-Really fun! If you love these kinds of games, check it out.

-Catchy song!

And that's about it. =/

Cons:

-Very small amount of content. (Okay, okay, I understand that this is a lite version of the game, so I didn't expect much content going in. But it could at least have full level.)

-Lack luster graphics. (I'm not a big person on graphics, so this doesn't really bother me, but I know it bothers other people.)

-Very little breathing room. (What I mean by this is that there is a microscopic amount a room for error. I understand that this is a minimalistic game and there isn't supposed to be much room for error, but we're all human,. So no matter how hard we try, we will never get it quite perfect. And yes, I understand that this is just a personal opinion. But I do enjoy just a little bit of lenience.)

Overall, it seems like a really fun game. I do not own the full version so I cannot be sure, but if you enjoy these types of games, it's worth checking out, even though you can find better versions of this game elsewhere.

Kbai, MEOW!
View in iTunes
Free

Category:

Games

Released:

May 01, 2010

Version:

1.0

Size:

6.1 MB

Language:

English

Seller:

FlukeDude Ltd
Compatibility: Requires iOS 3.0 or later. Compatible with iPhone, iPad, and iPod touch.
More iPhone Apps by FlukeDude Ltd