Ultraviolet Dawn HD
By Sad Cat Software
This app is only available on the App Store for iOS devices.
Description
From the makers of critically-acclaimed "Project Phoenix" comes a new, exciting creation. "Ultraviolet Dawn" is a hybrid space-shooter/trading game with a completely open Universe comprising over 1,000 stars to explore. "Ultraviolet Dawn" is our most beautiful and refined game to date.

There is no single predefined way to play - everything is entirely up to you. You chose what you want to be and how you want to play. You can be a peaceful merchant, shuttling goods between stars. You can be an outlaw, attacking innocent ships and capturing their cargo. You can be a smuggler, trading in illegal goods banned by the the Intergalactic Federation. You can even run missions, both legal and illegal.

There is so much to the game. Not only can you upgrade your ships weapons, but you can also upgrade equipment, such as adding more powerful engines or faster regenerating shields. You can even trade your ship in and fly something else entirely, whether a captured pirate ship or a large, bulky cargo carrier.

* Be good or evil: peaceful trader, independent bounty hunter, or a pirate outlaw - the choice is completely yours.
* Over 1,000 stars in an entirely open-ended universe to explore.
* 8 different ships to pilot.
* Unique goods trading system, with realistic demand and supply price calculations.
* Ability to hire teammates for help, with teammate formations provided.
* Fully upgradeable weapons systems.
* Upgradable ship equipment systems - engines, shields, and much more.
* Three difficulty levels.
* Local and global high scores.
* Savable at any point in time.
* Intense, driving music and awesome sound effects.

Videos:
http://www.youtube.com/watch?v=GEEIZ_Z9r1Y
http://www.youtube.com/watch?v=5v2v8Dl-9yI

Follow us on Twitter:
http://twitter.com/SCSGames
iPad Screenshots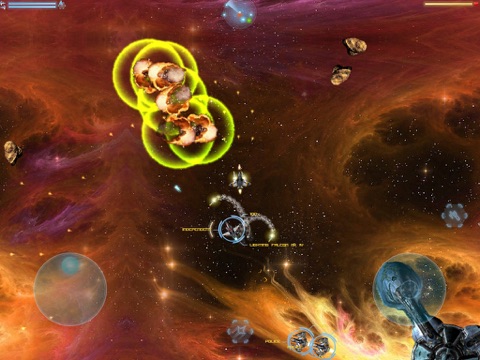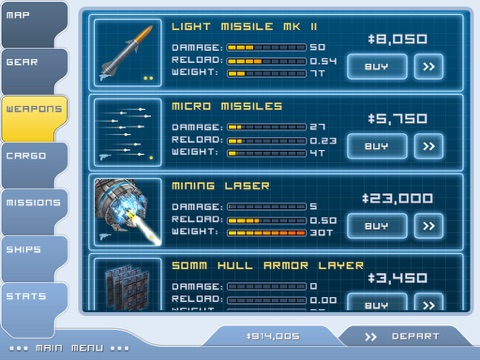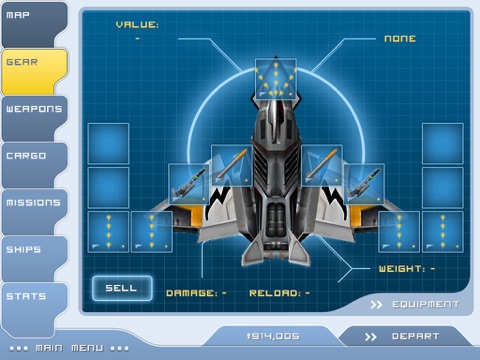 Customer Reviews
Good game but...
It a great game so far but there a few problems that I've seen happen like some time the missiles don't disappear and hit you all at once or that if you use the cargo ship and try and pick up loot it will not show up when u don't with a station but beside that it a great game to have
Truly Terrible
The games premise is unoriginal, but it could have still been fun to play. Unfortunately the user interface for combat is just dumb, and not worth the time. I too am really embarrassed to have wasted money on this, and agree that the app store should never have featured this dog.
Forgotten
This game is forgotten. Nobody is even improving it anymore. The screenshots were pleasing, but the game wasn't. I got all of the best items in just 45 minutes. The missions are all the same everywhere, the music is irritating, and the background is the same. Sure, it tried, but failed miserably. Worst of all, the missions do not tell you which is good, and which are bad. The boredom that overtakes shortly after beginning makes you want to attack anything. This gives you a most wanted status in which everyone attacks you. It is impossible to good deed your way out. it literally is a game ending move. Pirate ships decrease exponentially. That is just one problem. Another is the fact that police appear everywhere. There is no escape, and it becomes a death spiral where it's you against the galaxy. Nothing you can do. You have to start over. The game crashes too. The AI is also too op. Everything's the same. The death spiral is more exciting than the good deed. the evil mishes, attacking space stations, or any military or civilians lead you to the pariah status of death. The military battlecruisers are just too strong. Attacking the space stations just leads to death. Battle is terribly simple. Orbit the enemy and fire and risk hitting a police, military, or civil. The good mishes net you literally nothing. soon, the person of interest missions are tempting, but lead to the death status. Sure, its nice you can become just about anything you want, but the path of evil is too unfair. I am sickened to have wasted my hard-earned cash on this dog. I just quit. All those that like this game don't know what a good game is. Get Galaxy On Fire 2 or maybe Galaxy on Fire Alliances. Warpgate is also a great game. Just don't stray anywhere near this game. If you get it, then you are a fool. Stop waiting for an update people. I have terrible news. Apparently it isn't coming. They dumped this crap upon us. Check out the lite version before even beginning to think about buying the piece o crap game.
View in iTunes
$3.99

Category:

Games

Released:

Aug 15, 2010

Version:

1.0

Size:

15.3 MB

Language:

English

Seller:

Sad Cat Software
Compatibility: Requires iOS 3.2 or later. Compatible with iPad.