Xenome Episode 1
By Nine Pound Studios
Open iTunes to buy and download apps.
Description
*** In honor of our new Verizon users, Xenome is now on sale! ***

NEW! Support added for 2nd generation devices!

Welcome to Silica Flats. A wasteland ripe for exploration. That is, if you manage to stay alive long enough.
The land looks different from what you remember, but that's bound to happen to anyone who's been in cryo-stasis for the last 250 years. You've been reactivated during the advent of the Union-Prime war and both factions want your allegiance. More importantly, either faction would rather see you back on ice (in one way or another) than to be aligned with their enemy.

Welcome to your first immersion into the Xenome Universe. A 3D Action/Adventure RPG that will have you struggling for survival as you unravel the mystery of who you are and what your purpose is.
 
                               -------------------------------------------------------------------

"Xenome, Episode 1 has the right stuff when it comes to role-playing" - Pocket Gamer 7/10

"With a rich storyline, about a dozen hours of gameplay, and a true feeling of freedom, there isn't much not to like about this game. In fact, if this trend keeps up, the "iPhone's WoW" may be coming sooner than we think. In other words, do yourself a favor and go buy Xenome now." - SlideToPlay 4/4

"It's clear Nine Pound Studios spent a lot of time on the artwork, music, sounds and in-game graphics because they're as good as anything I've experienced in mobile gaming." - TUAW

"It begs the question of how you can manage to follow up after something this epic?" - Appspy

"One of the most robust games in the App Store." - NoDPad

"An excellent adventure with an engaging storyline... [that] managed to take gaming on the platform an immense step further than anyone else" - Gamezebo

                               -------------------------------------------------------------------

FULLY IMMERSIVE
Open 3D environment using cutting edge technology, ready to be explored.

INTENSE GAMEPLAY
Realtime combat and powerful abilities. Gain new skills as you level, and steal XNA (alien DNA) to take on new passive and active abilities of native creatures.

ENORMOUS GAME WORLD
Over 5 square miles of seamless, immersive territory teeming with mutated creatures, dangerous aberrations of nature, and other hostiles.

GAIN EXPERIENCE
Get powerful new items, skills and wealth while performing missions and killing monsters.

CUSTOMIZE YOUR CHARACTER
Choose from over 35 skills and abilities and build up your stats with over 500 items that best suit your play style.

INTUITIVE INTERFACE
Stylized, duel-stick control system, drop down map, quest and stats panes, tap to target, and customizable skill interface.

AN ENGAGING STORYLINE
Over 10 hours of deep plot lines to unravel as you make your way through the wastelands.

LOADED WITH SECRETS FOR THE ADVENTUROUS
Enough creatures, missions and areas to keep you playing long after the main plot has unfolded.



Please note - If you are experiencing crashing, you may need to close other background apps in iOS 4.0
What's New in Version 1.1.4164
- Added support for 2nd Gen Devices!!
NOTE: Runs well on the 2nd gen iPod Touch family however performance on the iPhone 3g is still not where we want it
- Improved memory management
- Improved performance on all devices
- Fixed a thumb-stick control bug
- Added sound and video options
- Added multitasking support for supported devices running iOS 4.0 or greater
- Corrected mission text
- Updated map
iPhone Screenshots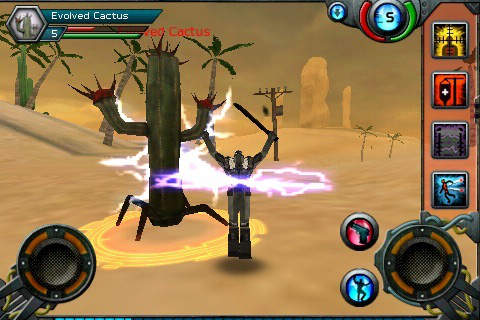 Customer Reviews
Series has lots of potential!!!
This game caught me by surprise! Though the graphics aren't super great, the gameplay is enough to make up for it. The graphics remind me of a mix of some very great console games in the past, as well as pc games. From post-apocalyptic games such as Fallout 3 and Borderlands to huge expansive worlds such as in Red Faction Guerilla, this 3rd person shooter has some solid gameplay through and through. Also reminds me of the game Fade To Black on the PS1 at times. This is the first episode, so I hope there's more of this in store for us in the future.
Now on to some problems. The controls are a bit on the touchy side, and I'm constantly fighting with the sticks to stop them from moving in the wrong directions. Put it this way, it's way easier to turn to the right then the left. Also, when learning new skills, some of them have multiple levels of strength. The problem is I can't seem to learn the level 2 or 3 skills after I've learned level 1. Hope this will be fixed in the future.
I enjoy playing this game very much, and hope there is more added, like indoor areas, ways to customize your looks more, more weapons and armor, more kinds of enemies, (not just other colors/names of current ones) new skills, an iPad version with improved graphics, etc. If you like post-apocalyptic shooters, give this one a try.
A lot of potential!
Was looking for an open world game and I found this. The setting is similar to Fallout 3. Upon writing this review, I have only played the game a bit. I'll update the review in the future.

The graphics are decent, and the sand effect is very impressivel. Draw distance in this game is quite far! It's great that there are options to adjust the graphics for lower end system. Wish there was a support for retina display. The game crashes A LOT, but fortunately it saves often so crashes are not a big deal. I look forward to future sequels.

The GUI choice is odd. I feel the 2nd virtual analog isn't really needed. Could had just use the entire screen in the center for hold +swipe to turn the camera like many FPS games. The special bar at the right of the screen would be better off at the bottom so it doesn't clutter your view. I didn't see the point of the jump button. In future updates, I think these suggestion would greatly improve the experience by removing unncessary clutter.
wow.....
i never thought i would not recomend a game to even my worst enemy untill i got this. it might be worth 99 cents but not close to 4 dollars. the controls are almost designed to make fighting imposable and if you get lost on the map dont worry well aways spawn you in your least favorite spot! and on top of that this game has already crashed 3 times within a mere 15 minutes. for a game of such terrible detail its such a wonder why it cant even suport its horid grafix. i never thought id ever dream of giving such a horrable reveiw. if you insist on this being your style og gameplay heres all i have to say. there are much beeter games that have the same fighting style. such as ravenswords and so on. to be honest i dotn think that xenome can ever redeem my trust even with a never crash garentee. yet if they can ever hope to to gain my trust again they will simply need to make xenome 2 a more smooth game with much less crashing N.O.V.A. has amazing detail and then havent had a flicker of trouble. lets hope you can do that also
View in iTunes
$0.99

Category:

Games

Updated:

Aug 09, 2010

Version:

1.1.4164

Size:

109 MB

Language:

English

Seller:

Nine Pound Studios
Compatibility: Requires iOS 3.1.2 or later. Compatible with iPhone, iPad, and iPod touch.