Reiner Knizia's Medici HD
By Codito Development Inc.
This app is only available on the App Store for iOS devices.
Description
Summer Sale + 64bit update celebration! We are working hard to avoid the Appocalypse - help support us and pick up some games on sale!

Become a member of the infamous Medici family and compete to see who can make the most money in a no-holds-barred bidding war.


Reviews:

"[...] works amazingly well as an [iOS] app. Medici is a wonderful game and a true antidote to button-mashing video games." - TUAW

"We have yet to come across a Reiner Knizia title that we did not fall in love with, and Medici is no different. [...] a great value, earning 4.5 [out of 5] Dimples." - AppSmile.com

"Medici is in an excellent position to provide a boardgame experience for multiple human players [...] I don't see this app coming off my [device] any time soon." - BoardGameNews.com

"[...] the gameplay rewards surpass other games — many of which are deleted once beaten. [Medici] represents a great step forward in board game ports for more serious board game fans." - BlogCritics.org


You are merchants in the fiercely competitive, but wealthy age of the Medici family. Your ships sail throughout the known world selling the goods you buy. Every day you go to the market where you must compete with other merchants for the merchandise available that day.

As lots are purchased they are immediately loaded onto the waiting ships so that the ships may depart as soon as the market closes and the tide is high.

When the ships set sail to deliver their merchandise to foreign ports, the merchants gather to calculate their earnings for the day. A merchants earnings are based on the total value of the goods they bought and the number of each commodity compared to the other merchants.

With no setup time required, no pieces to lose, and no arguments about the rules, the future of board games is here and Medici gives you exactly what you want -- to play!

How to Play:

Combining deep strategy with an intuitive and beautiful interface, Medici is easy to learn but hard to master. Choose your favorite of nine different historically-based Medici characters, and then discover their true personalities as you compete against them in solo play.
On a players turn, they open crates on the dock, then auction them off to the highest bidder. At the end of each day, Florins are paid out to the merchants with the most valuable shipments and who have shipped the most of each commodity. The player with the most money at the end of the three days is the winner!

Features
========
No set up required
Fast, easy, and fun game play for 3 to 6 players
Stunning HD graphics
Support for 3 modes of play: solo, "pass and play", and "hotseat" (around the table) play
9 different historically-based Medici characters to choose from
9 different AI opponents to compete against
Complete rules and game guide
Play your own iPod music


About
=====
Dr. Reiner Knizia is one of the world's most prolific and best-known board game designers, and this version of one of his top titles has been fully approved and endorsed by him.

Sage Board Games is an independent software developer, focusing on bringing award-winning and classic board games to mobile devices. With a veritable "who's who" of Euro games already licensed, Sage Board Games is poised to become the premiere source of board games for iPad, iPhone, and iPod Touch.

Visit us: sageboardgames.com
Follow us: twitter.com/sageboardgames
Like us: facebook.com/sageboardgames

Please send us your feedback and requests, and rate the game once you've bought it.
What's New in Version 1.5
- Added support for iOS 4.2 (fast app-switching)
- Changed font for numbers to make them easier to read
- Moved game menu buttons into a single pop-up menu


iPad Screenshots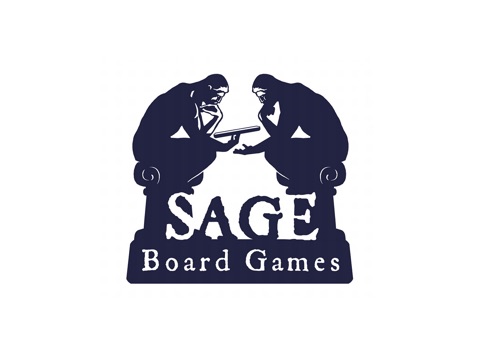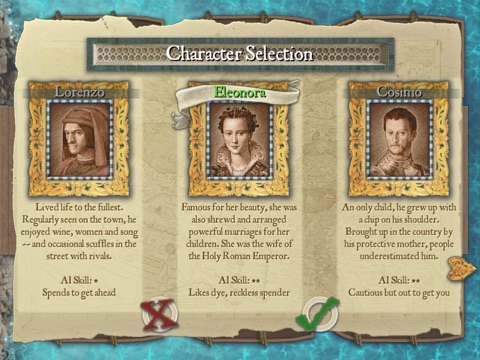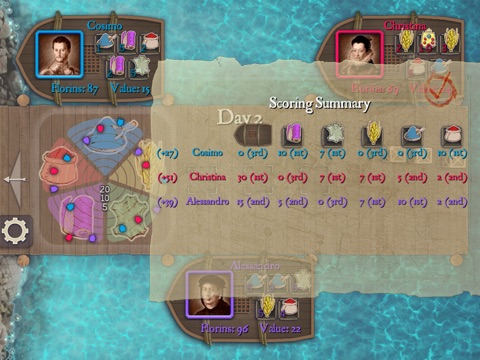 Customer Reviews
Math meets monopoly(R)
This game is similar to the auction process in monopoly(R). The goal is to minimize cost while maximizing the value of the goods you buy. The goods are selected randomly from crates in one to thee lots; here is the twist to the auction process only allows one bid in round robin order. There are bonuses for monopolizing a particular good and also for having the most valuable cargo hold at the end of each round. The winning condition is to have the most money after the third round is finished.

This game lacks an Online component, which greatly reduces the replay value of this game. Maybe that is a good thing because it forces people to come together to play in the Internet age, but often the best competition is found online. This major shortcoming makes it hard to play a game with humans that actually challenge you, especially when you are to busy to meet with people for a few games. Worse still, the hardest AI opponent does not present much of a challenge after you finish 20 or so games.

Overall, the game is fun with human players, built around an auction process that keeps you thinking. This fun gameplay mechanic is hampered by the lack of online play and poor AI. It's game is a solid 3 1/2 stars (rounded down to 3).
Interesting and thoughtful
Some of the AI players have some predictable traits that make the game a little too scripted after a few rounds. But if you find the right blend of "players" it can be very interesting and strategic.

It froze up after one of my games when a window tried to pop up. It was just a white box .... no text or graphics appeared .... so I'm not sure what it was. I uninstalled, reinstalled, and only play it with WiFi off. No problems since.

I enjoy the game. Nice balance to Boom Beach and Stone Age.
Please update!
I love the game, but every time I try it now, I get a message saying the developer needs to update it before I can use it again. Please update it!
View in iTunes
$1.99

Category:

Games

Updated:

Mar 07, 2011

Version:

1.5

Size:

13.2 MB

Language:

English

Seller:

Codito Development Inc.
Compatibility: Requires iOS 3.2 or later. Compatible with iPad.