Muslim Pro - Prayer Times, Azan, Quran & Qibla
By Bitsmedia Pte Ltd
This app is only available on the App Store for iOS devices.
Description
The most popular Muslim app.

Recognized by more than 30 million Muslims around the world as the most accurate prayer time & azan application, Muslim Pro also features the full Quran with Arabic scripts, phonetics, translations and audio recitations as well as a Qibla locator, an Islamic Hijri calendar, a map of halal restaurants and Mosques, etc..

MAIN FEATURES:

• Accurate prayer times based on your current location with multiple settings available (angles)
• Azan: visual and audio notifications for the calls for prayer with many muezzin voices to choose from
• Fasting times (Imsak and Iftar) during Ramadan
• Access prayer times directly from the Today menu of the device (iOS8 and iOS9 only)
• The Holy Quran (Al Qur'an) with audio recitations (mp3), phonetics and translations
• Colored Tajweed to help you improve your pronounciation when reading the Quran
• Community: Join the community and pray for each others
• "Tasbih" to count your dhikr
• Halal restaurants and mosques locations around you
• Animated Qibla compass and map to show you the direction to Mecca
• Complete Muslim Hijri calendar to estimate holy dates such as Eid-Ul-Fitr and Eid-Ul-Adha
• 99 names of Allah
• Beautiful Islamic greeting cards (Eid Mubarak, Ramadan Kareem, etc...)
• Hisn'ul Muslim (Fortress of the Muslim): a collection of doas and supplications)
• Zakat calculator
• App and Quran fully translated to: Bahasa Indonesia, Bahasa Melayu, Deutsch, English, Español, Français, Italiano, Nederlands, Português, Türkçe, العربية, اردو, русский, 简体中文, 日本語, ภาษาไทย


IMPORTANT NOTES

If you feel that the app is giving you wrong prayer times, it is most likely related to your settings. In most cases, enabling auto-settings is the safest way to obtain the most accurate prayer times.


FOLLOW US FOR MORE UPDATES

http://twitter.com/muslimpro
http://facebook.com/muslimpro
http://www.muslimpro.com

================
التطبيق الإسلامي الأكثر شهرة

يعتبره أكثر من 20 مليون مسلم في أنحاء العالم الإسلامي التطبيق الأكثر دقة لمواعيد الصلاة والأذان. كما يحتوي Muslim Pro أيضًا على القرآن بالكامل بالنصوص العربية والعلامات الصوتية والترجمات والتلاوات المسموعة إلى جانب محدد موقع القبلة وتقويم هجري إسلامي وخريطة لمطاعم الأكل الحلال والمساجد وما إلى ذلك.

الميزات الرئيسية

- حساب دقيق لوقت الصلاة على أساس موقعك الحالي مع عدة إعدادات متاحة (زوايا)
- الآذان: تنبيهات بصرية وصوتية للآذان مع الكثير من أصوات المؤذنين للاختيار من بينهم
- أوقات الصيام (الإمساك والإفطار) أثناء رمضان
- الاطلاع على أوقات الصلاة مباشرة من قائمة 'اليوم' في الجهاز (iOS8 وiOS9 فقط)
- القرآن الكريم مع التلاوات الصوتية (mp3) والعلامات الصوتية والترجمات
- مواقع مطاعم الأكل الحلال والمساجد في محيطك
- بوصلة متحركة للقبلة وخريطة توضح لك اتجاه مكة
- تقويم إسلامي هجري كامل لتقدير تواريخ الأعياد الدينية مثل عيد الفطر وعيد الأضحى
- 99 اسمًا لله
- بطاقات معايدة إسلامية جميلة (عيد مبارك، رمضان كريم، وما إلى ذلك...)
- حصن المسلم: مجموعة من الأدعية والابتهالات)
- التطبيق والقرآن مترجمان بالكامل إلى: Bahasa Indonesia, Bahasa Melayu, Deutsch, English, Español, Français, Italiano, Nerderlands, Português, Türkçe, العربية, اردو, русский, 简体中文, 日本語, ภาษาไทย

ملاحظات مهمة

(1) إذا كنت تعتقد أن التطبيق يعطيك أوقات صلاة خاطئة، فمن المرجح أن هذا الأمر يعود إلى الإعدادات التي وضعتها. يُعتبر تمكين الإعدادات التلقائية الطريققة الأسلم للحصول على أوقات الصلاة الأدق في معظم الحالات

(2) لا يمكننا الرد على الآراء المنشورة على موقع متجر التطبيقات. إذا وجدت خطأ أو احتجت إلى مساعدتنا، يرجى الكتابة إلينا (من التطبيق نفسه) أو على الشبكات الاجتماعية أدناه.

تابعنا للحصول على المزيد من التحديثات

http://twitter.com/muslimpro
http://facebook.com/muslimpro
http://www.muslimpro.com
What's New in Version 9.2.4
• This new update includes minor fixes and improvements. May the divine blessings of Allah protect and guide you.

--
If you like the app and the progress we're making, please show us your support by submitting a review on the App Store.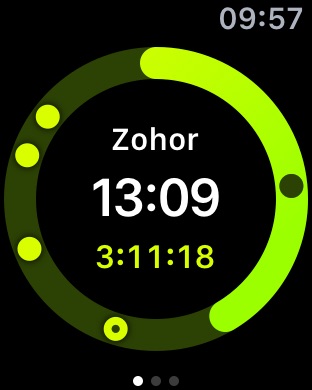 Customer Reviews
More than just prayer times
Not only does this app provide prayer times, you can configure whom you'd like as an Azan from the list, to alarm settings, on or off. It has the Quran and it actually keeps track of where you left off!! It has a daily verse, also it helps to keep you on track during Ramadan for the 30 Juz's. It uses Original, Transliteration and Translated !!! Which can make it easy for me to follow along when I choose to have audio !!! App also has area for supplications and Duas ! As a community it lists places where I might find interesting as a Muslim!! Restaurants, Shops, Masjids !!! It
I urge you to pay for the premium version, I believe $1 ! No ads ( I read below that a man was upset about a pop up ad during his Quran reading, stating that some of the ads were inappropriate. )
I'd give this ad 10 stars !
Only thing I'd change is when I miss the Athan I try to play it on it's own, this is not easily done! You can try the pull down in your tab section, sometimes I mess that up, so then I'm stuck without the Athan, I really enjoy listening to the call to prayer ! Soooo, I'm forced to use another app for this purpose, occasionally.
All in all, you WILL be extremely pleased with this app! I've been using for a few years now
Jazak ALLAH Kher. Very good App
Congratulations on creating a very good app that offers many features. I love the daily verse feature cuz although I don't recite Quran daily but this way I get the opportunity to read and understand at least one verse.
One suggestion, the app requires money to host and maintain and the ads are a simple way to fund it but I would suggest if there is some way the ads can be such that does not disrespect the app itself.
Ads such as for games, vacation, education etc are good ads but certain ads are not to the par and not suitable for the such religious app.
May ALLAH REWARD YOU FOR THE WORK AND EFFORTS.
Cannot Imagine Life Without Muslim Pro
I have been using Muslim Pro for quite some time and this App has become my life partner. Due to my hectic travel schedule I heavily depend on Muslim Pro for salat timings, Qibla direction and most importantly for Masjid locations.
Another great thing that I enjoy about this App is the request for Duaas. I get to make duaa to so many of the requests listed and it reminds me of how thankful I should be to Allah by just reading the requests of duaas. People have so many issues and problems in life. May Allah ease their problems. Aameen.
Amazing App. Please keep up the great work!!!!
View in iTunes
This app is designed for both iPhone and iPad
Offers Apple Watch App for iPhone
Free

Category:

Reference

Updated:

Jun 26, 2017

Version:

9.2.4

Size:

102 MB

Apple Watch:

Yes

Languages:

English, Arabic, Dutch, French, German, Indonesian, Italian, Japanese, Malay, Portuguese, Russian, Simplified Chinese, Spanish, Thai, Turkish, Urdu

Seller:

Bitsmedia Pte Ltd
Compatibility: Requires iOS 8.0 or later. Compatible with iPhone, iPad, and iPod touch.
Top In-App Purchases
Premium Version$4.99