ArtRage
By Ambient Design Ltd.
Open iTunes to buy and download apps.
Description
The most advanced simulation of real paint on your iPad, taking full advantage of the iPad Pro and Apple Pencil! Get creative on a digital canvas with smearing, blending oils, delicate watercolor, and much more! Ever wanted to try painting your masterpiece but were put off by the mess and expense? Now you can!

ArtRage isn't just about color: It knows how much paint you've used so you can smear it around to spread it over the canvas. It knows how wet your paint is so you can blend it with other paints. It even knows about the roughness of your paper so your pencils can be used for soft shading.

It's not just a special effect either - ArtRage is a live simulation of the properties of real artistic media that lets you can get creative with colors and textures using tools you already know how to use!


Join the ArtRage community:

Forums: forums.artrage.com
Facebook: www.facebook.com/artrage


Main Features:

Real world painting tools: Oils, Watercolors, Paint Rollers, Pencils, Crayons and more. Each tool has a range of familiar properties such as how much thinner is applied to the paint, or how soft a pencil tip is. Tools apply texture as well as color, and blend under the brush.

Add Layers to your painting and work on individual elements without damaging others. ArtRage supports a wide range of Layer Blend Modes, and layer contents can be scaled moved and rotated independently.

Import images, converting them to oil for smearing or as Reference Images pinned to the canvas as a visual guide. Load photos as Tracing Images which are overlaid on the canvas, and have ArtRage select colors automatically as you paint.

The interface has been designed to maximize your creative space without hiding away critical functions such as tool and color selection. As you paint, it gets out of the way so that you don't have to stop and manually adjust panels.

Record your paintings! The ArtRage Script system lets you record strokes while you paint for playback in desktop versions of the product at higher resolution.

Import and Export using external services such as Adobe Creative Cloud, Dropbox, and deviantArt Sta.sh. Share your images on Facebook and Twitter.


Tools:

• Oil Brush, Watercolor, Airbrush, Palette Knife, Paint Roller, Paint Tube, Inking Pen, Pencil, Marker Pen, Chalk, Crayon, Glitter Tube, Gloop Pen, Eraser, Flood Fill.

• Paint media simulation monitors the physical properties of your paints to allow natural blending, smearing, and other real world behavior.

• Preset support allows you to save your favorite settings for later use.

• Supports the Apple Pencil's Pressure and Tilt properties to add realism to the simulated paint strokes.

Layers:

• Unlimited layers with Photoshop standard blend modes, visibility and opacity controls. Scale, rotate, and position layer contents independently.


Recording:

• Record your paintings then play them back in a desktop version of ArtRage 4.


Utilities:

• Unlimited Undo / Redo. Load photos as References or Tracing images. Store color samples for later use.


Files:

• Create paintings up to 2048 x 2048 or 4096 x 4096 on iPad Pro.

• Control the texture and color of the canvas to create different effects. Canvas presets can be stored to save your favorite settings for later.

• Export PTG, JPG or PNG to external services such as Email, iTunes File Sharing, Adobe Creative Cloud, Dropbox, and more. Share images on Facebook or Twitter. Import photos to a new file or a layer, with camera support.


Interface:

• Easy access pods provide convenient functionality without getting in the way. Elements vanish as you paint so you can paint underneath without having to stop. Multi-Touch shortcuts for canvas manipulation, Undo/Redo, and Brush Size.


Bluetooth Stylus Support:

• Apple Pencil Pressure & Tilt.
• Includes support for Wacom, Adonit, Adobe, and Pogo styluses.


Support:

• Quick Reference covers the basics of the application. Product support available via our Forums or our support page.
What's New in Version 2.1.5
Added a calibration slider on the ArtRage Settings page for Apple Pencil users. This slider allows you to adjust how hard you need to press to get full pressure strokes with the Pencil. Increase the value to increase the amount of pressure required.

As always, if you find a problem please let us know via the Feedback button in the app, we're always happy to provide support and look in to anything that might be going wrong!
iPad Screenshots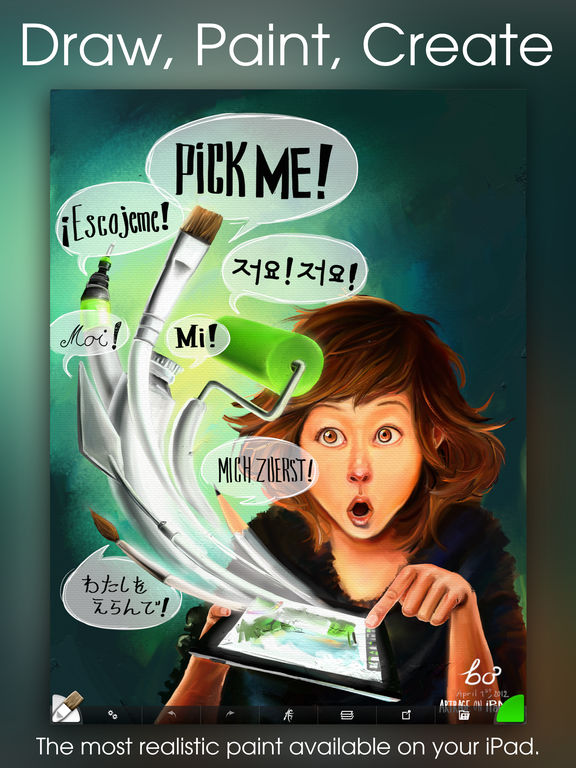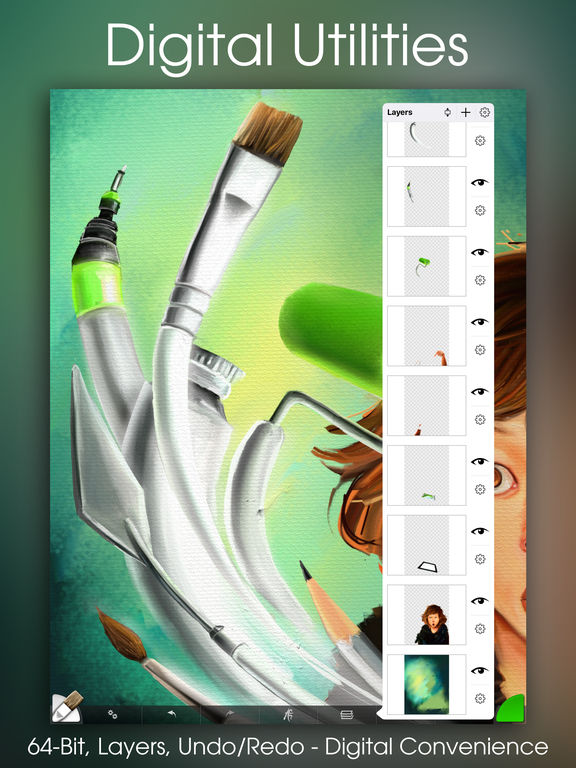 Customer Reviews
Devs Please Read
I really love this app ❤️! It's simple to use, and it's extremely impressive. I'm guessing that it took a very long time to figure out and optimize the algorithms to simulate all of these tools so well!

However, the only issue I have with this app (and possibly a few other people) is that you can't go above a certain tool size, even if you change the resolution of your canvas. Now that would be fine and dandy if all the tools' "base size" would actually scale up with the resolution setting for your canvas.
I'm guessing this was done either because of the tool's basic image file having a limited size and you wouldn't want it to appear pixelated if someone set the tool size to be too large, or for performance. Either way, I'd really like to see that be changed, if possible. Have a great day! 🙂
ArtRage is taking back its crown!
There was a point where I thought Artrage was the very best art app both on the PC (for its value as well as its features) and on the ipad. But performance was really harsh on the ipad. Now I am back to LOVING ARTRAGE! They've goto their performance mojo back and, most important for me, they are working hard to make the Apple Pencil work smoothly .. Just have to improve the angle expression better but pressure is great!

This is truly one of the very bery best art apps there is. It's even got wonderful watercolor features, something sorely lacking in many other apps.

The "Metal" feature is soooo much fun.
The paper feature is an undersung hero that any traditional artist will immediately love.
They blend modes, transform, and other editing tools are excellent and full featured (nothing worse than an art app that says it does these things .. Then it only does SOME of them.

CONGRATULATIONS ArtRage, you have won my heart back... I'm going to run out and teach this to my digital painting students. They will love me for it!
Inelegant. Disappointing.
The tools look surprisingly bad. They are very pixelated with harsh digital artifacts, which is surprising for an app focusing on realistic media simulation. I wish they had had a lite version to try. I am very disappointed and would love a refund. I realized after about 2 minutes this was not the app I was looking for. I've used Procreate, Paper by 53, and Tayasui Sketches. I was hoping ArtRage would have even better media simulation, but it just looks like garbage. You can get some decent blending, but even without zooming in it looks grainy and pixelated. Also, the UI design feels dated by about 5 years. All the other drawing and art apps are FAR superior in interface design. Overall I'm thoroughly disappointed.
View in iTunes
$4.99

Category:

Entertainment

Updated:

May 19, 2016

Version:

2.1.5

Size:

61.4 MB

Languages:

English, Dutch, French, German, Italian, Japanese, Spanish

Seller:

Ambient Design Ltd.
Compatibility: Requires iOS 8.0 or later. Compatible with iPad.