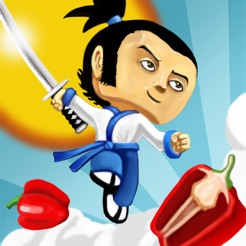 Uprising: Veggie Samurai
4+
$0.99
Offers In-App Purchases
Description
***As seen in App Trailers***

Calling all Veggie Samurais! - Suit up, sharpen your blades, and stretch out those fingers. BECOME the Veggie Samurai...

It is time to face a new challenge... it is time for an Uprising!

"INCREDIBLY fun game!! I can't stop coming back for more!"
"All the fun of Doodle Jump + Veggie Samurai/Fruit Ninja = Twice the fun."
"Great INVENTIVE and ORIGINAL combination of jumping and slicing..."
"My Veggie Samurai is soooo cute!"

**********

From the studio that brought you Veggie Samurai and other great games like Starball and Rabid Gophers, comes Veggie Samurai: Uprising a NEW, ORIGINAL GAME for iPhone, iPad, and Android!

Veggie Samurai: Uprising still has all of the satisfaction you get from giving veggies what they deserve - but with a distinct twist. Your goal now is to get as high as you possibly can by slicing veggies, all-the-while collecting useful power-ups and avoiding hazards as you climb.


UNIQUE GAME MODES:
Samurai -
Slice veggies to climb - Get combos to boost up even higher - The bigger the combo the higher you go - Watch out for hazards - Keep an eye out for power-ups and other surprises to help you along.

Free Play -
Slice and Climb until your heart is content - No hazards, but as the saying goes... no pain, no gain.

Hardcore -
Use every ounce of skill - Hazards in inhumane quantities - Hazards are much stronger - Gravity has been increased - Potential to earn more SP credits.

Precision Mode -
Tactical slicing - 3 lives - Only bombs - Hit a bomb, take a life - Earn extra lives.

Match Mode -
Free falling chaos - "Match 3" style game play - Slice combos of the same type of veggie - Get as many combos as you can before you land.

Harmony -
Relaxed pace - No hazards - Time is now your only enemy - Get as high as you can in the time limit - Earn extra time.


PLAY DRESS UP:
-- Style your Veggie Samurai with awesome suits and hats
-- Many sweet weapons to equip your Veggie Samurai
-- Wear the ultimate in Veggie Samurai Camouflage... the Broccoli Suit


FEATURES:
-- 6 unique game modes
-- Several power-ups to collect and upgrade
-- Tons of outfits to customize the appearance of your Veggie Samurai
-- Game Center integration
-- 34 achievements to master
-- Beautiful background art
-- 3 original soundtracks

Many other secrets you will only discover by joining the Uprising!!

**********
Reduced size of app to allow for 3G download.

All game play modes are now unlocked.

Significantly reduced prices.
Ratings and Reviews
Must, chop, more...
Aright, this is one addictive game that attractive incentives (the more you chop, the more skillful you get, the more coin you earn.) and the interesting hazards you encounter. The loading times need some attention paid to, sometimes i ask myself of my iTouch has locked up while loading a game from time to time. Otherwise a fine, fun game to waste time on. Also bonus points for game coin incentives for reviews.
Great game
This game is supper addicting. As a pro gamer, this is quite essential to me. Not only the levels are so fun, the gameplay kept you interested for a long time. In samurai mode, in hardcore mode, it just getting harder. The character could level up using sp which can be achieved during gameplay. Without a doubt, this game is a must have for every iPad user.
Awesome!
This game is pretty addicting, but it could use some work, maybe a little better graphics, but my siblings and I have been playing it for a while now, it's a lot better now that the sp prices have gone down, and that they unlocked the game modes, that was probably one of the best decisions.
Information
Seller

QuantumSquid Interactive, Inc.

Size

21.8 MB

Category

Compatibility

Requires iOS 4.0 or later. Compatible with iPhone 3GS, iPhone 4, iPhone 4s, iPhone 5, iPhone 5c, iPhone 5s, iPhone 6, iPhone 6 Plus, iPhone 6s, iPhone 6s Plus, iPhone SE, iPhone 7, iPhone 7 Plus, iPhone 8, iPhone 8 Plus, iPhone X, iPad, iPod touch (3rd generation), iPod touch (4th generation), iPod touch (5th generation), and iPod touch (6th generation).

Age Rating

Rated 4+

Copyright

© Quantum Squid Interactive 2011

Price

$0.99

In-App Purchases

10,000 SP

$0.99

25,000 SP

$1.99

300,000 SP

$9.99
Supports
Family Sharing

With Family Sharing set up, up to six family members can use this app.