DAW Remote
By Xiao Yixiang
This app is only available on the App Store for iOS devices.
Description
DAW Remote is a wireless DAW(Digital Audio Workstation) software controller, especially optimized for Apple Logic®, AVID ProTools® and Ableton Live®. DAW Remote 2.0 is compatible with both MAC and Windows.

Instead of getting stuck in front of your computer to compose, record, and produce music/audio, you can use your iPhone/iPod with DAW Remote to control DAW functions anywhere in your studio (wirelessly). Why? Because let's face it, wires suck!

It's also compatible with other popular DAW softwares such as FinalCut, Audition which support one of Mackie HUI, Logic Control and Mackie Control protocols.

As DAW Remote uses Apple Bonjour over WIFI network, you DON'T need to install ANY softwares or drivers in your Mac to enable it. For Windows user, you should install rtpMIDI to enable MIDI Network function.

By using DAW Remote, you can:
1. Forget about messy complex-functioned studio controller, focusing on your inspiration.
2. Easy to control tracks. Select, record, mute, solo tracks, change volumes , add markers, and more...
3. Get creativity in an environment away from the computer
4. Remotely control your DAW softwares from onstage in live performance without messy cable runs.
5. Seek right location in an easy way by using jog, scrub wheels and markers.
6. Punch recording. Loop mode recording allows you to practice as many times as you like before performing the final take.

===DAW Remote 2.0 Features===
★ New DAWs Support. It supports Apple Logic, AVID ProTools and Ableton Live now!
★ Cross Platform. Compatible with MAC and Windows.
★ Lightweight & well designed. Essential functions to accelerate your workflow
★ Track Control. Record, Mute, Solo, VOL, PAN, and Track Selector
★ Track Level Meter indicator.
★ Markers Control. Add, Delete markers. Quickly jump to previous and next marker.
★ Playback Control. Rewind, FWD, Play, Record, Stop
★ Jog/Scrub Wheel Mode. Quickly seek the right location of your song
★ Punch Recording. Add, Delete and Edit Circle and Punch, Easy to do recording remotely
★ Zoom Mode. Zoom editor/mix view remotely
★ Visualized Information Display. Read your Time Code, Track Name, Pan and Volume information directly.
★ Other Utilities such as: Undo,Redo,Enter,Save,Cancel,Click,etc.
★ Powerful Instructions, Help and FAQ to help you setup connection much easier
★ Use Wi-Fi to connect with host computer
★ No extra drivers required

For Windows User: you should install rtpMIDI: http://www.tobias-erichsen.de/rtpMIDI.html

===Videos===
All functions in...

Logic: http://youtu.be/cfO-Wa5hNoI
ProTools:http://youtu.be/GCQru_DD2hE
Live: http://youtu.be/_XfwxBpbXFk

More info here:
http://eumlab.com/daw-remote/

===About EUMLab=== 
EUMLab's goal is to unleash your music talent ! With magic technology, EUMLab provides many products to help you create or learn music. 

More about us on www.eumlab.com 
Follow us on Twitter/Facebook @EUMLab 
Questions? Write to us: feedback@eumlab.com 
Watch videos on bit.ly/eumvideo
---------------------------------------------- 

Our customers said:

"Loving this app, gorgeous design with clear set up instructions. A must-have for all the loyal Logic users. Purchase it, and it worse the price. Useful tools for those who love to laid back and listen to their fresh projects."

"I've just downloaded DAW Remote v2 and I'm enjoying the new UI and features (especially the addition of a level meter). It has just the right number of controls to be useful during a recording session. ..."

"I don't write reviews very often...This is the first DAW Remote app that actually works with my studio without any complicated set-up. The help video had me up and running in minutes and I was recording ten minutes after that. ...This has already become an indispensable tool in my project studio and I can't wait to see future versions!"

"This tool is just what i need! It makes my work much easier and faster when dealing with timeline stuffs in my Live 7.0. The UI is well designed, as well."
What's New in Version 2.1
Bug fixed:
1. host selecting problem.
2. incorrect spellings.
iPhone Screenshots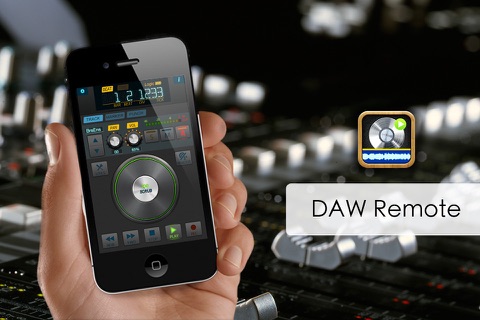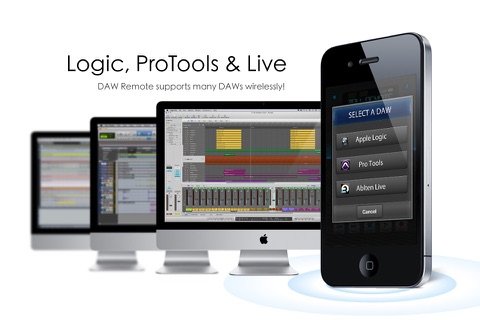 Customer Reviews
Trumps all iPhone DAW controllers!
I have tried a heck of a lot of iPhone DAW controllers out there even the $40 ones and this is the best. I set it up in under 1 minute and the best part is - IT JUST WORKS. So many DAW controllers have all these buttons that I can never figure out how to map, do what I want them to do or even do what they say they do they just don't work so I only end up with play and stop, and that's it. This has what you need, and it all works instantly.

Another awesome thing is the fact that you don't have to install a client or any software on your computer. So no need to open this other software before you open your logic session then close everything because it didn't open right then restart your computer because something isn't working...you get the point. This is just a solid app and it just works and works great! Worth every penny.
Awesome! Just Needs a Couple Tweaks!
This app has been a savior for me when recording myself in Pro Tools! The only thing that slows me down is the tedious process of clicking through tracks. If I'm on track 27 and need to move back up to track 1, its very time consuming and halts the creative process. If there were some kind of wheel to toggle quickly trough tracks, this app would be perfection! Also, like many people have already said, having the undo button on the main screen for easy access would help speed things up as well.
Great product for PT 9
This app works perfectly. I use it for recording in my vocal booth. Easy setup saves lots of time, and most importantly, customer support is a dream. Only snag is it doesn't fully function when running another controller, which is no skin off my back since the only controller I need in the booth is my phone, and I can simply switch back to my other control surface I get to the control room. 5 stars and 2 thumbs up for a great little real time controller.
View in iTunes
$9.99

Category:

Music

Updated:

Feb 10, 2012

Version:

2.1

Size:

8.4 MB

Language:

English

Seller:

Xiao Yixiang
Compatibility: Requires iOS 4.3 or later. Compatible with iPhone, iPad, and iPod touch.