Emojicoder Pro
By MGJ Interactive
This app is only available on the App Store for iOS devices.
Description
"Emojicoder Pro" is a full-featured emoji operating tool that allows you to enter/​convert/​analyze built-in iPhone Emoji set consists of as many as 831 characters including 360 brand-new iOS 5.1 additions.

***USERS OF iOS 6 OR LATER*** Users of iOS 6 or later can get new Emojis without this application anymore. Try Opening "Settings > General > Keyboard > Keyboards > Add New Keyboard…" and choosing "Emoji" from the list. Then tap the globe key on the keyboard to get the alternative keyboard.

***KNOWN ISSUE*** You may occasionally be hindered from scrolling the text editor to the top after sending a message. If you encounter this sort of problem, choose "Quit Application" from the Action menu (top right button) and launch the application again.

***iOS 8 KNOWN ISSUE*** The application language may be forced into Japanese with non-English system of iOS 8. If you have accidentally got Japanese with the App, you have to setup the secondary language as English: Go to "Settings > General > Language & Region > Other Languages… (or equivalent of your language)," select "English" from the list and tap "Done." Then reply "Keep (your language)" when a dialog appears. Sorry for inconvenience. Next update will fix this issue.

WHAT IS EMOJI?

Emojis are special iconic characters of pictographs/​emoticons originally used for Japanese cellular devices. As of iOS 5.1, iPhone now has as many as 831 Emojis including 360 iOS 5.1 additions. As well as these formal Unicode Emojis, iPhone also has Softbank-coded aliases for compatibility with older iOS and Japanese cellphones.

WHAT YOU CAN WITH THIS APP

–Easily and quickly entering 831 built-in emojis including 360 iOS 5.1 additions.
–Handling both Unicode and Softbank Emojis according to destinations and purposes.
–Using iOS 5.1's secret emojis without upgrading to iOS 6.
–Converting between Unicode Emojis and Softbank ones that allows you to avoid unexpected miscodings and errors.

FEATURES

–Emoji Panel–
A scrollable input panel that allows you to browse and enter all built-in emojis quickly. It has two input modes for differently-coded "Unicode Emoji Set (Apple Color Emoji)" and "Softbank Emoji Set." The Unicode one also contains a lot of additional emojis introduced with iOS 5.1. The Clipboard Sync (auto-copy) allows you to paste the entered text to other applications without select-and-copy. Also, you can send your text directly via SMS/​MMS or iMessage with "Send Message" command.

–Emoji Conversion–
Converts between Unicode Emojis and Softbank ones. The Clipboard Sync (auto-copy/​paste) allows you directly to convert the clipboard content copied in other application and to paste back the converted text without select-and-copy. Converting all emojis to Unicode ones avoid unexpected errors in certain external servers that don't accept private codes, while converting to Softbank ones is sometimes useful to exchange emoji data among iPhones with older iOS.

–Analysis Panel–
Tapping analyze button at middle reveals the Analysis Panel that extracts emojis from the text and parses them into individual panels with codes. Each panel is colored in the coding categories. Orange panels also include implicit emojis that could be replaced by other emojis in some devices/​systems.

–Character Counter–
The text editor is equipped with a dual character counter showing both canonical and internal lengths of the text. For most cases, adopt latter one for observing text-length limitation.

Please refer to help message in the application for detailed instructions.
What's New in Version 1.0.2
Version 1.0.2 includes new built-in Message Sender.

BUILT-IN MESSAGE SENDER

Now you may send the entered text directly via SMS/​MMS or iMessage with "Send Message" command in the action menu. Enter cellular number or address of the recipient and tap [Send] button. So you don't have to paste the entered text to Message application each time you send anything.

This new feature is of interim minimal implementation in short order to work around iOS 5.1's "Vanishing Emoji Issue" plaguing Japanese MMS users. However, you may use this feature to send your message including the new Emojis instantly to iMessage.

APOLOGY

We are sorry for your inconvenience although we know you all are wise enough to understand that we have no way to offer a custom keyboard for App Store's restriction. Indeed, this application has been developed primarily for the purpose of more technical uses such as conversion and analysis to fight against various problems in using so complex Japanese Emoji systems. Now we are aware that most customer here have taken our product simply for using the new Emojis, and we decide to take a very different approach of including text senders in the app itself. We believe this is the best we could do for your convenience in spite of the restriction. If many people request, we will ready other built-in text senders such as mailer and twitter in a coming update. Please give us your opinions and suggestions.
iPhone Screenshots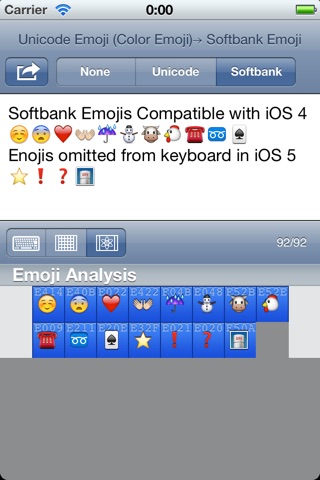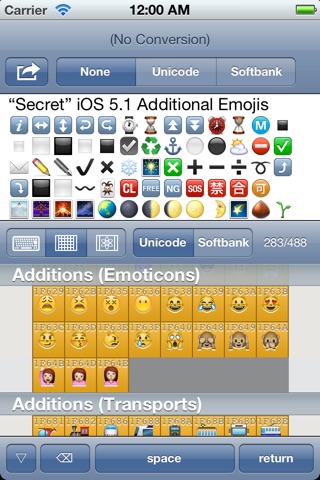 Customer Reviews
It works..
I used to go to the emoji Wikipedia page to get these extra characters. This is much easier. The app is laid out in a very confusing way - it isn't exactly intuitive or logical. I can imagine a lot of people will have a hard time finding their way around in it - especially judging by some of the reviewers here that don't even know how to install the app..🍼👹 derp.
I suggest a UI update to make it more usable.. Also, possibly separate the newest emoji additions to make them more accessible for people who likely already have the keyboard based emoji. I don't want to have to scroll thru those just to see the newest ones!
No Complaints
I think this app does exactly what it's supposed to do, in a very novel and easy-to-use way.
I can now use the additional emoji that are present on my device but have not been added to the emoji keyboard by APPLE.

Yes, I mean that Apple can create or update a native keyboard but a dev can not.
The old emoji unlockers simply unlocked something that was already native on the phone.

This app is very easy to use; I can write my entire message in the app, I don't have to actively 'copy' my message- the app automatically copies whatever I write so all I have to do is switch to my messenger and tap the message input box, 'paste', then 'send'.
Easy.
Great App!!!
I have to give this app a 5 star review just for the new emoji's alone!!! And I totally understand why we can't get a custom keyboard..Therefore that is why I am happy with the app and I am definitely happy with the new update!!!
And I really hope to see an update that will allow us to post emoji's to twitter, Facebook, instagram etc!!!
View in iTunes
$0.99

Category:

Utilities

Updated:

Mar 26, 2012

Version:

1.0.2

Size:

0.5 MB

Languages:

English, Japanese

Seller:

Asahi Technoservice, Inc.
Compatibility: Requires iOS 4.2 or later. Compatible with iPhone, iPad, and iPod touch.