Derby Quest: Horse Breed-ing and Racing Champion
By Best Free and Fun Games, LLC
This app is only available on the App Store for iOS devices.
Description
"This game is freaking awesome I will never delete this game!" - Cutiepanda

"I love this game it's the best game I have." - Lucky #24

"This is a really fun game and I'm totally addicted! This is the best game ever! I absolutely love it!" - keeblerpony

"So addictive! Every 15 minutes I HAVE to do another race! I LOVE this game!" - Adriee89

"This is the best game ever! I just bought it and I can not stop playing it." - Ponyexpress123

"I love this game so much. It is by far the best horse racing simulation out in the app store. I would recommend this to anyone that loves horse racing. You must try the game. Addicting!" - Hisinu

"I love this game a lot! It's amazing and highly addicting!" - beasty1

"This is my favorite game I have. I love the horses and races!" - Juicerpup09

* The above quotes are actual iTunes 5-star reviews from our users.

________________________________


The Ultimate Horse Breeding, Training, and Racing Game! Grow your stable with many horses and train them to become Derby Champions. Breed your champion race horses to create 'super baby' horses that become even faster! Derby Quest is an amazing horse care-taking and racing simulation game. It's a game full of strategy and arcade action.

*** SPECIAL WARNING***: Due to the powerful 3D graphics in this game, Derby Quest will not run on any devices older than the iPhone 3GS or 4th Generation iPod Touch.

BREED!

Breed new horses and turn them into champions. Breed your horses and create multi-generations of offspring. You can eventually have HUNDREDS of horses in your stable.

FEED!

You'll need to take good care of your horses. Feed them when they are hungry and be sure to figure out what special treats each horse likes -- it will help with their race performance.

TRAIN!

Improve each horse's track performance through a series of training mini-games. You'll be able to improve how fast your horse gets out of the starting box, how well your horse can lead the pack, improve your horse's endurance and acceleration ability, and much much more!

RACE!

You'll take each of your horses through a series of qualifying race classes. Once your horse has won all of the necessary qualifying races, it's onto the Derby Class! The Derby Class is where you'll race much greater competition but have a chance to prove that your horse is a champion. And if you win enough Derby Class races you'll qualify for the exclusive "Derby Quest Cup" -- it's the single most important championship in the game! (Good luck!)

During a race you are in full control of your horse -- move to the rail or stay on the outside, pull-up to slow your pace or to go around another horse, and make your jockey get out his whip when you think it's the right time to make a move!

You'll get a lot of enjoyment out of playing this ground-breaking horse racing game and you'll get a chance to race your horses against the world!

DOWNLOAD THIS FREE GAME NOW TO START BUILDING YOUR CHAMPION STABLE!

How Will YOUR HORSES Rank Against The World?
What's New in Version 2.6.1
Bug fixes.
iPhone Screenshots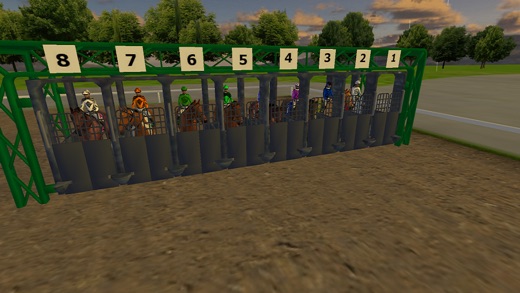 Customer Reviews
I want to like it, but does not run smoothly
I really want to like this game, but I have some issues 1) the game does not seem to load fully or always run smoothly. I can't see what I'm buying, the tutorial froze repeatedly, etc
2) the races are not consistent.
3) the game play itself is confusing (the icons measuring stats, for example, could use terms or a better labeling system.)I find myself flipping back and forth between directions and gameplay
4) getting a stable shouldn't cost absurd amounts of real money.
5) the whole breeding concept isn't straightforward enough. The statistics don't seem to pass on in an appropriate fashion.
Money
This is a one of the great free horse racing games I have, however the only problem I have with it is how the CGI's when racing with them have unlimited crop while which is unfair and the money situation. The only way you can have more horses is if you buy a bigger barn, but the barns are so expensive in in-game money! So the only way you can get that amount of money is buy actually buying it! Personally I don't think that's fair but other than that this game is a great choice!
This app is awesome!
A lot of apps have gems that you can't earn fast but this app gives you ways to earn the gems by winning races and you can breed horses to get an amazing foal and it requires strategy to win you don't have to level up
View in iTunes
Free

Category:

Games

Updated:

May 29, 2017

Version:

2.6.1

Size:

277 MB

Language:

English

Seller:

Best Free and Fun Games, LLC
Compatibility: Requires iOS 7.1 or later. Compatible with iPhone, iPad, and iPod touch.
Top In-App Purchases
50 Diamonds Pack$4.99
3,000 Coins Pack$4.99
125 Diamonds Pack$9.99
10,000 Coins Pack$9.99
600 Coins Pack$0.99
25,000 Coins Pack$19.99
10 Diamonds Pack$0.99
275 Diamonds Pack$19.99
700 Diamonds Pack$49.99
100,000 Coins Pack$49.99
More iPhone Apps by Best Free and Fun Games, LLC