CHAOS RINGS II
By SQUARE ENIX INC
Open iTunes to buy and download apps.
Description
■Warning to users of iOS 9.0 and later
Some instances where CHAOS RINGS II does not operate as intended on devices running iOS 9 or later have been confirmed. We are working to address the issue and apologize for any inconvenience this may cause.

The application should operate as intended on devices running iOS 8.4.1 and earlier compatible versions.

-----

●iOS 8 Compatibility
The following bugs have been addressed:

- Tapping the CHAOS RINGS II icon from the home screen does not load the game

Thank you for your patience and understanding, and we hope you continue to enjoy playing CHAOS RINGS II .

---

Would you sacrifice the one you love to save the world?

The newest addition to the globally acclaimed RPG series Chaos Rings has arrived! Explore a captivating new adventure and brand-new game system in this latest installation!

Time is stagnant; the Destroyer has forced the world to the brink of destruction. In this desolate era, Darwin, the chosen one, discovers his fate; he must slaughter the sacrifices and offer their souls, all to salvage the world.

Five were chosen to be sacrificed. Of the five is a girl, Marie—a dear childhood friend.

Will he carry out his fate? The decision lies in your hands.

This exhilarating adventure can be enjoyed by everyone, even those unfamiliar with Chaos Rings and Chaos Rings Omega. Don't hesitate to immerse yourself in this fantastical world!

GAME FEATURES:

A storyline molded by the player's choices
Hidden bosses and endings
Enhanced graphics using a new rendering engine
A strategic new battle system
An array of character voices and music

FUTURE UPDATES (FREE):

Mission 1: My Fang is All About the Magnum! (Scheduled for April 2012)

Increased dungeon level cap
Increased player level cap
Special quests
Hidden bosses

Mission 2: Give Earthly Desires the Boot! (Scheduled for May 2012)

Increased player level cap
Special quests
Hidden bosses
What's New in Version 2.1.0
●iOS 8 Compatibility
The following bugs have been addressed:

- Tapping the CHAOS RINGS II icon from the home screen does not load the game

Thank you for your patience and understanding, and we hope you continue to enjoy playing CHAOS RINGS II .
iPhone Screenshot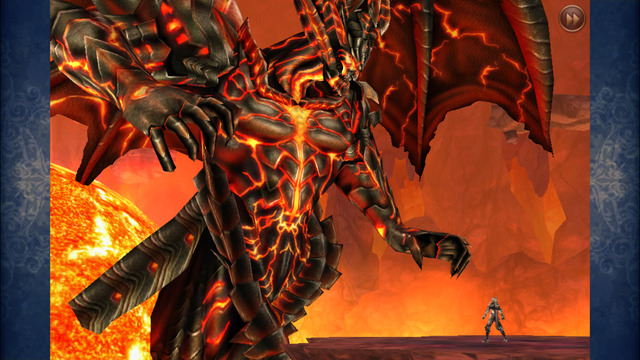 Customer Reviews
Should not sell unsupported games
I just bought this, I really enjoyed the previous versions, but they never told me that it was unsupported on iOS 9. I just spent $15 on a game that they knew would not work on my device without even warning me. Below is a direct quote from when I went to get tech support. They are basically saying, it's my fault for keeping my device up to date. I could understand if this was a first couple weeks issue, or if this was a "we're working on it" but it's not. Read for yourselves:

"Apple has officially released iOS 9. Please note that if you install the iOS 9 on your device, SQUARE ENIX apps may encounter malfunctions such as startup errors, performance issues or loss of data, or perhaps even fail to deliver in-game currency purchased with real money.

Since our apps are not fully compatible with iOS 9 at this time, we are unable to provide customer support for any trouble arising from installation of iOS 9 (including, but not limited to, data recovery or undelivered in-game currencies). Please be aware that SQUARE ENIX will not be responsible or liable, directly or indirectly, in any way for loss or damages of any kind incurred by installing or using the iOS 9 with relation to SQUARE ENIX apps."
Getting better
I have enjoyed the chaos rings games. This one has definitely been the best of the series so far but I do have a few minor complaints or suggestions that would make the game better (in my opinion)
1. These games have no real level of challenge. They have been a breeze. There isn't a huge level of strategy to the fights. And finally you can reach max levels pretty easily by fighting anywhere. I would rather it be more difficult. Plus you recover health every time a battle ends ( which has been a staple in these games ) but that makes it extremely simple to grind through each level no problem.
2. I wish that when you bought and equipped a new weapon it changed appearance. That always frustrates me.
3. I know the game is big but there wasn't enough different places for me. Though I know it can be hard for a phone game.
4. The Sopias and special moves have been upgraded but I still would like to see some moves differentiate from the characters main attack movement.
Maybe in order to save space and make the game better they could scratch the Japanese voices and put more content in.
Also the post game content is kind of lame. They should just make that stuff part of the normal game.

All in all it was a good game. Good story and enjoyable characters for the most part. Hopefully they keep up with this series and keep making them better! Thanks Square!
Great story, passable gameplay
Like the first Chaos Rings, the story starts out very bleak. It was almost enough to turn me away at first (hence the four stars). But then you beat the first half of the game, and things get very interesting!

A little more complicated gameplay than the first two, but still falls short of a full-fledged RPG; the features added in since the first Chaos Rings feel a little tacked on. That being said, one of the best RPG series on the App Store currently. I'd definitely recommend giving it a whirl if you're a junky for awesome, thought-provoking plotlines.
View In iTunes
$14.99

Category:

Games

Updated:

Dec 21, 2014

Version:

2.1.0

Size:

824 MB

Languages:

English, French, German, Japanese, Korean, Simplified Chinese, Spanish, Traditional Chinese

Seller:

SQUARE ENIX Co., Ltd.
Compatibility: Requires iOS 4.3 or later. Compatible with iPhone, iPad, and iPod touch.