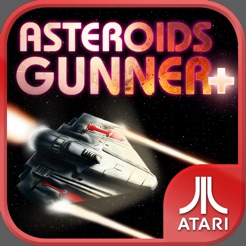 Asteroids®: Gunner +
9+
$0.99
Offers In-App Purchases
Description
"Asteroids Gunner is the most entertaining and addictive version of one of the greatest arcade games of all time." – AOL Games

Experience the next evolution in Atari's legendary Asteroids franchise!

Blast your way through deadly asteroids fields and alien war ships to become the most wealthy and powerful Gunner in space history! Work your way to the top of the gritty crystal mining business by traversing through the galaxy and collecting the treasures of the cosmos. Upgrade your ship as you climb up the intergalactic ranks and become a force to be reckoned with!

Asteroids®: Gunner+ includes:

ALL 8 ships UNLOCKED
ALL 3 galaxies UNLOCKED
150 waves of non-stop blasting action COMPLETELY UNLOCKED.
Customize your ship with upgrades and power-ups using Crystals earned by blasting asteroids or completing daily challenges
Play against your friends in the turn-based Challenge Mode for bragging rights
Unlock over 200 achievements to earn rank promotions and gain more upgrades
OpenFeint and Game Center integration

_______________________


"Atari managed to take Asteroids' retro DNA and make it shine on the small screen with Asteroids Gunner." – TechCrunch

"It's everything arcade players loved about the classic Atari title Asteroids, only with a whole new look." – USA Today

"Asteroids: Gunner feel[s] like it belongs in this new era" – Slide to Play
_______________________

Come check out the latest updates, or talk to us directly!
Like us on Facebook:
facebook.com/AsteroidsGunner

*** CHECK OUT OUR OTHER EXCITING GAMES! ***
Atari's Greatest Hits, Circus Atari, Centipede®: Origins, Breakout®: Boost+, and watch for our future apps at facebook.com/Atari

GIFT TO A FRIEND: Click the "Buy App" arrow on the App Store
Ratings and Reviews
Unquestionably outstanding IOS game.
I felt compelled to write this review after multiple plays and hours of enjoyment playing asteroids gunner.

At first, I was a bit skeptical. I've been disappointed with classic arcade mobile apps in the past. This game is an outstanding achievement for Atari and it does the asteroids family of games prouder than ever.

No wonder atari was willing to attach its name to asteroids gunner. The developers are talented people.

After hours of play and achievement on the free basic app, I purchased asteroids gunner +. More ships, better buffs, and more engaging gameplay is well worth the price of admission.

The experience has been a fun one. Let me detail my device I play on:

iPhone 4s / iOS 5.01 / 1st generation

The game runs FLAWLESSLY on an ios 5.01 equipped iPhone 4s.

iOS 8.0 and later creates significant bottlenecks on the iPhone 4s and effects control responsiveness in gameplay.

There are many iPhone 4s owners who wish they never upgraded to 8.0 or beyond. Apple makes it very difficult for device owners to choose the OS version they want to use. Most are stuck in 8.0 or later.

Luckily, asteroids gunner works wonderfully on an iPhone 4s running iOS 5.01. If you like asteroids, get asteroids gunner.

A+ fluik. You guys are talented!
Why didn't they think of this from the get go?
Don't get me wrong, this game is still a credit earning grindfest even after giving you access to all 8 ships and 3 galaxies, but at least now you can access everything (eventually) from only in-game credits and have no need to buy "starbucks" for some of the items.
A+
I love this game! The + version is way better than than the free version even though it's missing the Omega galaxy. There are tons of levels to keep you playing for a long time. This is one of my favorite games on my iPad. Get it now!
Information
Seller

Atari, Interactive

*WEA.AppPages.Size*

71.2 MB

Category

Compatibility

Requires iOS 4.0 or later. Compatible with iPhone, iPad, and iPod touch.

Age Rating

Rated 9+ for the following:

Infrequent/Mild Cartoon or Fantasy Violence

Copyright

Asteroids®: Gunner + © 2012 Atari Interactive, Inc. All rights reserved. Asteroids® is a trademark owned by Atari Interactive, Inc. Developed by Fluik Entertainment, Inc. © 2012 Fluik Entertainment, Inc. Published by Atari Interactive, Inc., New York, NY. Atari and the Atari logo are trademarks owned by Atari Interactive, Inc. All other trademarks are the property of their respective owners.

Price

$0.99

In-App Purchases

1000000 crystals

$2.99

10000 crystals

$0.99

100000 crystals

$1.99
Supports
Family Sharing

With Family Sharing set up, up to six family members can use this app.