Battle Academy
By Slitherine
This app is only available on the App Store for iOS devices.
Description
This is a 32 bit app. You will always be able to play this app on iOS 10.3 or older but Apple may remove support for 32 bit apps in future iOS updates.

Number#1 Strategy game in 42 stores. For 24/7 tech support and updates visit www.slitherine.com/forum

* PocketTactics – 5 out of 5 - "In price, content, and execution, Battle Academy is a proud game from another time. And worth every penny."
* DigitallyDownloaded.net – 4.5 out of 5 Stars - "Really, when you buy this game, you're buying into the excellent, competitive, online environment, and it looks like a healthy community at this stage."
* NoHighScores – "…you'd be hard pressed to find a richer, more satisfying turn-based wargame on the platform."
* TouchGen – 4.5 out of 5 Stars - "Battle Academy is a welcoming but challenging experience."
* StrategyPrime – 4.5 out of 5 Stars - "Probably one of the finest strategy games you can find on the iPad just about now, and definitely a must-have."
* FortressAT – "Battle Academy is…a real game, a proper game…"
* Esquire - "…this is the best game we've played yet on the iPad."
* Plughead.net – 82% - "A proper wargame! On the iPad!"
* PCDome.hu – "…the ideal tactical casual wargame for iPad."
* SlideToPlay – 3 out of 4 - "…for those of you who are willing to take the challenge, you'll encounter a highly engaging, absorbing and lengthy experience the likes of which has rarely been seen on iOS."
* BoardGameGeek – 3 of 4 Stars - "Hands down this is the most impressive war game yet on the platform."

*****************************************
Description

Approachable, absorbing and visually impressive yet detailed, Battle Academy aims to revolutionise the strategy games market with a blend of intuitive design and compelling game play driven by cutting edge technical innovation.

Inspired by an original online game concept devised by the BBC, the game has more than 30 battles in a range of theatres of war from the North African desert through D-Day to the to the snowy Ardennes mountains where the Allies battled to repel the final German offensive.

The team at Slitherine worked with Professor John Buckley, Military Historian at the University of Wolverhampton and a keen wargamer himself, to make sure that the strategy, tactics, scenarios and available firepower of the battles fought in WW2 were turned into realistic AI behaviour, powering expertly crafted battles.

The revolutionary server-based PBEM++ Slitherine system completes the package, for a gaming experience that will certainly please both hard core wargamers and newcomers. This revolutionary system allows iPad, Mac and PC players to play against each other, and even allows you to play 1 turn on your PC at home, continue the same game on the iPad on the train to work and play a turn at work on your Mac, all without you having to do a thing - the server handles it all!


*****************************************
Features

Control British, US, Polish, Canadian forces in 3 epic campaigns covering more than 30 varied battles or take control of Italian and German forces in multiplayer.

Select from a vast array of equipment including 100 units from 6 nations - Shermans, Fireflys, Panthers, Tigers, Stukas, Hurricanes, P47s and much more!

Gameplay features include ambushes, line of sight, artillery barrages, airstrikes, scouts, morale, APCs, flame throwers, heavy bombers, snipers and suppression.

Your units gain experience as they fight. Get promoted to Veteran and Elite status and gain new skills.

Addictive multiplayer modes using Slitherine's revolutionary multiplayer server that's linked into an online ranking system.
What's New in Version 2.70
- Minor Bug fixes
iPad Screenshots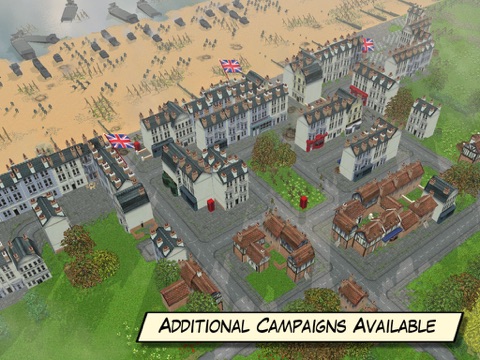 Customer Reviews
A Must Have Classic
Let me start by saying this. I don't give out five stars easily at all. This is my second one of about 20 reviews. That alone says a lot about this game. The history and battle alone are magnificent and well thought out. The graphics are to die for as you can actually see the artillery shells and the wrecks of destroyed vehicles. I literally played this game when I was 5. It taught me a lot about the history of this era and I guess I have to admit this probably is not suited for 5 year olds but I guess it's to late to look back now. This games replay ability is extraordinary and after so so many years playing this I still struggle on the harder campaigns. It starts you out easy and then medium and hard and you can jump to whatever battle/campaign you want. If you are a strategy war game freak like my dad and I this game is a must have.
Best iOS Tactical Wargame
Hands down - best on iOS for WW II wargame. I grew up on Avalon Hill games, and this is the best hex based, digital wargame I have ever found. It is a little different than the old table top games, but there is still enough differentiation between different units and armor to be quite realistic while still retaining a high level of playability. The price is a bit high compared to the cost folks are used to paying for an iPad game, but is ABSOLUTELY worth every penny. The expansion modules give you dozens of hours of offline play potential, but these are just a good way to get experience to play the dozens of multiplayer, PBEM scenarios that you can okay against people from all over the world. These are free and you have access to challenge other players or accept challenges and "pass" turns back and forth from directly inside the game. I've played this for three years now and will likely play it for many years to come. I cannot recommend it highly enough if you like wargames!
iOS 11
I contacted Slitherine and they are not planning on updating the awesome Battle Academy and other games based on the same engine such as Pike and Shot,Battle Academy 2 and the immensely satisfying Hell. This broke my heart because as a serious war gamer, I could endlessly play forever these games on the best tablet made, the iPad. I may have to never update one of my iPads. Engaging turn based combat was elegantly at your fingertips with the new tablets. I shall miss this along with the award winning X-com. Now a lot of people won't be happy. What's an iPad gamer to do?
View in iTunes
$19.99

Category:

Games

Updated:

May 12, 2014

Version:

2.70

Size:

545 MB

Language:

English

Seller:

Slitherine Software UK Ltd.
Compatibility: Requires iOS 4.3 or later. Compatible with iPad.
Top In-App Purchases
Blitzkrieg France$9.99
Market Garden$9.99
Battle Academy - Give Me Everything!$19.99
Operation Sealion$9.99
Operation Husky$9.99
Rommel in Normandy$9.99
Fortress Metz$9.99
More iPad Apps by Slitherine