Flick Home Run ! HD
By infinity pocket
This app is only available on the App Store for iOS devices.
Description
Flick your finger and make a homerun.
You can experience a real baseball batting through the physical pendulum.

This is a game in which you can experience various throws based on the pendulum. The ball will fly further if you can hit the ball directly with the quick flick. Experience a "real-life like" batting simulation.


■ Easy Control---------------------------
You only use flick to control the batting for this game. The more accurate you flick your finger to hit the ball; it is more likely that you will be a home-run hitter.
The rule is simple. Flick your finger with the same feeling in which you would swing a bat in real life. Think of your finger as a bat, and flick it with speed and accuracy. That's all.

■ Movement of the ball------------------
Various kinds of throws are materialized into "real-life like" feelings. Different pitches pull out different various kinds of movements. Thus, the batter may miss the timing and would be hard to hit.

■ 10 GAME mode------------------------
You can enjoy this game through 5 kinds of mode.
Minor & Major Mode- Hit as many home-runs as you can; as far as you can.
Multiplayer Mode- You can compete with other players via Game Center.
Moon-Star Mode- Try for a record with the given 9 balls.
Training Mode- You can practice with different kinds of pitches.
*Bunt mode ( need minor 15step): Drop the ball on the target of the floor correctly.
*Total mode ( need bunt 10000 point ) : You'll meet many different types of the balls from the beginning of the game.
*Faster & faster ( need total 25000 point ) : Head-to-head with only fastballs.
*Jiant mode ( need F&F 10000 point ) : Match with a Giant pitcher
*Cutter mode ( need Jiant 12000 point ) : Match with cutterballs which can cut the baseball bat.

■ add 28 Achievement Bonus--------------
1 Achievement = 1 level up bonus!!!

■ Level Up System-----------------------
You can choose and upgrade 1 of 3 skills every time the exp becomes full.-
Power: You can increase the power of the bat
Accuracy: You can increase the accuracy of the batting
Batting Eye: You can know ahead of the next ball's pattern

■ Home-Run Tip!---------------------------
1.Make a full swing with a fast batting-speed!
2.Hit the ball followed from the various thrown pattern with an accurate swing!
3.Let's keep an eye on the ball until the end and predict the change of the pattern!
4.Let's be confident and make a full swing!

■ FAQ -------------------------------------
Q : How does STEP UP SYSTEM?
A : STEP UP = More balls
ex) Minor 1 step = 3 balls
Minor 2 step = 6 balls
What's New in Version 1.3.3
- minor bug fix
iPad Screenshots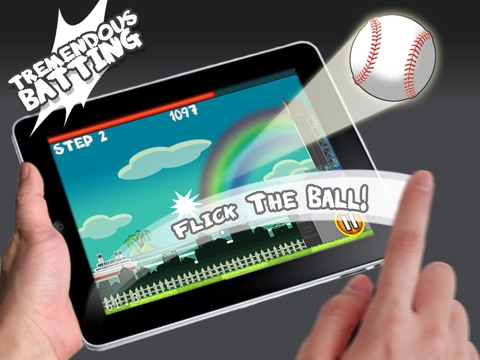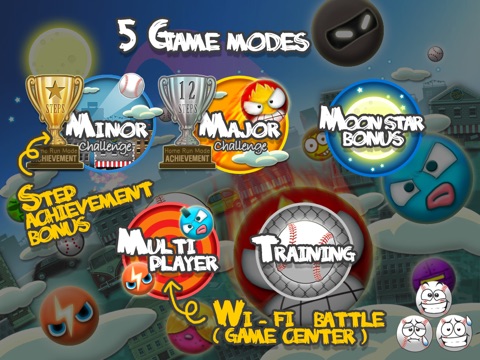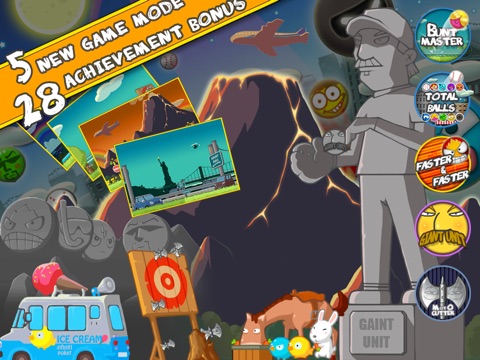 Customer Reviews
Nice time waster, but...
The pricing is ridiculous. You level up in three categories and have to unlock play modes. The category levels each go to 99, and each point is progressively harder to achieve. Getting to 10 in each would require 50 hours invested in this game, and unlocking play modes is almost a pipe-dream. Of course you can pay to level up. It's a dollar for ONE LEVEL point! Given there are a total of 297 levels, one point gets you pretty much nowhere. And it doesn't help you in the least to unlock levels. For that you have to be flawless for a couple HUNDRED pitches...

This is not brilliant programming. It's ok. This is not intense strategy. This is not unique, clever, etc. It's angry-birds fun. That's about it. It does not merit a $50 investment just to be able to PLAY what you initially PAID for!

Seriously, dude... I don't know what you think you've created here, but maybe spend a few moments in reality, reduce your insane pricing and fix the even more insane level/advancement scheme and you would probably make more money. This game would be hugely popular, I think.

Oh- and this is annoying: EVERY round I play, regardless of my point total, is greeted with a 'New High Score!!'
Good but has serious flaws and issues
The game is fun, but it does have some serious flaws that make you want to just quit. There are far too many instances where you flick right through an incoming ball and the game calls it as being out and the white line is clearly through the path of the ball - and the ball was definitely beyond the dotted line.
There is no way to restore purchases if you deleted the game or purchased a new phone and this is a major gripe. There are so many games that offer restoration of previous purchases, and this game needs it badly. There is no way I'm buying things again when I already paid for them.
Also, since this game is addictive, say goodbye to your battery. The game has horrible power management and drains your battery faster than many other higher-end games.
infinity pocket are you listening!?!?
This game isn't worth my time if it's taking forever to level up. And when you do level up, the changes noticed range from minimal to nothing. And who's going to pay $3.99 to level up just 5 measly points? This is got to be one of the most shameless acts of greed I've seen on the App Store.

This game can be very fun at times, but my God, the rewards are so unfair compared to how much time you spend. This is the equivalent of an Olympian getting a small box of raisins for getting first place.

Lower your prices. and give us more than one point to spend every time we level up. please and thank you. Don't bother buying this until it has been fixed.
View in iTunes
$0.99

Category:

Games

Updated:

Jun 07, 2012

Version:

1.3.3

Size:

21.0 MB

Language:

English

Seller:

infinity pocket
Compatibility: Requires iOS 4.1 or later. Compatible with iPad.
Top In-App Purchases
PowerLevel_5up$3.99
AllLevel_5up$9.99
ContactLevel_5up$3.99
PowerLevel_1up$0.99
ContactLevel_1up$0.99
AllLevel_1up$2.99
EyeLevel_5up$3.99
EyeLevel_1up$0.99
More iPad Apps by infinity pocket