Stardom: The A-List
By Glu Games Inc
Open the Mac App Store to buy and download apps.
Description
*** If you're new to Stardom, please download our latest Stardom adventure, Stardom: Hollywood ***

Can you reach the A-List? Schmooze, flirt, lie, fight – and maybe even work – your way to STARDOM!

From getting off the bus as a nobody to accepting an award as an international superstar, get rich and famous by starring in movies and TV shows and winning over fans.

­ Customize your star look with the latest styles and hottest accessories!
­ Hollywood in your hands – complete with exclusive clubs, upscale restaurants, movie studios and more
­ Work on-set to earn a 5-star performance, rave reviews, and more fans
­ Date and dump celebrities, party at the best venues, and live it up in a luxury home with your exotic pets
­ Invite friends to exclusive parties, have them co-star in your projects, or check the Top 100 to see who's more famous

PLEASE NOTE:
- This game is free to play, but you can choose to pay real money for some extra items, which will charge your iTunes account. You can disable in-app purchasing by adjusting your device settings.
- This game is not intended for children.
- Please buy carefully.
- Advertising appears in this game.
- This game may permit users to interact with one another (e.g., chat rooms, player to player chat, messaging) depending on the availability of these features. Linking to social networking sites are not intended for persons in violation of the applicable rules of such social networking sites.
- A network connection is required to play.
- For information about how Glu collects and uses your data, please read our privacy policy at: www.Glu.com/privacy
- If you have a problem with this game, please use the game's "Help" feature.

Stardom: The A-List
2011 (C) Blammo Games Inc.

Blammo, Glu, G-man and Stardom: The A-List are trademarks or registered trademarks of Blammo Games Inc. and/or Glu Mobile Inc. in the US and/or in various countries.

Use of this software is subject to Glu's terms of use located at http://www.glu.com/terms and privacy policy located at http://www.glu.com/privacy .
What's New in Version 2.0.8
▶ Now's your chance to star in a special Superhero movie - earn your own Superhero or Supervillain costume!
▶ New clothing options for both guys and girls
▶ New quests and projects for higher levels
▶ New Game Center achievements
▶ New achievement levels with star rewards!
▶ New quests and projects (level 15 and higher - go talk to Charlene at Mr. Sushi!)
▶ Millions more fans for super-A-listers: you can now have over 100 million!
▶ Levels 27 and 28 added
▶ New lipstick and nail polish colors
▶ Millions more fans for A-Listers
▶ Already reached the top? Talk to Simon in NY for an interesting opportunity... (level 16+ only)
▶ Romance is in the air, and so are you: fly to Paris! (Level 15+; talk to your agent.)
▶ New Paris collection clothing for guys and gals!
▶ Be the world's biggest star in the world's biggest city - TOKYO! (Level 16+; talk to your agent)
▶ New Tokyo clothing for guys and gals!
▶ Take the critics by storm and win the top prize at Toronto's prestigious film festival! (Level 13+; talk to your agent)
▶ Yet another international destination for globe-trotting movie stars: London, England!
▶ More quests and projects! Miguel has lost something while travelling - find it and it's yours!
▶ New London themed clothing and accessories for guys and gals!
▶ Millions more fans for A-listers!
▶ Fixes for those having trouble opening the game
▶ Numerous fixes and improvements (if your TO-DO list is stuck this update will fix it, fixed Facebook login, fewer relationship breakups, lipstick works properly, awards have been returned)
Screenshots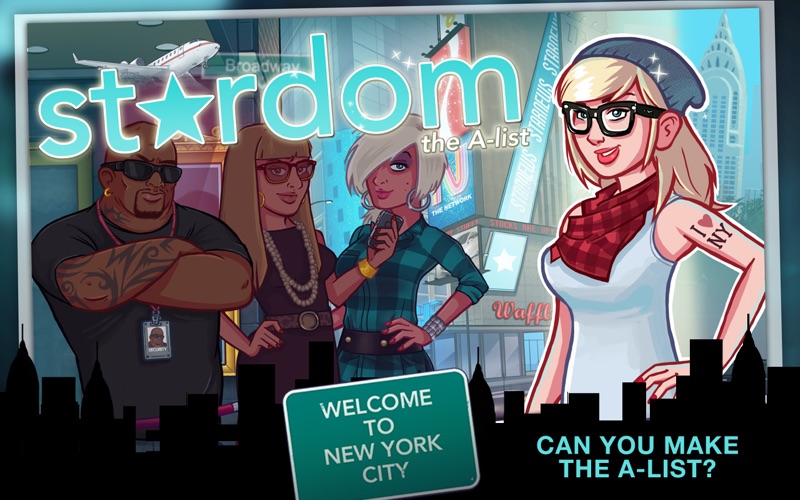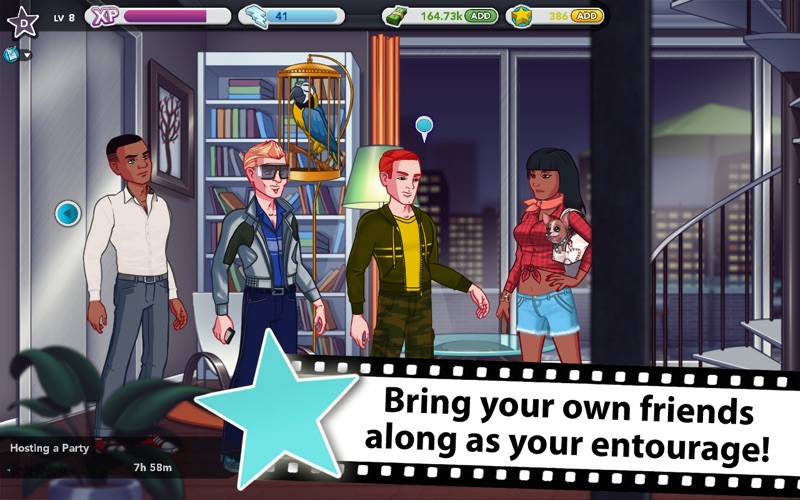 Customer Reviews
VERY fun, but...
This is an addicting game that I have had a lot of fun playing…but…it is very expensive to play if you want to get ahead at all. I don't mind spending money on games, but the past two weeks I think I have spent about $30-$40 - in two weeks! And I didn't get anywhere at all!! For that kind of money, I would expect some progress (but don't make it too easy, either!). I wish you could somehow pause the game if you know you are going to, for instance, go to bed for 7 hours, then work for another 9 or so - or otherwise have unexpected time constraints. I just performed poorly on another movie because I unexpectedly had to put in more hours at work.

I know I can't keep spending that kind of money on this game - and I am not sure I am going to spend any more at all. However, if you don't spend money, the game is painfully slow. The energy you purchase should either get more done in the game or the stars should cost less - I don't think that is asking for much.

Again, it really is a fun game…but beware of frustration from painfully slow progress or of spending a lot of money and not getting anywhere.
I have to agree with Jsr99…..
It is a fun and addicting game but I won't keep spending $$$ if I'm not making it anywhere. It takes what feels like two years to get from D-lister to C-lister. I don't know about the pause button because she could earn energy while I sleep. But it should be at full capacity (40) when I play not only at 23. After a full 8 hours of sleep, she should also be fully energized as well.

It is rather expensive to eat from your own kitchen and use stars to buy clothing. Shouldn't they be bought in cash?? The stars should be used for energy. And exactly what is the purpose of the XP???? You can't buy anything with it or use it at all. The STARmeter tells you when you move close to the next level. You don't really need the XP in my opinion.
OK app
I might have rated this app higher except for one very irritating quirk. I just signed back into the app, when the game gave me "rewards"and the app asked me how I liked the app. Everytime the app contacts you it freezes the screen but it keeps the counter going, so I had to unfreeze the screen, and then try to pick up my rewards within the time period. Needless to say I failed since I only had 1 1/2 sec to click on 10 different items. What is particularly irksome is that this reward was by far the largest reward I had earned, possibly ten time (maybe even a hundred times) bigger than any other award I have ever received. This is has happened to me more than a dozen previous times. I probably will stop playing this game since it doesn't have much interest although it does have an addictiveness to it (This is bad in the old fashioned meaning of the word).
View in Mac App Store
Free

Category:

Games

Updated:

Apr 05, 2013

Version:

2.0.8

Size:

430 MB

Language:

English

Seller:

Glu Games Inc
Compatibility: OS X 10.7 or later
Top In-App Purchases
Small Star Pack$4.99
Medium Star Pack$9.99
Little Cash Stack$0.99
Large Star Pack$19.99
Small Cash Stack$4.99
Medium Cash Stack$9.99
XL Star Pack$39.99
Large Cash Stack$19.99
Huge Star Pack$59.99
Premium Star Pack$99.99