Celebrity Look a like App - Face Compare
By BGB ISLAND LLC
This app is only available on the App Store for iOS devices.
Description
Now using Amazon Machine Learning for the very best face matching available!

Compare your selfies with over 1,000 celebrities!

What celebrity do you look like? Take a photo and Face Compare will find your celebrity match in dozens of categories.

Try the all-new, free Face Compare look alike app for finding what celebrity you look like!

Find your doppelganger and celebrity look alike now - 100% free - with new faster comparisons, improved accuracy more categories.

With the Face Compare look alike app, you can answer questions such as:

- Which celeb do I look most like?
- find my look alike
- Which celeb is my twin?
- Which famous person do I most resemble?

Download now and let the games begin!

This fast, fun and free app helps you find what celebrity you look like, and compares your picture to 1000's of famous celebrities to find your best match.

It is simple, fast and fun - using real face recognition technology to analyze your face and features and compare to thousands of celebrities in dozens of categories.

Take a selfie and the Face Compare look alike app does the rest - by comparing your photo and showing fast results!

Share on Facebook or Tumblr, try with different photos and different looks.

Fast, easy, free and fun to use the celebrity look alike finder app.

Take unlimited pictures, find what celebrity you resemble unlimited times.

Key features include:

- celebrity face recognition and matching
- what celebrity do I look like generator
- what celebrity do I look like results to Facebook
- no questions or quiz, just upload a photo and compare to celebrities
- easily find your celebrity lookalike

It is fast and easy, and best of all free to compare your photos to celebs and see what celebrity you look like. Download the best look alike app today and start comparing with your friends!

Wonder Which Celebrity You Look Like? Find Out Here For Free

Do you ever wonder, "Which celebrity do I look like?" or "Who do I look like?"

Most people are curious if they look like someone else, or if they have a possible doppelganger running around. Have you ever had someone walk up to you and tell you that you look familiar but they can't figure out who it is you look like? Wouldn't it be fun to whip out your smartphone and have a look alike app that scans your face on the spot and reveal who you do look like?

This is the very reason why Look Alike applications are so much fun.

Wouldn't it be exciting to discover which celebrity you look like without having to take a quiz or answer any questions? You know it would!

Snap selfies and scan your face and use real facial recognition programming to show you just which celebrity is your look alike and quite possibly your doppelganger. It uses a celebrity face recognition and matching program.

With the Face Compare app you can find the answers to life's most important questions! Questions like which celebrity is my twin? What celebrity do I look like and who is my celebrity double? Wonder no longer because this 'what celebrity do I look like generator' will answer all of these truly life changing questions!

Once you discover your celebrity look alike you can share your results on Facebook or Tumblr. You can also have even more fun by trying out different photos, using different poses or even different hairstyles to see if you get a different result. It's great entertainment when hanging out with your friends as everyone checks to see who their celebrity look alike is, add some excitement by trying to guess who each person's celebrity doppelganger will be.

Take unlimited pictures, find what celebrity you resemble unlimited times. Let the party begin!
What's New in Version 5.02
Faster, Better, Stronger.
iPhone Screenshots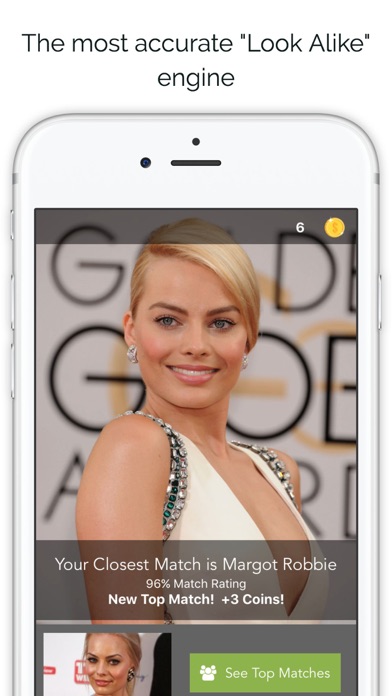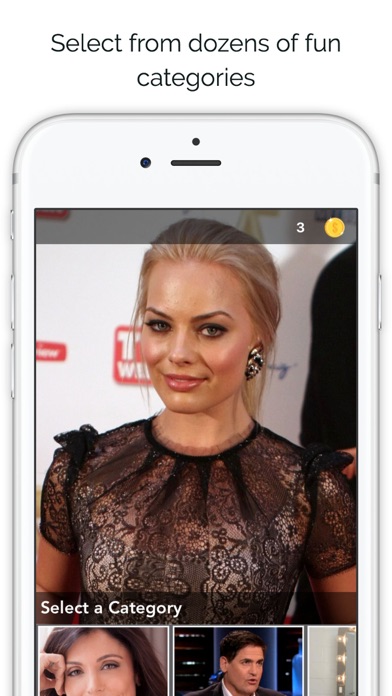 Customer Reviews
Peacemaker? More like Doppelgänger
On my first attempt at this pairing app I decided on the category titled "Movie Stars." My naive mind assumed I would match with a nobody actress I've never heard of. But my match was much more renowned than I ever could have imagined. George Clooney. The star, the icon, the man behind characters like Danny Ocean and the man at the end of Spy Kids. Me, look like this legend? Never. But then it became clear. The nose, the eyebrows, the prominent five o'clock shadow. I may be a fifteen year old girl, but the resemblance was beyond clear.
I spent the next weeks more self aware than ever. But one question echoed through my mind. We're we related? I asked my mom if she had ever dated a George. She said no. She was hiding something, and whatever it was I couldn't get it out of her. So I did more research.
I compared samples of my own hair to what I think his would look like. I studied his acting, drew pictures of us together, and even managed to get a hold of his wife. She proved no help. I began to go mad for George, was he my real father? And if he was, would he even accept me? If he wasn't, was there even a god?
I have yet to meet Mr. Clooney. My dreams are often of us fishing, playing catch, or dressed up as foxes trying to rob the most notorious farmers in all of town. Despite my recent mental state due to the app's findings, it was extremely eye opening and without a doubt life changing. 5 stars.
Don't get!
Hence the users name I took a pic of me showing my hair features, everything it said. Kept matching me with a guy, and to try again you either need to watch multiple ads or pay. Thumbs down 👎👎👎❌❌
Bad
Everytime i us this app its a boy even when i have makeup on so im deleting this app and you should no buy it it suckkkkkkkkkks no stars
View in iTunes
Free

Category:

Entertainment

Updated:

Jul 29, 2017

Version:

5.02

Size:

41.0 MB

Language:

English

Seller:

BGB ISLAND LLC
Compatibility: Requires iOS 8.0 or later. Compatible with iPhone, iPad, and iPod touch.
Top In-App Purchases
Remove Ads$2.99
10 Coins$0.99
100 Coins$2.99