Ambiance
By Urban Apps
Open the Mac App Store to buy and download apps.
Description
Ambiance® is an "environment enhancer" designed to help you create the perfect ambient atmosphere to focus, relax or reminisce.


News/Updates
————————————————————
• Ambiance has now had over 1 BILLION Sound Downloads!
• Ambiance has been featured in every Apple store on every iPhone!
• Ambiance has been featured by Apple in the iTunes App Store dozens of times!
• Ambiance has been featured in MacWorld Magazine!
• Ambiance has been named in the top 100 best apps by O'Reilly!
• Ambiance has been included in the iLounge Essential 100 apps several times!
• As seen on ABC, CBS and other TV News, Ambiance has tons of new and amazing features!
• Ambiance has been in the New York Times, Wall Street Journal, Washington Post and many other major publications.
• Ambiance is recommended by top U.S.-licensed doctors on HealthTap
• Ambiance has received a seal of approval from some of the world's leading doctors on HealthTap.






Choose from over 4000 free sounds, exclusive to Ambiance, to download and listen to, create customized sound mixes, cycle through playlists, set custom timers and more!

Ambiance is the only app of its kind. With an ever-growing collection of sounds for you to download from, advanced features and customization, and a gorgeous appearance, Ambiance has become a must-have app on all devices. Find out what everyone is raving about!





Features
——————————————————————————
• Over 2500 Free Ambiance Exclusive Sounds
Only download the sounds you want. With more sounds added weekly the Ambiance library keeps growing and growing!

• Create Custom Mixes
Make custom sound mixes using only the sounds you want, to create the perfect blend. Each sound has it's own volume control, so changing your mix is as simple as moving a slider.

• Mini Mode
Who says you have to be focused on your Ambiance environment all the time? Put Ambiance out of the way with Mini Mode as you check email, surf the web, or play games.

• Highest Quality Sounds
All sounds go through a rigorous quality check and special loop processing to make them just right. You will always get a perfect loop — never hearing a "Pop" or a "Gap".

• Sleep Peacefully
Fall asleep to a comforting sound so you can doze off gently as it fades out. Enhance your nap using a customized Ambiance Timer to fade-in or fade-out as you snooze.

• Change It Up
Cycle Mode seamlessly switches to the next sound on any of your Ambiance playlists. Enjoy many different sound environments effortlessly as Ambiance moves you from one sound to the next.

• Search or Browse through the Free Ambiance Sound store.
Explore categories such as "Rain", "Urban Indoors", "Household", "Wind" and more.

• High-quality images accompany every sound.
Full text descriptions accompany every sound Read about what you are listening to.

• No network connection needed
After downloading your sounds, you do not need a network connection to play sounds.

• Fully Customizable Player Timer
Want to fade out the player while you nap for 1/2 hour? Easy.

• Full-featured Ambiance sound player
Play, Pause, Previous, Next, Shuffle, all the standards.

• Familiar Look and Feel
Ambiance feels natural to use and is dead simple to figure out.

• Request a sound
All sounds start as customer requests. If you want a sound we don't have, just ask.




Questions, Comments or Support?
——————————————————————————
We are dedicated to bringing you the best support! Visit http://community.urbanapps.com or contact us via email at support@urbanapps.com
Screenshots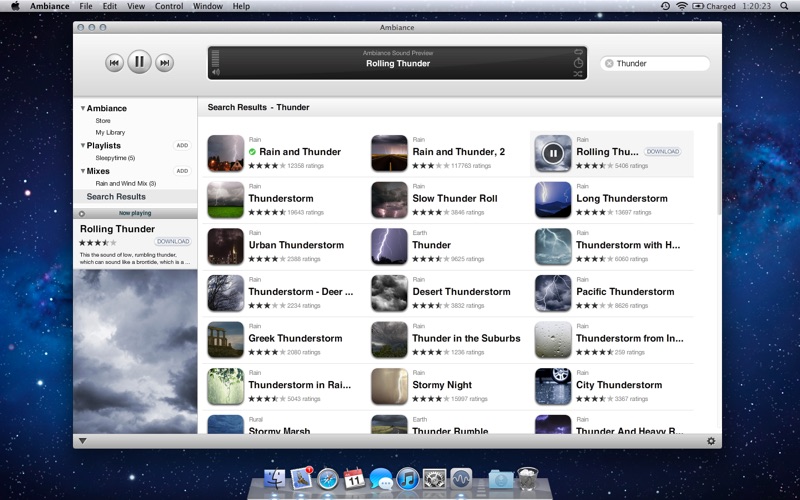 Customer Reviews
Oh no no no no no!
This isn't working for me at all. I was expecting better because I used Ambiance on my iPhone for a very long time, and I loved it. Well, I downloaded the Mac version because the iPhone app kept deleting my sounds, and I ran out of space anyway. Needless to say, I was really looking forward to using the desktop version because my Mac has significantly more disk space for sounds, and the iPhone version worked so beautifully for me when it held onto my sounds. However, the Mac version is completely and utterly useless to me. Let me explain. I am totally blind. Therefore, I need to use my Mac with VoiceOver. For anyone who may not know, VoiceOver reads the screen aloud for visually impaired users like myself. I use VoiceOver on a daily basis, so I really need apps that will work with it, and Ambiance, sadly, does not. This surprised the heck out of me because it works great with the iPhone's version of VoiceOver. Now, I am running Snow Leopard still, but I don't think that should be any reason for this app to have compatibility issues with VoiceOver. I literally cannot use this app until this issue is addressed, and I spent ten dollars on it. Kind of makes me mad.
Just works and is fantastic
I have been using Ambiance ever since its release and I absolutelly love it. I wish there is an option for being able to add your own recordings on the desktop version and not just on your iOS devices, and of course having in sync all of my downloaded sounds and recordings across my Apple eco-system would be nice. And yes, the UI looks a bit dated, but as long as it works I have no issues. Just love it !!! If you looking for the best loopable background sfx player or simply white noise player to help you sleep, just go for Ambiance. Simple, great sleep options and with the best looping abilities for new sounds. No brainer. If this will not be supported in the future it would be real real shame. But even its a bit outdated, developer does reply on possible question so looking forward for some future updates.

Mike
Really good, but could use some updates.
I have been using Ambiance on my iPhone for years and finally decided to get it for Mac. I use this anytime I'm studying or reading etexts for school.. I'm one of those people who if I'm listening to music, even instrumental, I just want to listen to it and/or sing along so it's very distracting when trying to work. This app, however, is perfect. My personal favorite is Happy Hour, I turn it up just loud enough to tune everyone else out and have no problem focusing.

Now for updates… lets revamp the UI a little, it's pretty outdated looking. I'd also really like to have a way to sync my sounds between devices. If there's a way now, it's not obvious enough for me to have found yet, and I'm pretty tech savvy.

That being said, I still love this app and will continue using it unless something better comes out.
View in Mac App Store
$9.99

Category:

Health & Fitness

Released:

Jul 27, 2012

Version:

1.2

Size:

31.0 MB

Seller:

Urban Apps
Compatibility: OS X 10.6 or later