Pocket Dungeon: Underground Labyrinth
By akaimikan
This app is only available on the App Store for iOS devices.
Description
Pocket Dungeon: Underground Labyrinth has a straightforward goal- make it to the bottom and defeat the last boss.
Still, it'll be a trip. Floor by floor, there are more than 200 kinds of equipment and 100 varieties of monsters
waiting for you. Make good use of the magic, weapons, and skills that you find to continue onward.
(Feel free, however, to play at your leisure. HP/MP will restore gradually when not in battle, even when the application is closed).
[Magic Items, Special Equipment]
Watch out for equipment with slightly different naming. These weapons/armor have special abilities and stats. Some weapons will freeze enemies, some will provide an increased number of attacks, some drain HP, some reflect attacks, and so on. Keep searching for stronger equipment while progressing.
[Sockets]
Some equipment will also have sockets. Customize your equipment by inserting gems that grant different special abilities in these sockets.
[About your maximum inventory]
Be careful when your inventory is full. If you pick up an item or piece of equipment, the new item will replace the last item listed in your inventory.
[About Reincarnation]
Skill points will become harder to acquire after reincarnation. After you raise your character back to the highest level they had previously reached, skill points will once again be acquired normally.
[About Skills]
Stat changes affected by skills, while not visible in menus, will be calculated in battle.
[Credits]
Images- Daresokaretei (Backgrounds), Material World, Yapurin, Cyan no Yurikago, Nirvana Tenrankai Kikan, Tomoshoku, Soul or Spirit (Monsters) Rdo (Icons)
Music- Maoudamashii
iPhone Screenshots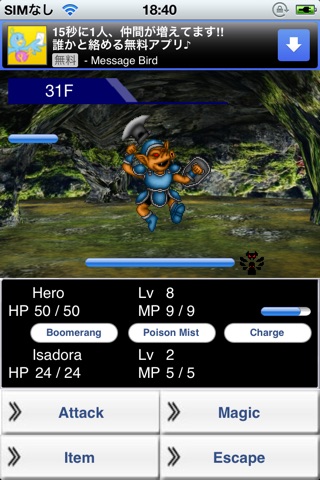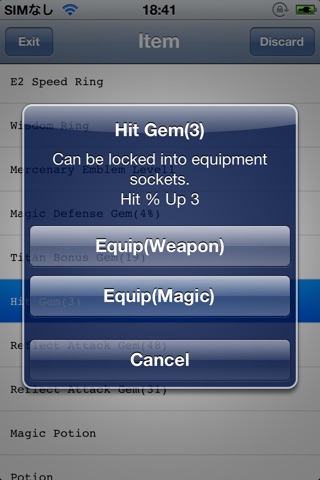 Customer Reviews
Awesome!
I got this game a few years back but didn't play it much. I was looking through my purchased list for something to replay when I saw this. I redownloaded it and started playing. This game is awesome, it is so simplistic yet it all works together to make a competent game that is actually fun. Thank you developer and if there is ever more I will get it.
Great game
I agree with most people here. Simpler skill descriptions, side by side gear comparison, and being able to have different save slots so I can try out more than one style of play would be very nice. Otherwise a great game and a must for any old school rpg fan. The music is incredible! It's been so many years since I have heard this kind of old school rpg music and I'm loving it.
Great game, may confuse some.
This simple game is wonderful, I'm on floor 720 and I can't stop. The skill descriptions seem to confuse some, but if you have any experience with D&D, a MUD, hell even WoW, you'll get it. If not, just read closely and you'll get it. Awesome game, I would have even paid a buck or two for this. The music is great, too.
View in iTunes
Free

Category:

Games

Released:

Aug 09, 2012

Version:

1.0

Size:

10.8 MB

Language:

English

Seller:

Toshikazu Aoe
Compatibility: Requires iOS 4.3 or later. Compatible with iPhone, iPad, and iPod touch.